'He started hitting everybody': Eyewitnesses recount horror of Toronto ramming incident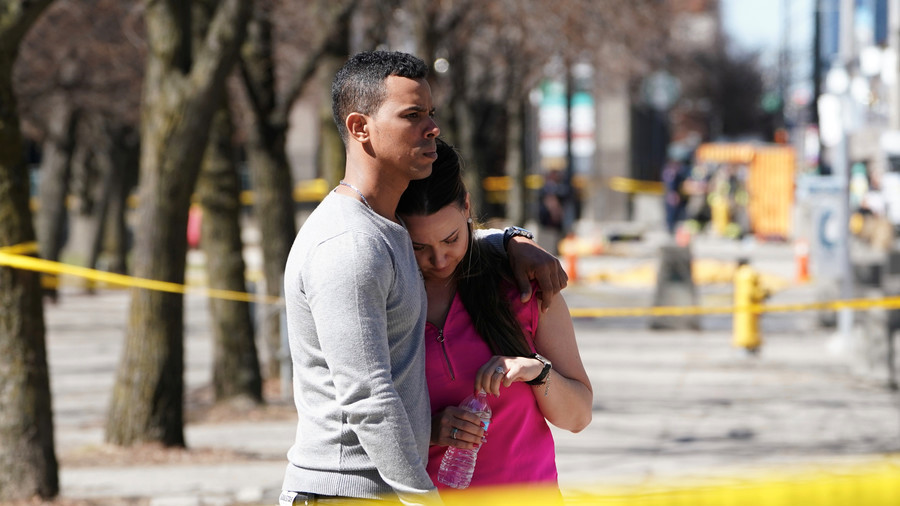 Eyewitnesses of the deadly ramming incident in Toronto, Canada, say the van hit every person it encountered on the city sidewalk and crashed into everything in its path before fleeing the scene.
Nine people are dead and 16 others are injured after the van plowed into pedestrians on the busy Toronto sidewalk Monday afternoon.
"The man was walking through the intersection at Yonge and Kempford. He was in the middle of the intersection and the van just went right into him, plowed right into him," an eyewitness told RT. "Apparently he drove down further and he went into a sidewalk by the next building and he hit more people there and he just kept going."
READ MORE: 9 dead, 16 injured after van plows into pedestrians in Toronto (PHOTOS, VIDEOS)
Witnesses at the scene said onlookers were shouting at the man to stop the car but the driver kept driving and crashing into people.
Another man said he saw one of the victims dragged along the road, leaving a trail of blood on the asphalt. "I saw a white van with red coloring on it and all I saw was that he smashed into someone over there. He just went on the sidewalk. He just started hitting everybody. He hit every single person on the sidewalk; any person in his way. The bus stop, everything all shattered."
The witness added: "I'm so shaky, I'm still dying from this. I can't believe this is happening."
Witness Jamie Eopni told local news station CP24 that the white van was "completely demolished" following the incident. "It was crashing into everything. It destroyed a bench. If anybody was on that street they would have been hit on the sidewalk," Eopni said.
"You could see exactly where he drove because of the tire marks. [He was] just crashing into the poles, scraping along. It didn't really look like he cared where he was going or what he was doing."
If you like this story, share it with a friend!