'Stop US war machine!' Activists try to obstruct USS Portland commissioning (VIDEO)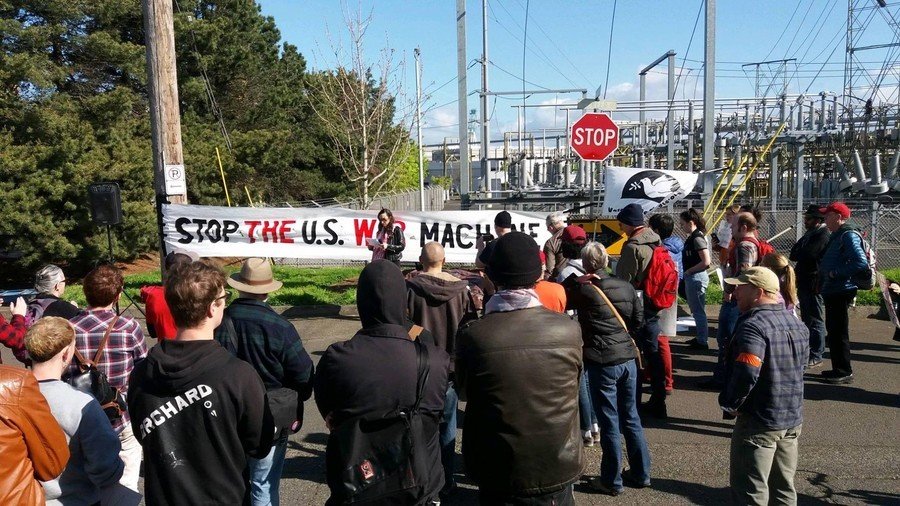 A crowd of roaring left-wing anti-war activists have staged a protest in Portland during the commissioning of the US Navy's newest vessel, the USS Portland, a San Antonio-class amphibious ship loaded with laser technology.
Some 100 protesters, representing a number of local anti-war organizations, held a protest at the port terminal where the USS Portland's commissioning ceremony was taking place on Saturday. Staying a comfortable distance away from the military contingent, they shouted anti-government slogans, demanding an end to American troop deployment overseas. "Stop the US war machine!" they shouted, as they approached the venue.
READ MORE: 'Recent strikes showed that Trump essentially does not know what to do in Syria'
"There is a two billion dollar warship being named after our city and we want to let our officials know that we demand an end to all imperialist wars and violence and it sure as hell shouldn't happen in the name of our city," organizer Olivia Katbi Smith told RT's Ruptly video agency.
"There is no reason why we should be spending two billion dollars on a warship when we have people right here in our city who are dying from sleeping on streets. They are dying because they cannot afford to go to the hospital, they are dying because or society doesn't take care of them. Because we spend billions and billions of dollars on foreign wars killing civilians abroad," she added.
"These motherf****rs will have you believe that it is your duty, it is your patriotic duty to stand behind the military, I say f**k the military," protester Alyssa Pagan shouted to the agitated crowd, as the ceremony was taking place behind the fence.
Despite the fervor of the activists, the commissioning ceremony of the San Antonio-class amphibious ship went ahead as scheduled. More than 5,000 people, including veterans, soldiers and Navy personnel gathered at Terminal 2 to see the inauguration.
The USS Portland, which will be based out of San Diego, California, became the 11th ship in its class to join the US Navy's fleet. The $1.6 billion vessels can carry 800 Marines and can fit MV-22 Osprey tilt-rotor aircraft on deck. The latest, 684-foot-long vessel is also outfitted with a next-generation Laser Weapon System (LaWS) produced by the Office of Naval Research. San Antonio-class ships are designed for amphibious assault, special operations and warfare missions.
Like this story? Share it with a friend!
You can share this story on social media: