'Prison of Repentance': Terrorist group's jail in Syria housed cages & underground tunnels (VIDEO)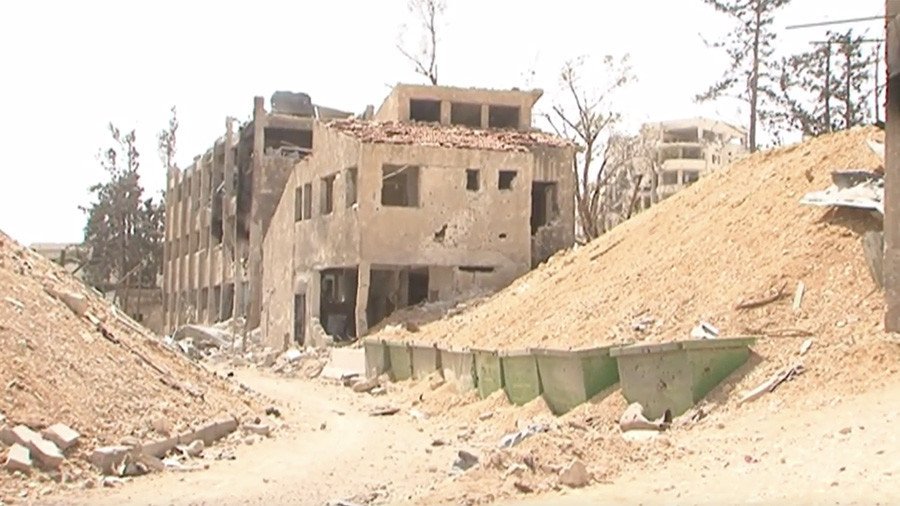 A new video showing the interior of a prison used by the militant group Jaysh al-Islam as a site of torture and interrogation in the Damascus suburb of Douma reveals tunnels through which terrorists received support.
A grim interior full of cells, concrete walls, and underground tunnels comes up in the video, published by RT's Ruptly agency. "This tunnel shows you the scale of the international support for the militants who were here," a guide tells the camera.
"In terms of arming, [the militants] had everything. You can see the cement here, and how much time [the militants] spent to build this, and how the prisoners here suffered to dig these tunnels until they got this shape," the guide said of the site, which was also used as a headquarters for the group's leaders.
He pointed out a tunnel which he says connects the prison to the city of Douma. "There are other branches which take you to the points of clashing with the Syrian Arab Army."
The video of the site dubbed 'Prison of Repentance' also shows iron cages where incarcerated people were allegedly kept. Speaking to Sputnik following her release earlier this month, Merwet Selim, a 38-year-old woman who was jailed there described the restrictions prisoners faced.
"All the women were given copies of the Quran though nobody forced us to read it. We were allowed to wear only abayas. The only medicine that we had was Acamol capsules. There was no hot water and electricity. We weren't allowed even to talk," she said.
Another former prisoner, Ali Barhum, told the outlet that he has only seen such "immense hatred" at the prison. "The men had to dig underground tunnels; women had to cook, do the cleaning, and repair clothes. One had to meet his quota in order to receive food. Food was a very important and painful issue. Even chubby people turned into living skeletons as hunger was constant. We were mainly given bread and porridge. We were given hot food at rare occasions. They fed us mostly once a day, or once in two days sometimes."
The video comes after Jaysh al-Islam fighters left Douma as part of a Russia-brokered deal which saw the group's vast number of prisoners being released.
If you like this story, share it with a friend!
You can share this story on social media: