Russian chess coach makes social media appeal, sells phone to take 6yo prodigy to world championship
Six-year-old Misha will be one of the youngest contestants at the upcoming world school chess tournament in Albania. To get there, his coach not only had to sell some of his possessions, but also called on social media for help.
Chess has been a passion for 26-year-old Roman Artamonov since childhood. He learned the game himself, before opening a school to share his experience with youngsters in the Russian city of Perm. First he taught lessons at his apartment, and he then opened a full-fledged chess school.
Mikhail Gurishov, or simply Misha, became Artamonov's student purely by chance. His father initially took the boy's elder sister to chess lessons, and once took along his then four-year-old son. Misha showed immediate interest in the chess board, trying to place pieces on it. Soon the boy started attending the school himself and became a better player than his father and sister, and eventually won multiple prizes at competitions in Russia.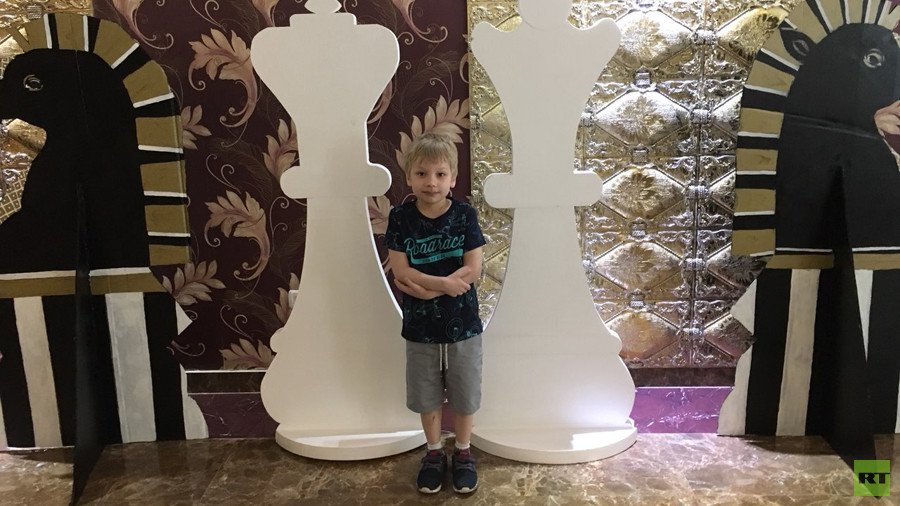 "He is like a son to me," Artamonov told RT.
The pair came to Moscow for just one day, before leaving for the big chess event in Albania – the FIDE World Schools Chess Championships – that takes place from April 20 to 29. Misha will be one of the youngest participants of the tournament but has every chance of beating older rivals in his category, according to his coach.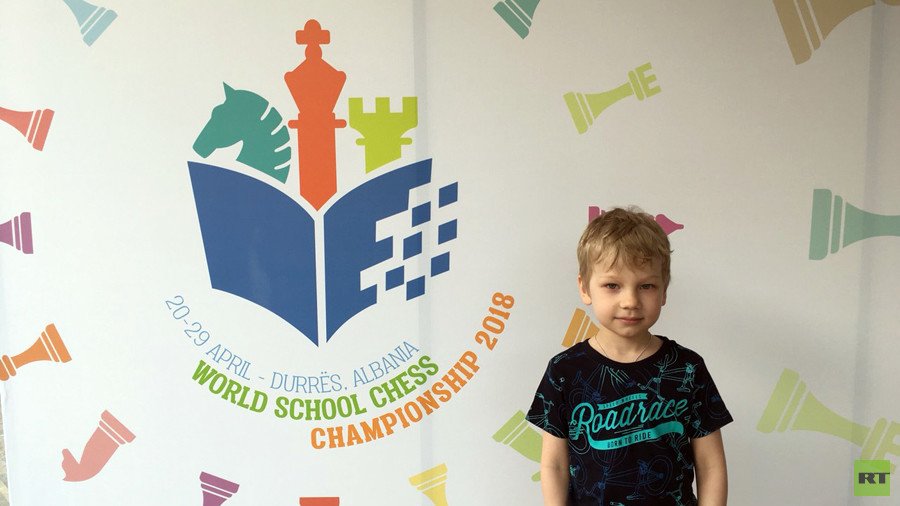 The trip to Albania would not have happened at all had it not been for Artamonov's efforts. A hefty sum – some 180,000 rubles (almost $3,000) – was required to fund the trip to the championship. The coach did not hesitate to sell his own cell phone to get part of the money, and also organized a charity chess tournament in Perm.
In addition, Artamonov turned to the power of social media, asking users for donations. In just two days a number of passionate people, including relatives of those who had lost against the youngster at domestic competitions, transferred enough money – and the way to the world tournament was finally open.
"We understand that we bear great responsibility, we perform for the whole of Russia in the category [for children] aged under seven," the coach said. However, usually children older than Misha compete in this category, as it includes seven-year-olds, he noted. Still, Misha could take the gold, as he beat competitors in Russia aged up to nine.
The youngster made use of his short stop in the Russian capital. Together with his coach, Misha came to a chess club located in Gorky Park and amazed players there, some 10 times older than him, with his skills.
"We played a fast and interesting game," 61-year-old Sergey Gladky told RT. Gladky has more than 55 years of chess experience, and also noted that Misha plays like a first-category player.
Moscow-based World Chess Federation (FIDE) master Aleksandra Alieva, who teaches children chess, also said that the six-year-old plays more like an adult.
"Misha pleasantly surprised me, he plays very solid for a six-year-old. He plays like an adult chess player," Alieva told RT. She noted that the boy's coach prepared a good program so that he will be "second to almost none among children."
Like this story? Share it with a friend!
You can share this story on social media: