'Mature, trust-based partnership': Moscow & Vienna keep ties level-headed as Austria FM set to visit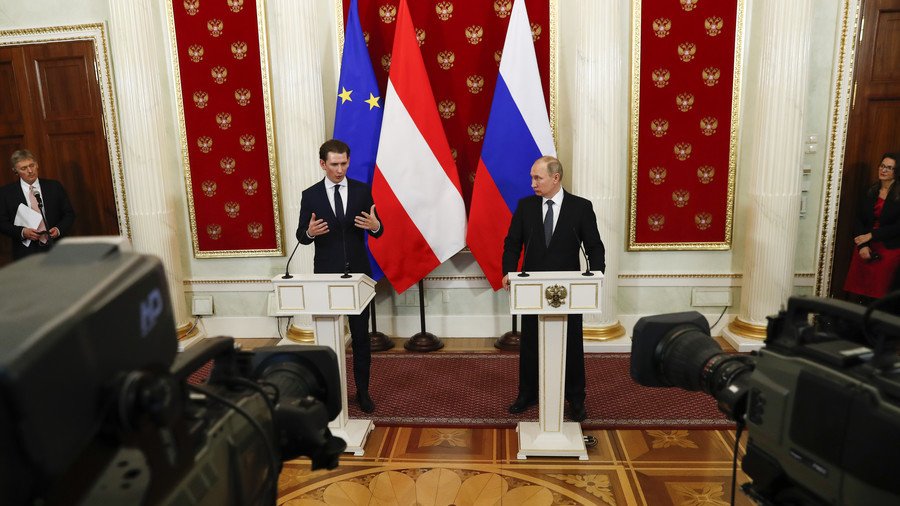 A phone conversation between Russia's Vladimir Putin and Austria's Sebastian Kurz this week highlighted Vienna's neutral, constructive approach towards Russia. The call came on the eve of FM Karin Kneissl's first visit to Moscow.
During their conversation, the Austrian Chancellor and Russian President agreed that the US-led missile strikes on Syria had "aggravated" the situation in that country, and discussed ongoing humanitarian and deconfliction efforts. Writing on Twitter after the call, Kurz said that Russia was a "superpower" and "important player" in finding a peaceful resolution on the conflict. He added that Vienna would always be open to dialogue and negotiations.
His comments come on the day before Austria's Minister of Foreign Affairs, Karin Kneissl, is expected in Moscow for a two-day working visit at the invitation of Russian Foreign Minister Sergey Lavrov. Kurz himself visited Moscow in February – his first trip to a non-EU country after he assumed office.
While relations between Russia and the West might have plummeted to worse-than-Cold-War levels, diplomatic and bilateral cooperation between Moscow and Vienna have remained constructive and cordial.
"Despite the complicated situation, Russian-Austrian relations continue to develop positively and can be described as a mature, trust-based partnership that is immune to changes in the political climate," the Russian Foreign Ministry said in a statement announcing Kneissl's visit. "There are no serious problems between Russia and Austria. Their parliaments and ministries maintain an active dialogue, and their regions are developing cooperation."
READ MORE: Russian, Austrian leaders discuss situation in Syria after US-led airstrikes
Austria's level-headed attitude towards Russia became the topic of scandal last month, when Vienna refused to expel Russian diplomats over the poisoning of former double agent Sergei Skripal and his daughter in the UK. Over 100 Russian diplomats were expelled from western and EU states, in a coordinated "show of solidarity" with Britain over the incident, which was blamed on Moscow. Austria, however, fervently maintained its neutrality – and said it would not shut the door on dialogue with Moscow.
"We want to keep the channels of communication to Russia open," Kurz and Kneissl said, in a joint statement announcing Austria's decision not to participate in the expulsions. "Austria is a neutral country and sees itself as a bridge-builder between East and West."
While meeting last month with other EU foreign ministers to discuss the Skripal case, Kneissl cautioned against pinning the blame on Russia until a full-fledged investigation had been conducted.
"Our position is: First there is the need to establish a full picture of events in joint cooperation with the Chemical agency [Organization for the Prohibition of Chemical Weapons (OPCW)] and all those involved" the foreign minister said.
Having been recently accused by UK Foreign Secretary Boris Johnson of "personally" orchestrating the Skripal attack, Russia's president undoubtedly values Austria's even-keeled diplomacy.
During a welcoming ceremony for foreign ambassadors on April 11, Putin said that "Russia highly appreciates Austria's permanent neutrality policy, its balanced stance on the topical issues on the European and global agenda."
Kurz, the leader of the Austrian People's Party, assumed the chancellorship in December after a right-wing coalition emerged victorious in Austria's elections. The coalition government has taken active measures to push back against the EU's open-door migrant policy and has sought to preserve economic ties with Russia, despite Brussels-imposed sanctions and political pressure.
Think your friends would be interested? Share this story!
You can share this story on social media: