Beijing holds live-fire drills in Taiwan Strait for first time in 2yrs amid tensions with Taipei
Published time: 18 Apr, 2018 14:36
Edited time: 1 Jun, 2018 10:41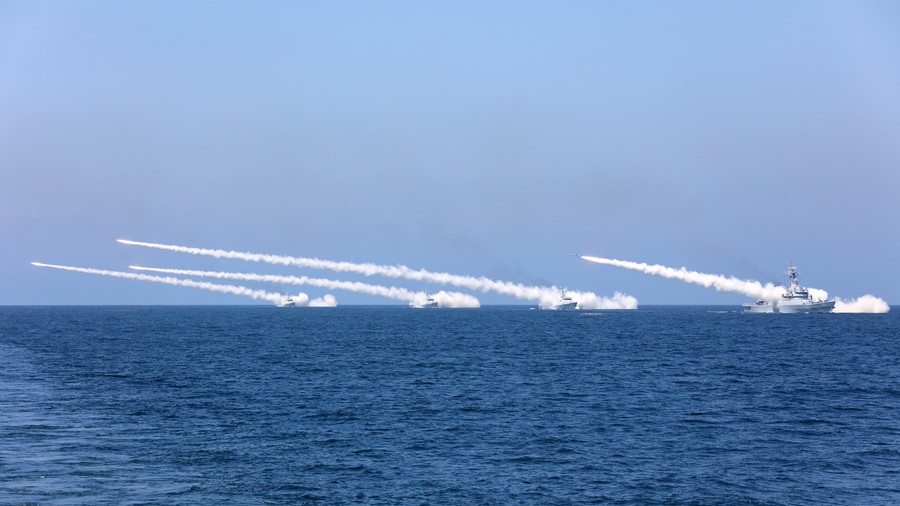 Beijing has launched military drills in the Taiwan Strait, "the first of their kind since 2016," which it says are aimed at protecting China's sovereignty. Taiwan has slammed the move as "saber-rattling" and "intimidation."
The drills, which will last until midnight on Wednesday, aim to "safeguard China's sovereignty and territorial integrity,"according to the director of Beijing's Taiwan Affairs Office, Liu Jieyi. It comes after a separate exercise last week saw a Chinese naval flotilla, including the 'Liaoning' aircraft carrier, conduct a series of exercises in the South China Sea.
Responding to the maneuvers, Taiwan's Defense Ministry accused Beijing of aiming to intimidate Taipei. "The Chinese communists have been using cheap verbal intimidation and saber-rattling on every aspect of the Republic of China [Taiwan] in the hope of affecting our morale or creating social unease," ministry spokesman Chen Chung-chi said, as quoted by Reuters.
Chen went on to describe claims by some Chinese commentaries that the drills are larger than usual as "nonsense," stating that they are only a short-range shooting exercise close to the China coast.
"That's why we say it's a verbal intimidation and saber-rattling... using public opinion to exaggerate the falsity... and playing up an exercise into unification of Taiwan by force." Chen said the Defense Ministry is monitoring the situation and has no plans to escalate alerts or states of readiness.
Chinese state-linked media the Global Times reported that the exercises come in direct response to "provocations" by Taiwanese leaders related to what Beijing fears is a push for formal independence. They come just one day after Taipei began its own live-fire shooting exercises in Matsu and Kinmen, two Taiwanese islands close to the mainland.
Beijing, which has always maintained its 'One China' policy, sees Taiwan as part of China. It has hardened its stance towards Taipei since the 2016 election of President Tsai Ing-wen, a member of the island's pro-independence Democratic Progressive Party. China suspects the leader of aiming to push for formal independence, although she says she wants to maintain the status quo.
However, Tsai's recently appointed premier, William Lai, is a long-time advocate of independence and recently incensed mainland authorities by telling the Taiwanese parliament that he is a "Taiwanese independence worker" and saying that Taiwan is a sovereign, independent nation.
Chinese state television reportedly said on its WeChat account that the drills were at least partly in response to Lai's comments. "Don't say you weren't warned," it stated.
Just last month, Chinese President Xi Jinping delivered his strongest ever warning against Taiwan, stating that it would face the "punishment of history" for any attempt at separatism. China's operational aircraft carrier, the 'Liaoning', sailed through the Taiwan Strait on the same day.
Xi's statement also came shortly after US President Donald Trump infuriated Beijing by passing the Taiwan Travel Act into law, which encourages Washington to send senior officials to Taiwan to meet their Taiwanese counterparts, and vice versa.
The US is no stranger to getting caught up in the tense relationship between Beijing and Taipei. Earlier this month, China also criticized Washington's arms sales to Taiwan, after the island said the US had authorized manufacturers to sell licenses necessary for its domestic submarine project. The Chinese Defense Ministry demanded that "all forms of military contact between the US and Taiwan" be halted.
Think your friends would be interested? Share this story!