'The city won't give us land, so we're taking it': Police & protesters clash in Cape Town (VIDEO)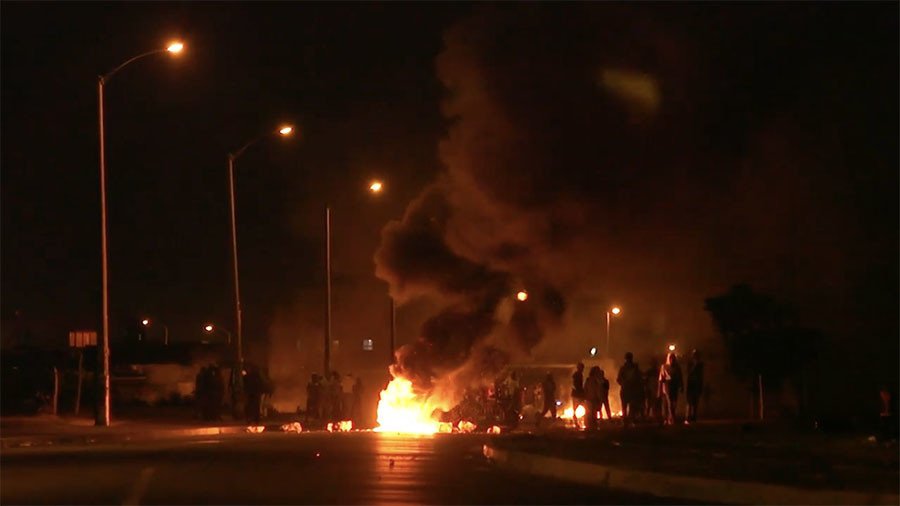 Violence erupted at an informal settlement outside Cape Town, South Africa as authorities evicted locals illegally occupying land. Police opened fire as protesters looted stores and set nearby vegetation on fire.
Protesters, who say they are fed up with overcrowding and a lack of housing in Vrygrond, have earmarked a piece of land they want to move to and erected shacks in the area.
READ MORE: South Africa's white farmers at risk of genocide – Australian senator
However, violence broke out as authorities destroyed these structures Monday night, with residents smashing a local liquor store and setting fire to tires and nearby vegetation. Footage from the scene shows gunfire ringing out as police confront protesters.
Community leader Linamandla Deliwe told Ground Up that tensions escalated in Vrygrond when an eviction squad accompanied by metro police demolished shacks. On the nearby M5 highway, a car was torched and a vehicle was stoned during the demonstrations, EWN reports.
The land occupation started on April 14. Residents have vowed to continue protesting if authorities evict them from the land next to their community, saying they have nowhere else to go and are tired of paying huge amounts of rent when most of them are unemployed.
"The City has failed to give us this land' we are now taking it'" one resident said.
Three people were arrested following Monday night's protests, according to Western Cape Police. Meanwhile, local mayor Patricia de Lille has agreed to meet with the community leader on condition that people stop their occupation.
"The mayor is clear that the meeting cannot go ahead while people continue to illegally occupy land and affect the lives of other residents by blocking roads," a spokesperson for the mayor told EWN.
Like this story? Share it with a friend!
You can share this story on social media: