'I'm the equal of Putin,' Macron tells journalists over a drink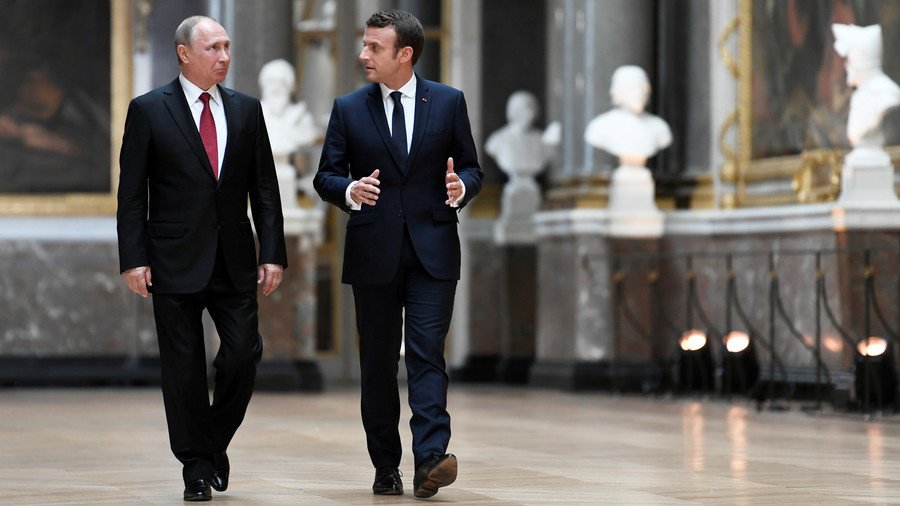 France's Emmanuel Macron said he considers himself an equal to Russia's Vladimir Putin and that the strike on Syria was meant to show he was "part of this," journalists who interviewed the French leader have revealed.
President Macron gave a nearly three-hour-long interview on the results of his first year in office to RMC radio host Jean-Jacques Bourdin, and Edwy Plenel of Mediapart website on Sunday. After the program went off the air on BFMTV, the President shared a drink with the journalists and the liquor apparently loosened his tongue.
"I am an equal of Putin," Macron was cited as saying by Bourdin, who told RMC radio that an informal conversation with the head of state provided an insight into the French role in the Syrian crisis and Marcon's attitude towards Vladimir Putin.
"By the way, Putin understands me. And I decided to strike Syria in order to convey to Putin that we are also part of this," the journalist cited Macron's words. According to Bourdin, the French leader also called Saturday's missile attack on Syrian civilian and military facilities, carried out by the US, UK and France, "a decision that will lead to peace in Syria."
During Sunday's interview, Macron said that he convinced his US counterpart, Donald Trump, that it was "necessary" to maintain American military presence in Syria and that the coalition strikes should be limited to the alleged chemical weapons facilities. Shortly afterwards the US reiterated that its troops will be returning home from Syria "as quickly as possible."

The French president ordered French forces to join the US-led attack without receiving consent from France's parliament. Macron was grilled over his decision on Monday as the MPs called the missile strike illegal, due to its being carried out without a UN mandate and any reliable evidence to back the claims of chemical weapons use by the Syrian government.
READ MORE: Putin & Macron will still meet despite diplomatic row over Salisbury case
Putin and Macron are expected to meet during the St. Petersburg International Economic Forum (SPIEF) in May. The French president decided not to cancel his Russian visit despite the current turmoil in relations between Moscow and the West over Syria and the poisoning of former double agent Sergei Skripal. The Kremlin has welcomed Macron over his "constructive approach" and willingness to "solve problems through dialogue," which, it said, completely matches Putin's take on things.
You can share this story on social media: