Putin & Macron will still meet despite diplomatic row over Salisbury case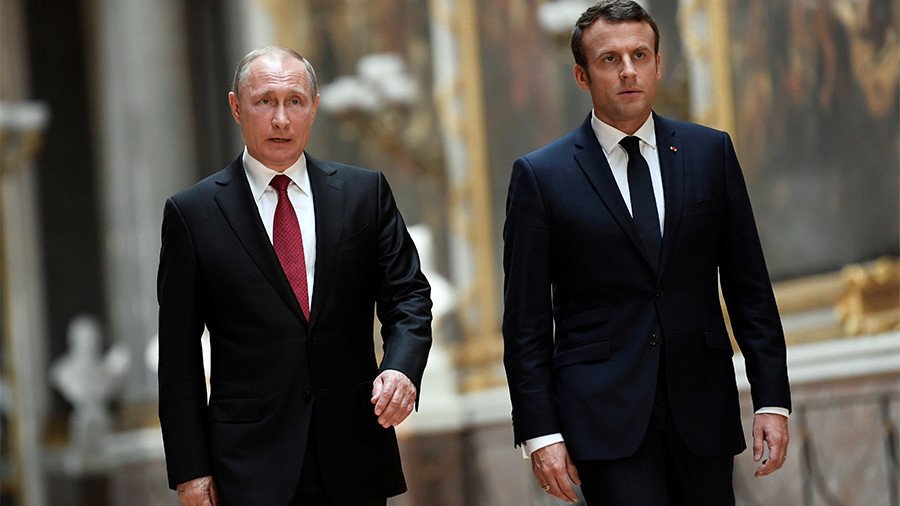 President Emmanuel Macron still intends to meet Vladimir Putin despite France joining a London-backed campaign of diplomatic expulsions against Russia. The Kremlin supports the Elysee's idea of solving problems through dialogue.
Moscow praised the "constructive approach" of the French towards relations with Russia despite disagreements, Vladimir Putin's spokesman Dmitry Peskov said on Thursday. "The French leadership does not abandon dialogue; on the contrary, it is determined to solve problems through dialogue. This completely matches the approach of our president," he added.
Earlier on Thursday, French Foreign Minister Jean-Yves Le Drian confirmed that the French president is due to visit Moscow. The trip comes despite Western countries severing their diplomatic ties with Russia after London accused Moscow of poisoning former Russian double agent Sergei Skripal without providing evidence or waiting for the outcome of an investigation.
"For the time being, the trip is still indicated, yes, for the moment the trip is still scheduled," Le Drian told RTL radio. The "dialogue" between the leaders would be "frank," he added, without proving any further details.
Paris seems to be attempting to maintain ties with Moscow, even after it followed a whirlwind media campaign by London and vowed to expel four Russian diplomats over the Skripal case. France joined the chorus of accusations from Western states, which included Germany, Poland, the US, Finland, Sweden and others. NATO also expelled seven Russian diplomats as part of reciprocal measures.
Not all countries followed London's lead. Austria has confirmed that it won't be joining the punitive measures against Russia. "We are determined to maintain open channels of dialogue with Russia," government spokesperson Peter Launsky-Tieffenthal told RIA Novosti, adding that Austria is a "neutral country and a sort of bridge between the East and the West." The official stated, however, that Austria stands by the decision to recall the EU's ambassador from Russia.
Czech President Milos Zeman, known for harsh statements, called the UK claims "a bit superfluous," although he did not oppose the government's decision to expel Russian diplomats.
Top UK officials, including Theresa May and Boris Johnson, promptly pinned the blame on Moscow, claiming that a military-grade nerve agent A-234 (also known as 'Novichok') of Russian origin was used in the attack.
Details in relation to the poisoning of Skripal and his daughter Yulia on March 4 are still vague due to official British secrecy. UK police say that the investigation into the poisoning is still ongoing and officers are likely to continue work in Salisbury "for several weeks and months."
READ MORE: Skripal poison saga just another episode in West's propaganda campaign to corral Russia
However, Western states have not hesitated to mention an explicit connection between Russia and the Skripal incident, despite serious flaws in the official claims.
Moscow has firmly dismissed all such allegations and urged London to provide evidence, including samples of the nerve agent, instead of simply issuing hysterical accusations. Russian Foreign Minister Sergey Lavrov accused Britain of "feverishly rushing around the world… cajoling partners to show solidarity with the United Kingdom on this issue without showing any facts."
You can share this story on social media: