Real targets of US-led strike were Syrian airfields, not research centers – MoD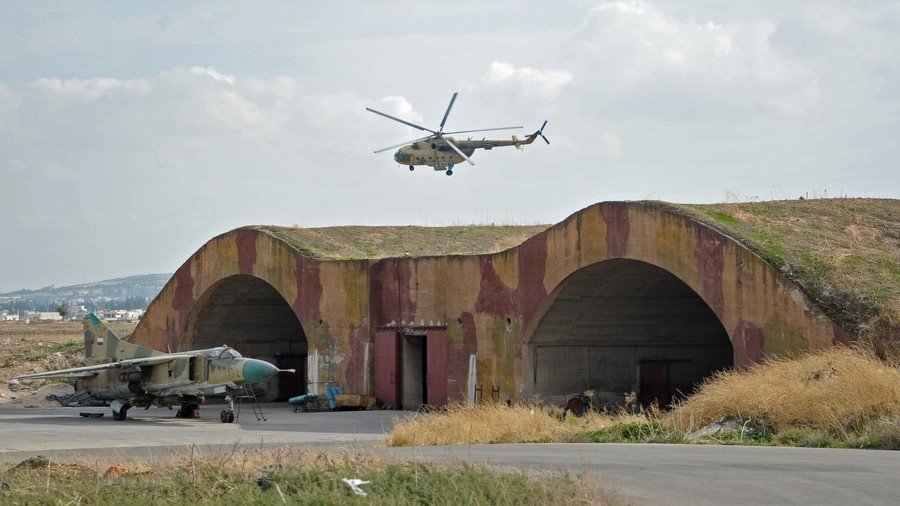 The US-led missile strike against Syria on Saturday targeted research centers and military facilities, including airfields, Russia's Defense Ministry said, adding that none have received severe damage thanks to the air defenses.
"The real targets of the attacks of the US, Britain and France on April 14 were not only Barzah and Jaramani research facilities, but also Syrian military infrastructure, including airfields," Major-General Igor Konashenkov, a Defense Ministry spokesman, said during a briefing in Moscow. "None of the airfields suffered significant damage" in the attack due to being protected by the air defense systems, he added.
All of the US-led coalition missiles targeting the Duvali, Dumayr, Blai and Shayrat airfields were intercepted by the Syrian military, Konashenkov said. The Homs airfield was hit by three missiles out of the 13 that were fired at it, with five out of nine rockets downed before reaching the Mezzeh airbase, he added.
Washington and its allies also used 30 missiles against the much less protected Barzah and Jaramani research facilities, with only four of them being intercepted, the spokesman said.
The Syrian air defense required 112 surface-to-air missiles to bring down most of the 103 missiles launched against the country by the US, UK and France. The Russian-made Pantsir-S1 and Soviet-made S-125, S-200, Buk, Kvadrat and Osa systems, used by the Syrian military, intercepted a total 71 rockets, Konashenkov said.
During his appearance at a tax event in Florida on Monday, Donald Trump claimed that all of the coalition missiles fired at Syria hit their targets, with none of them being intercepted. The US president previously praised the attack, calling it "a perfectly executed strike" that "couldn't have had a better result."
The US and its allies carried out the massive missile attack on Syria on Saturday morning, firing more than 100 missiles on civilian and military facilities in the country. The Pentagon claimed that the attack targeted chemical weapons sites of the Syrian government, despite the fact Damascus had destroyed all of its chemical stockpiles in 2013 and 2014 under international supervision. The missile strike was called a response to an alleged use of poisonous gas in Douma on April 7, which the West blamed on Bashar Assad's government.
READ MORE: Trump wanted to bomb Russian & Iranian targets amid Syria strikes – report
Damascus and Moscow rejected claims that the Syrian authorities may have been behind the chemical attack and questioned whether the attack indeed took place, calling for an immediate impartial probe. Russia also provided evidence, which it said shows and that the alleged incident was fabricated. Incidentally, the missile strikes occurred on the same day that the Organization for the Prohibition of Chemical Weapons (OPCW) experts arrived in Damascus to investigate the claims of a chemical attack.
Think your friends would be interested? Share this story!
You can share this story on social media: