Reported death of Libya strongman sends shockwaves through Arab world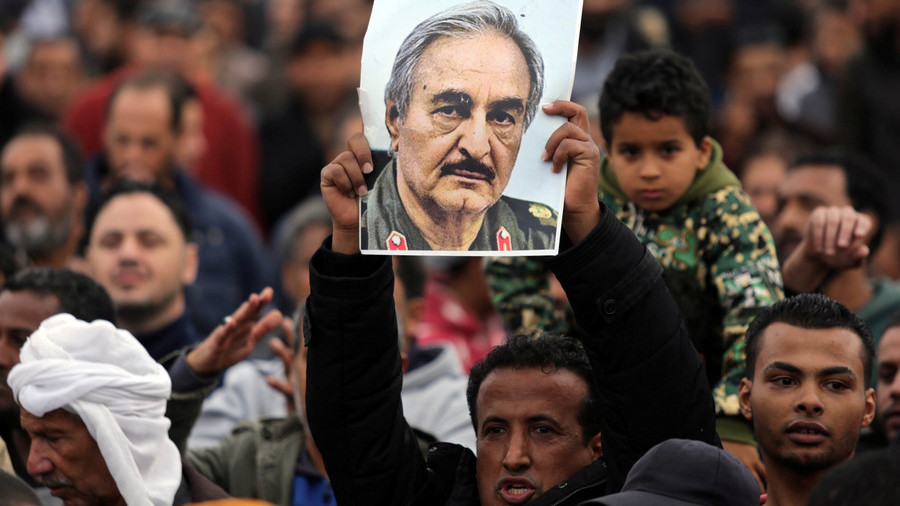 Unconfirmed reports that General Khalifa Haftar, a key figure in Libya's political landscape, has died in Paris hospital are fueling speculation about the country's future. Haftar had suffered a stroke earlier this week.
Haftar, 74, was reportedly admitted to hospital in France in serious condition. His office denied the reports by outlets such as Le Monde and France 24, however, branding them "fake news."
The Tripoli-based Libyan Observer, considered close to the UN-recognized Government of National Accord, reported Haftar's passing on Friday, and posted photos of people in Tripoli celebrating his death.
However, the UN support mission in Libya denied the reports of Haftar's death, saying that he spoke on the phone with the UN envoy Ghassan Salame on Friday.
Haftar was one of the key figures in Libya after the NATO-backed overthrow of Colonel Muammar Gaddafi's government in 2011, becoming the chief of the new Libyan army.
In 2014, after a dispute with the GNA, his forces took control of areas in around the eastern city of Tobruk and Benghazi. Haftar then waged a war on various Islamist groups, including the notorious Islamic State (IS, formerly ISIS).
Despite rejecting the authority of the UN-backed government in Tripoli, the general remained an accepted power in foreign nations. His forces control roughly two thirds of the country. He has been welcomed in Moscow, Paris and Abu Dhabi and considered a strong contender in the upcoming presidential election in Libya.
The North African country was plunged into chaos after NATO supported an uprising against Gaddafi. As a result of the intervention, Gaddafi was defeated and executed by rebels in October 2011. Libya has since suffered from conflict and chaos as rival armed groups, criminal gangs and militias struggled for power and resources.
The collapse of Libya has also resulted in a surge of migrants from Africa into Europe, along with reported abuses by human traffickers such as open-air slave markets.
Like this story? Share it with a friend!