'We won't surrender an inch of our land': Marshal Haftar to RT on Libya's statehood & arms embargo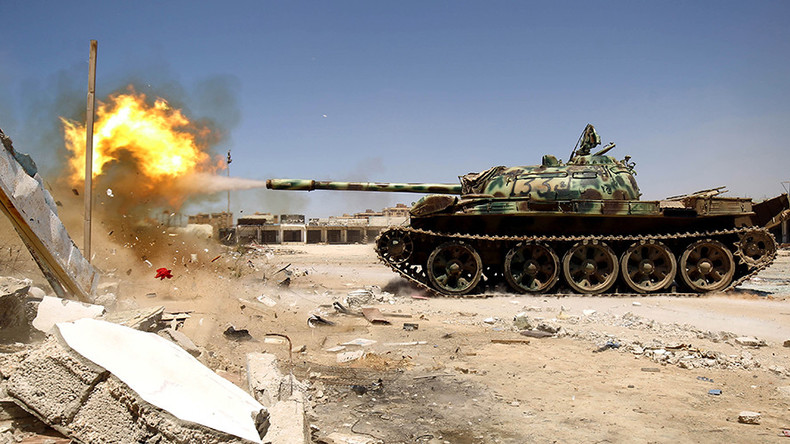 The head of the Libyan National Army, Field Marshal Khalifa Haftar, has told RT he is seeking Moscow's support in lifting the "unfair" UN arms embargo in order to procure Russian weaponry to battle terrorism, human trafficking and to fully restore Libya's sovereignty and statehood.
In February 2011, in the wake of the Western-backed uprising against longtime Libyan leader Colonel Muammar Gaddafi, the UN Security Council imposed an arms embargo, prohibiting the supply of arms and military equipment to and from the North African country.
Following the fall and assassination of Gaddafi, varying factions have been striving to control the remnants of what's left of Libya. However, only the internationally-recognized Tripoli-based Government of the National Accord (GNA) can receive weapon supplies and only upon the approval of a UN Security Council committee.
Haftar commands the self-styled National Libyan Army, which is the main force on the ground allied with the Tobruk-based government that controls large territories in the east and south of Libya which has, so far, refused to endorse the UN-backed unity government. It therefore remains under the arms embargo and lacks supplies to engage pockets of terrorists who still ravage parts of the country.
During the Libyan strongman's third visit to Russia, Haftar once again asked for Moscow's help in securing military supplies.
"Russia is a global power. It is an influential figure on the international stage. That's why we asked it to help amend the unfair restrictions against us, related to arms supply to Libya. We've voiced our desire honestly, and Russia said that it'll do its best to help us," Haftar told RT Arabic in an exclusive interview.
No concrete deals were signed during the visit, but when asked if the he had managed to secure an agreement with Moscow after his meeting with Russian defense minister Sergey Shoigu, Haftar replied that some "progress" has been made.
"I believe that we have agreed on what we need. The Russian side gave a positive response. I think that everything is going well," Haftar said.
"Russia is trying to find suitable solutions to provide us with everything we need at the right time," Haftar added.
Moving on to human trafficking and the migrant crisis which has turned war-torn Libya into one of the main transit hubs to Europe, Haftar criticized the EU's approach, calling it a form of "colonization." Earlier, Italy's parliament authorized the country's navy to carry out missions in Libyan waters to intercept migrant boats and prevent it from reaching European shores. In addition, the EU launched a military operation known as Operation Sophia which focuses on eliminating established smuggling routes in the Mediterranean.
"They [Europeans] erected a barrier of sorts on the territorial waters borders to return any migrants back to the Libyan shores. It's certainly an absolutely wrong approach, very strange approach," Haftar said. "They want to gather all the migrants on Libya's shore. It's a migration, after all, it should not be turned into colonization."
Haftar promised to protect the national sovereignty of Libya if any of the European ships infringe on the country's maritime borders. At the same time, he stressed that his forces are capable of reducing the flow of refugees, as long as EU is willing to help financially.
"We've discussed the plan [with EU nations] which focuses on protection of Libyan borders. The plan should prevent any illegal infiltration into Libyan territory. To enact the plan we need some 4,000 people. We'll train the men, certainly. But technical outfitting the border requires the participation of another side, to say the least," Haftar told RT, noting that the plan requires investment of an estimated $20 billion over the next two decades.
READ MORE: Russia wants to restore Gaddafi-era economic links with Libya
"We're not the only transit country. Italy, France, Spain, Greece, for example, are also transit countries for migrants. At the same time, the countries are able to accommodate a number of migrants on their territories. That's why Europe must participate in providing the Libyan border guards with everything necessary. It's the Europeans who must be responsible for it."
READ MORE: Libyan strongman Haftar declares liberation of Benghazi from jihadists (VIDEOS)
Haftar also warned the international community against any military interference in Libya which might result in the further collapse of the already fractured state.
"Maybe someone will say that the Libyan state is weak, and you can break off a piece from Libya. Yes, our state is not strong. But we will not surrender a single inch of our land. We will rather die than live in humiliation on our own land," Haftar emphasized.
You can share this story on social media: