Libyan strongman Haftar declares liberation of Benghazi from jihadists (VIDEOS)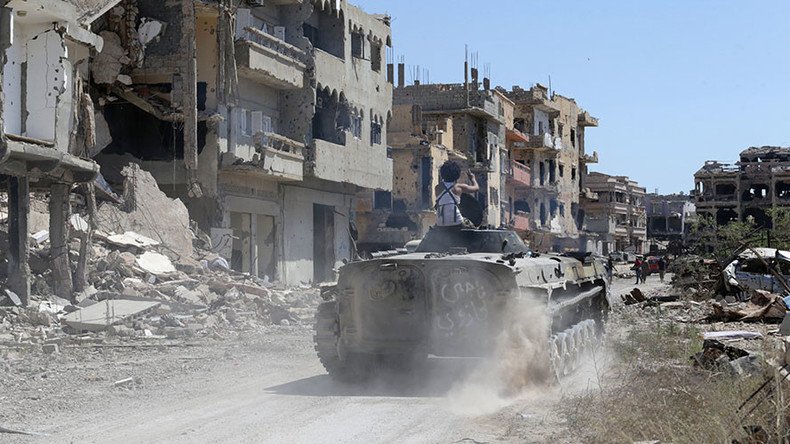 After more than three years of fighting, the self-styled Libyan National Army (LNA) has liberated Libya's second-largest city from Islamist militants, General Khalifa Haftar announced on state TV, declaring a "new era of peace" in Benghazi.
Several Islamist militant and jihadist cells belonging to the so-called Revolutionary Shura Council of Benghazi managed to capture the cradle of the Libyan uprising in 2014, prompting competing centers of power in the fractured country to battle for the city.
After three years of fierce fighting, which began in May 2014, Field Marshal Haftar, the leader of the Libyan National Army (LNA), finally announced that his forces are now in full control of Benghazi.
"After a continuous struggle against terrorism and its agents that lasted more than three years... we announce to you the liberation of Benghazi from terrorism," Haftar said in a speech broadcast on television.
Adding that his forces are now sweeping the city for remaining mines and bombs, Haftar promised peace to the residents of the city.
"Today Benghazi enters a new era of peace, security, reconciliation.... and, reconstruction," Haftar noted.
With Benghazi liberated, the LNA now exerts control over the eastern part of the country, which is still struggling to recover from the repercussions of the NATO-backed uprising.
Libya descended into chaos after the fall of Muammar Gaddafi, with multiple 'governments' and centers of power competing for control of the oil-rich country.
The first is the Presidential Council (PC), which has been based in Tripoli since March 30, 2016 and created following the signing of the UN-brokered Libyan Political Agreement (LPA) in December 2015. The Presidential Council presides over the internationally recognized Government of National Accord (GNA).
The second 'government' is the rival National Salvation Government (GNC) headed by Prime Minister Khalifa Ghwell. The GNC was installed after a coalition of armed groups supporting it won the battle for control of Tripoli in 2014.
The third center of power, headed by the anti-Islamist Marshal Haftar, is based in Tobruk and is aligned with Egypt. It completely rejects the GNC but partially recognizes the authority of the GNA. Libya's foreign minister recently announced that Haftar was "the commander-in-chief of the Libyan army" as long as he recognizes the UN-backed GNA as the only authority.
You can share this story on social media: