Macron blames Assad for Douma 'chemical attack' before OPCW visits site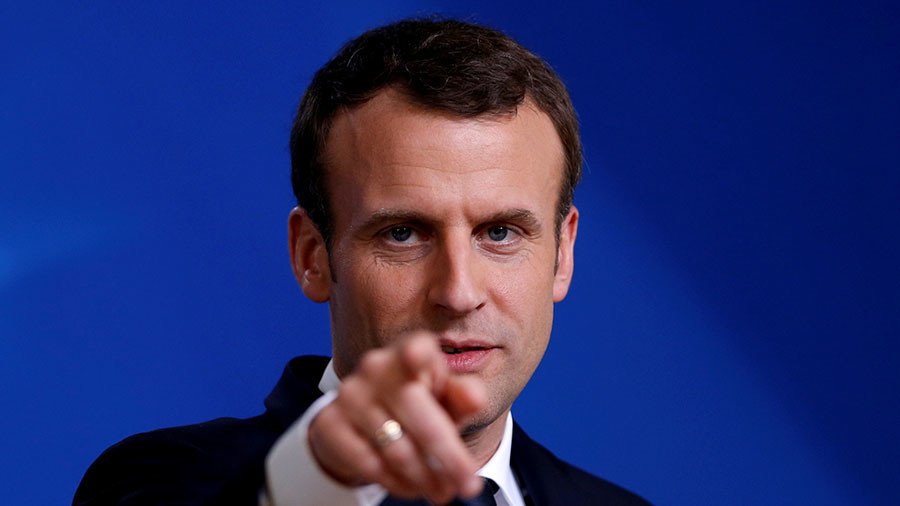 French President Emmanuel Macron is weighing military strikes on Syria as he claims President Assad is behind the alleged chemical attack in Douma. However, an OPCW fact-finding mission has not even arrived yet to check the site.
Western governments are in an apparent rush to pin all the blame on the Syrian government for the alleged use of chemical weapons in Douma. Although an Organization for the Prohibition of Chemical Weapons (OPCW) team has not even reached the site of the alleged incident to make their official collusions, the French government has already made its own.
READ MORE: Trump: 'I never said when attack on Syria would take place'
President Macon claimed on Thursday that "the regime of [Syrian President] Bashar al-Assad" used "at least chlorine" in Douma last Saturday. However, the French leader did not support his statement with any evidence or sources as he spoke to TF1 TV.
#Macron seems to be slightly contradictory on Syria -- says France has proof chemical weapons were used by Assad's government, then says France will decide whether to attack once all necessary verification has been carried out....

— Luke Baker (@BakerLuke) 12 апреля 2018 г.
Macron seemed to contradict himself in the course of his speech. While he announced the desire to get rid of Syrian "chemical attack capabilities," squarely pinning the blame on Damascus, any strikes would take place "once we have verified all the information." French President also attempted to make any military action seem less imminent, stating that Paris would decide on its course of action "at a time of our choosing, when we judge it to be the most useful and the most effective."
Although the OPCW had earlier confirmed that Damascus completed the destruction of "critical equipment at all of its declared chemical weapons facilities," the French allegations were echoed by Germany. Chancellor Angela Merkel claimed it is "obvious" that Syria had managed to keep some stockpiles.
"We… must now acknowledge that it is obvious that the destruction was not completely carried out," Merkel said as cited by DPA new agency.
She also said that there is a "high level of evidence" that some chemical substances were used in Syria. Like Macron, she did not elaborate. However, Merkel dismissed the possibility of German participation in a military campaign against Syria.
Syria has strongly rejected the accusations, and has urged the OPCW to send in an investigation team for a fact-finding mission. The organization's experts are set to begin work in Douma on Saturday, the OPCW confirmed Thursday.
Russia has already warned about repeating past mistakes. Ahead of the 2003 invasion of Iraq, which eventually toppled Saddam Hussein, the Bush administration claimed Baghdad possessed weapons of mass destruction, though no evidence of the weapons was ever found.
And while British Prime Minister Therese May is eyeing a military option against Syria, her predecessor Tony Blair eventually regretted his decision to join the US coalition and invade Iraq in 2003.
You can share this story on social media: