Western threats only increase regional instability – Assad
Published time: 12 Apr, 2018 17:15
Edited time: 13 Apr, 2018 11:42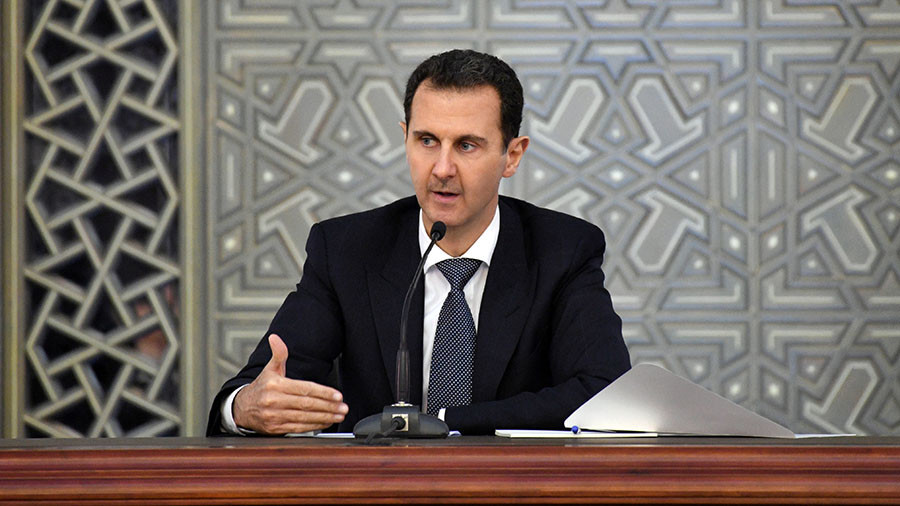 Threats by the West contribute to nothing but the destabilization of Syria and the region, President Bashar Assad said, hours after government troops gained control of Douma, the last militant-held stronghold in Eastern Ghouta.
"Whenever the Syrian Army achieves victory in the field, some Western countries rise their voices and intensify their movements in an attempt to change the track of events," Assad said. The US government is talking about "a response" after accusations that Damascus conducted a chemical attack in Douma based on unverified claims.
These "voices" and "any possible action" from the West "will contribute nothing but an increase in instability in the region, threatening international peace and security," the Syrian leader stressed, speaking to Ali Akbar Velayati, a top adviser to Iran's Supreme Leader Ali Khamenei.
Velayati supported Assad's stance, adding that threats by some Western countries to attack Syria are "based on lies after the liberation of Eastern Ghouta."
Earlier on Thursday, the Russian Defense Ministry confirmed that Syrian government troops had gained full control of the Douma enclave in Eastern Ghouta, 10km from Damascus. Over 160,000 people have managed to leave the besieged area since mid-March, according to the latest data from the ministry.
Douma is allegedly the site of a chemical attack which was reported by rebel-linked activists, including the controversial White Helmets group. The incident, said to have taken place on Saturday, reportedly affected dozens of people. The West swiftly pointed the finger at the Syrian government, which has denied all the accusations.
US President Donald Trump hastily called the supposed attack in Douma a "humanitarian disaster for no reason whatsoever," warning that a "big price" would be paid. On Wednesday he went even further, warning Russia "to get ready" after Moscow vowed to shoot down any missiles fired at Syria. "They will be coming, nice and new and smart," Trump tweeted. Later he attempted to clarify his threat, saying that he had never specified when the US would conduct an attack on Syria.
The US ambassador to the UN, Nikki Haley, quickly labeled Assad a "monster" following reports of the alleged attack in Douma. She called the Syrian government a "murderous regime."
The Russian military insists that the Douma attack might have been staged, adding that its units, dispatched to the site, found no traces of chemical weapons. Moscow said it has warned about false-flag attacks being prepared in recent months. Russia and Syria have been calling for the international investigation of the alleged attack. The fact-finding mission of the OPCW is to start their work in Douma on Saturday.