'More Hungarians share Viktor Orban's anti-immigration stance than just his party supporters'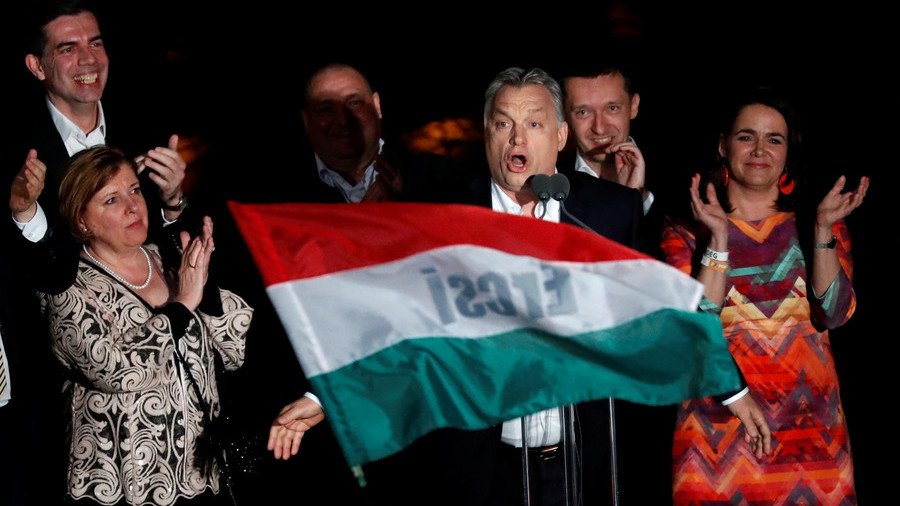 The landslide victory for the party of Hungarian PM Viktor Orban has been criticized within the EU and cheered by Euroskeptics, but most agree that it was his stance on the European migrant crisis that secured the popular support.
The decisive election win for the Fidesz Party was "a surprise," to Gabor Stier, political commentator for the Hungarian Magyar Nemzet newspaper, who says Orban used people's fear of immigrants to secure the win.
"Everybody was sure that Orban and Fidesz would achieve victory. But getting two thirds of the ballot (133 seats out of 199 in the parliament) for the third time in a row was more than they expected themselves," he said.
Anti-migration rhetoric became a key factor in Prime Minister Orban's success as "three years ago he sensed that things weren't going the way they should and showed an alternative – for domestic use, at least," Stier explained. The Hungarian PM refused to take in refugees as part of a quota for the EU member states despite pressure from the bloc, and he blasted Brussels over its failed migration policies.
Stier says Orban "used the fears of the population" to his advantage during his campaign. "The people came to the polling stations on Sunday thinking that the main thing is protecting Hungary from migrants, whom we don't have here. We have stability now and if the opposition comes to power it'll bring turmoil and chaos. So, let it stay the way it is despite the existing problems."
The PM will continue to implement his anti-migrant policies throughout his third term in office as he "set the stakes too high," said Mariann Ory, political commentator for the Hungarian Magyar Hirlap paper. "One wrong decision now, one step on the road to become an immigrant country would determine Hungary's future for decades and, based on the failed integration experiences of Western Europe, there's no way back after such a decision."
READ MORE: Orban's win speaks to growing tide of anti-EU feeling
Orban has been labelled nationalist in Europe for his refusal to let asylum seekers in, but "We don't consider it 'far right,'" said Ory. "On the contrary, Hungary supports a migration policy based on common sense, instead of the open-borders policy of Western Europe, that proved to be dangerous," she added.
"More people agree with Fidesz's anti-migration stance than the core voter base of Fidesz," Ory continued, commenting on the ruling party's election success. "Also, Fidesz's governance produced several results in aspects of welfare, family support, wage rises."
Stier described Orban as "a successful, talented and creative politician; a populist in the finest sense of this word, on most occasions." The emphasis on the anti-migrant issue made him a politician of a European scale and put Hungary on the continents political map, he added.
"It will be easier for Orban to talk with the EU [about migration] after his victory, because the European democracies respect those with public support. His position will be stronger now. But it doesn't mean that there won' be problems as this struggle continues," said the analyst.
However, there are still internal problems in Hungary, including "corruption, which is very high, and the aggressive, rude and patronizing rhetoric this party [Fidesz] has allowed itself towards the Hungarian people on many occasions," according to Stier.
Stier believes that Orban "built a party, which is dominating the Hungarian political scene. Because of this, there's no opposition and no alternative," he said. The far-right Jobbik Party, which came second in the election and claimed 24 parliament seats, is "a good example" of Fidesz's superiority, the commentator added.
"Jobbik used to lean to the right even more than Fidesz and they've lost all of their agenda because Orban's party used it as well. They tried moving towards the center, but because of it they lost many voices of the radicals. Jobbik is now the second party in parliament, but they couldn't do any better than four years ago," he said.
Stier also confirmed that there's currently "a demand for the rightist rhetoric in Hungary" that can be explained by the fact that "the left, the liberals nearly destroyed the country in the 2000s."
The Jobbik Party's foreign affairs chair, Marton Gyongyosi, blamed Orban for overreliance on the migrant issue during the "hysterical" election campaign. "Of course, we are aware that this is an important topic [migration], but it's quite sad to see that no other issues could enter the agenda in this electoral campaign and it seems to have brought result for the governing party," he said in a live appearance on RT.
The politician expressed belief that Budapest's relations with the EU after the prime minister "received the feedback from the population that this is the right way to go" will deteriorate further. "I think we would all be surprised if Viktor Obran would back down from this strategy. I think he's just going to push it further and he's not going to be scared off, perhaps, by the increasing tension between… other European countries and Hungary," the MP said.
Gyongyosi acknowledged that it would be "tough" to counter the Fidesz party's two-thirds majority in parliament, adding that "we have experienced that already twice in a row – in 2010-2014 and since 2014 – but I think we have to bring back common sense to the political arena in Hungary and we have to do what an opposition has to do."
You can share this story on social media: