1 killed, hundreds evacuated in blaze at Moscow children's mall (PHOTOS, VIDEO)
Published time: 4 Apr, 2018 16:00
Edited time: 5 Apr, 2018 12:47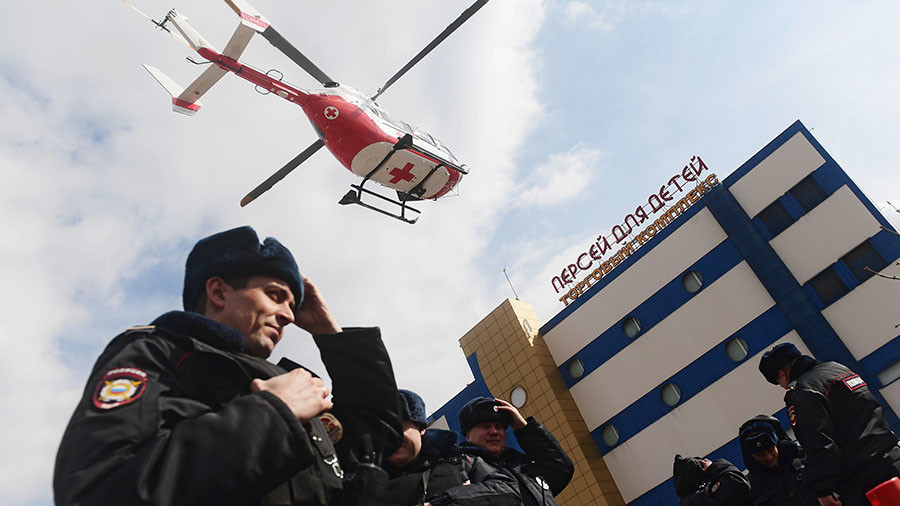 A blaze at a Moscow shopping center has left one employee dead and several people injured. It comes less than two weeks after the tragic mall fire in the Siberian city of Kemerovo which claimed the lives of more than 60 people.
The fire started at the 'Perseus for Children' shopping center on Wednesday afternoon, in a storage room on the top floor of the six-story building. It then quickly spread, triggering an evacuation of some 600 people, while 20 had to be rescued by firefighters.
One person who worked at the mall, which specializes in children's goods, was killed as he missed the direction to the fire exit, the head of Moscow emergency services, Ilya Denisov, later said. Three rescue workers were also injured while tackling the fire. It took firefighters more than one hour to extinguish the blaze.
Russia is still reeling from a deadly inferno that hit a shopping center in the western Siberian city of Kemerovo on March 25. More than 60 people, many of them children, perished in the fire, with some of them trapped in one of the cinemas at the mall.
The tragedy prompted protests in the region, with people, including those who lost their friends and family members, demanding justice and a transparent investigation. Following the incident and the ensuing protests, local governor Aman Tuleyev resigned. Scores of Russian malls and public places came under intense scrutiny as authorities began to check their state of preparedness for potential disasters. Around 15 malls were closed after the checks, Prosecutor's Office spokesman Alexandr Kurennoy announced Wednesday.