Indian government holds back on 'fake news' crackdown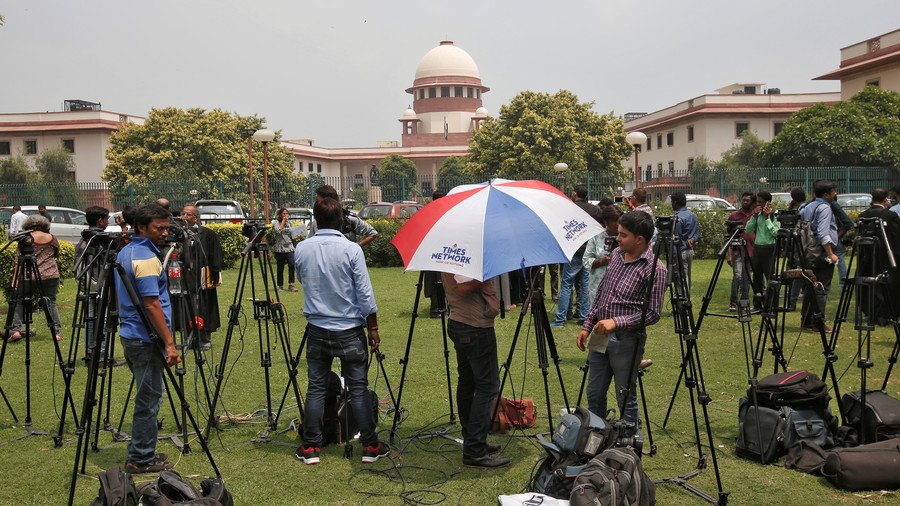 The Indian government has withdrawn the announcement of new rules which would strip journalists who disseminate "fake news" of their accreditation, after critics called the proposed law an attack on press freedom.
"The prime minister has directed that the press statement regarding fake news be withdrawn and the matter be addressed in the Press Council of India," a senior official in Narendra Modi's government told Reuters. No reason was given, and it remains unclear whether the proposal will be scrapped or amended and possibly given the go-ahead after consultations in the Press Council.
The backtrack comes just one day after the Information and Broadcasting Ministry announced that India would be penalizing journalists for publishing "fake news." Critics immediately called the proposal an attack on the freedom of speech.
The ministry said on Monday that journalists who were found guilty of writing or broadcasting untruthful news reports would have their government accreditation withdrawn, citing a growth in complaints about "fake news." Such accreditation is mandatory for journalists in order to visit ministries or attend press conferences and seminars organized by government departments.
It said that accreditation could be withdrawn temporarily or permanently, depending on the violation. The ministry said that complaints about fake news in print would be referred to the Press Council of India, with suspected television violations going to the National Broadcasters Association. The ministry's statement did not address digital media. However, India's information and broadcasting minister, Smriti Irani, previously said the government would try to develop a framework for that form of journalism as well.
Journalists and opposition parties criticized the move as an effort by Prime Minister Modi's government to control the press ahead of a general election, due to take place by next year.
Opposition Congress party leader Ahmed Patel took to Twitter to question the move. "What is [the] guarantee that these guidelines will check fake news or is it an attempt to prevent genuine reporters from reporting news uncomfortable to the establishment?" he asked.
I appreciate the attempt to control fake news but few questions for my understanding:1.What is guarantee that these rules will not be misused to harass honest reporters?2.Who is going to decide what constitutes fake news ? 1/2

— Ahmed Patel (@ahmedpatel) April 2, 2018
The president of the Press Club of India, Gautam Lahiri, called the proposed rules an "attack on the freedom of the press" and a "draconian order" that could be "misused against genuine journalists," Reuters reported.
Although India is widely known as the world's largest democracy, the most recent World Press Freedom Index, issued by Reporters Without Borders, ranked the country 136 out of 180, three spots lower than the previous year.
In a sign of disdain for mainstream media, Narendra Modi, who is an active Twitter user and makes a monthly address to the country, has been asking his compatriots to follow the latest news and updates through his mobile app. The controversy also comes as cabinet ministers have been pushing the website www.thetruepicture.in, which says its mission is to "bust" fake news reports. It said it has found that "sections of the media have a tendency" to cast the government in a "bad light."
India's press crackdown announcement came shortly after Malaysia made distributing fake news illegal, approving a law that imposes a US$123,000 fine and six years in jail for anyone found guilty. Critics have lashed out at that law, accusing the government of aiming to use it to stifle government opposition ahead of the August general election.
The term "fake news" has become a favorite of politicians around the world, including US President Donald Trump, who on numerous occasions has accused American mainstream media outlets, including CNN and The New York Times, of transmitting false information.
Like this story? Share it with a friend!
You can share this story on social media: