CNN slams Sinclair Broadcasting for making anchors recite 'fake news' script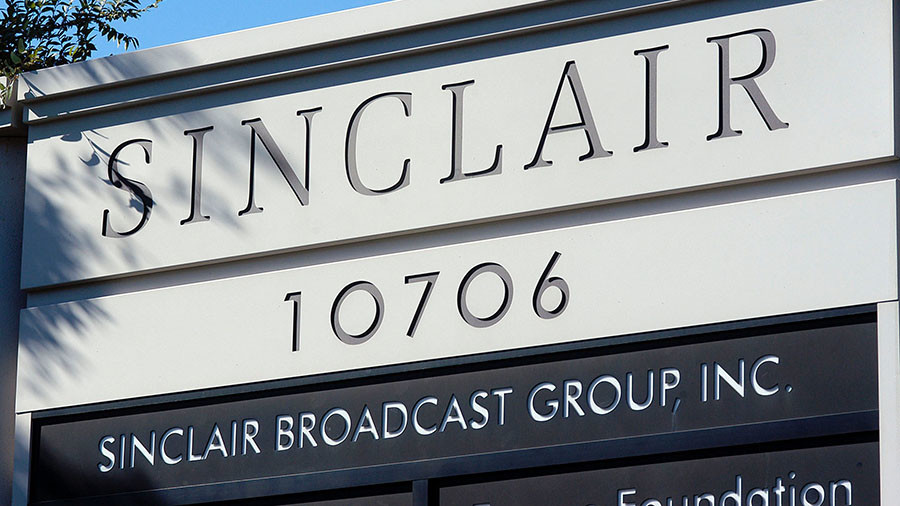 The largest owner of local television stations across the United States is under fire for reportedly forcing anchors to take part in a promotional video accusing national media outlets for sharing "fake news" stories.
The conservative-leaning Sinclair Broadcasting Group is requiring anchors to read verbatim a script praising the "quality, balanced journalism" of local stations, while bemoaning the "sharing of biased and false news" by national media, according to CNN. Internal documents called the campaign an "anchor-delivered journalistic responsibility message."
Anchors were given instructions accompanying the promotional material, including a directive to read the scripts "exactly as they are written" and to run the promotion during news time as frequently as possible to "create maximum reach and frequency."
The anchors were also told not to wear red, blue or purple while they spoke, to avoid looking political. "The goal is to look apolitical, neutral, non-partisan yet professional," the instructions read, according to CNN's report.
News website Deadspin has since created a disconcerting, dystopian montage of local-news anchors reading the script word-for-word on air.
Many of the anchors reportedly felt uncomfortable reading the script.
"I felt like a POW recording a message," one anchor told CNN.
Los Angeles Times journalist Matt Pearce has posted screenshots on Twitter of messages from Sinclair employees, who are unhappy in their jobs but claim that they can't quit because the company threatens to sue employees who leave before their contract is up. Contracts also prevent those who quit early from working for any other station in the same market, one former employee said.
A Sinclair journalist, who has been trying to resist from inside the newsroom — but who doesn't have a union — explains why it's so hard for TV anchors to refuse the Sinclair's editorial edicts. They have contracts that penalize them if they quit. pic.twitter.com/pFGVglxAQU

— Matt Pearce 🦅 (@mattdpearce) 2 апреля 2018 г.
President Donald Trump defended Sinclair Broadcasting in a tweet on Monday, saying national broadcasters were "among the most dishonest groups of people I have ever dealt with," and that Sinclair channels are "far superior" to CNN and MSNBC, cable networks openly hostile to his administration.
So funny to watch Fake News Networks, among the most dishonest groups of people I have ever dealt with, criticize Sinclair Broadcasting for being biased. Sinclair is far superior to CNN and even more Fake NBC, which is a total joke.

— Donald J. Trump (@realDonaldTrump) 2 апреля 2018 г.
Though it was Hillary Clinton who first used the term "fake news" to explain her 2016 election loss, the term has become famous becauseTrump has used it to label hostile outlets like CNN, MSNBC or the Washington Post. In January, he went so far to hand out"fake news awards" for stories about him or his administration that were debunked or had to be retracted.
Sinclair Broadcasting owns nearly 200 local television stations across America. The company is awaiting approval for a proposed $3.9-billion merger with Tribune Media, which would expand its reach even further.
Meanwhile, a new poll has found that 77 percent of Americans believe that media outlets do report 'fake news' at least occasionally – up from 63 percent last year. Patrick Murray, director of the independent Monmouth University Polling Institute, said this was bad news for American journalism.
"Confidence in an independent fourth estate is a cornerstone of a healthy democracy. Ours appears to be headed for the intensive care unit," Murray said.
So, while reading a suspiciously pro-Trump-sounding script attacking national media outlets might not be the best way to combat bias, it seems that a majority of Americans agree that 'fake news' is a problem.
Like this story? Share it with a friend!
You can share this story on social media: