US to deploy 5 Ospreys to Tokyo base ahead of schedule despite Japanese calls to ground aircraft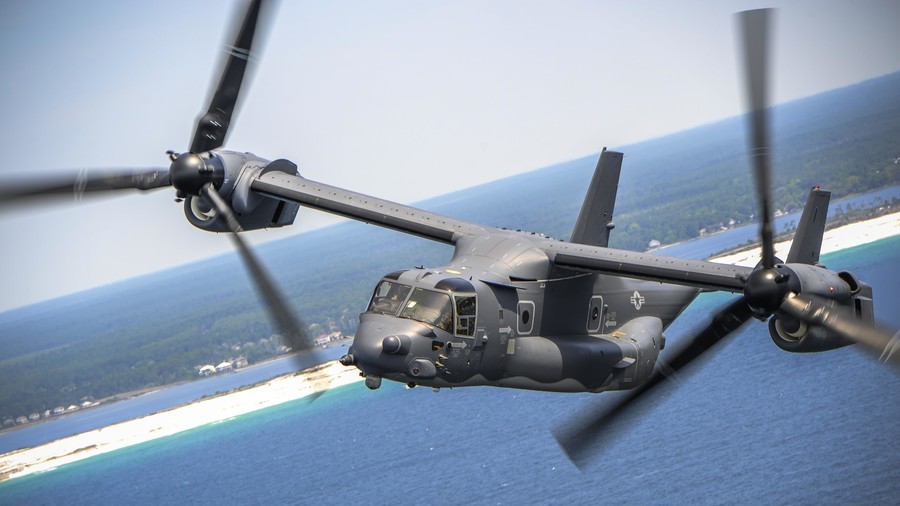 The US military announced it will deploy five Air Force CV-22 Ospreys to a base in Tokyo, more than a year early. It follows a series of issues with the tilt-rotor aircraft, including a crash that killed three US marines.
The Ospreys are due to arrive at Yokota Air Base in the Japanese capital later this week. The arrival will mark the first time that Ospreys have been stationed at a Japanese military base outside of Okinawa, according to the Japan Times.
The five units are part of a deployment of 10 Ospreys that was initially scheduled to take place in the fiscal year which begins October 2019. However, the date for the five Ospreys was moved up in order to address "regional stability concerns in line with the recently released 2018 National Defense Strategy," the US military said in a statement cited by Stars and Stripes. It went on to state that the deployment "provides a platform that can rapidly react to natural disasters or crises."
It also said the aircraft – which take off like a helicopter and fly like a plane – will remain at the base for a short time, before conducting training around the region. Around 100 personnel will arrive with the aircraft, according to Kaori Matsukasa, a spokeswoman for Yokota's 374th Airlift Wing, and that number will grow as the number of Ospreys grows. "The total number of personnel added to Yokota Air Base over the next few years is expected to be around 450," she said.
The expedited deployment comes despite the Japanese Defense Ministry previously calling for all US military MV-22 Osprey aircraft to be grounded following a crash in Australia that killed three marines in August 2017. However, the ministry later softened its stance after the US assured Tokyo that the Ospreys were "safe to fly." Just two months earlier, several US military aircraft, including Osprey tilt-rotor aircraft and F/A-18 fighter jets, had to make emergency landings on the same day at various bases on the Japanese island of Okinawa.
However, the problem with US military Ospreys in Japan began long before the most recent incidents. In 2016, an entire fleet of V-22 Ospreys in Japan was briefly grounded after one of them crashed into shallow waters. Soon after, Okinawa Governor Takeshi Onaga led a rally to protest US military bases on the island, saying he was "committed to preventing Ospreys from flying in our skies."
US military equipment has long been a source of fury in Japan, particularly on Okinawa, where nearly half of the 47,000 US troops based in the country are located. However, many different types of US aircraft have been at the center of controversy – not just Ospreys.
In February, the mayor of a Japanese town located near Misawa Air Base called for the grounding of American F-16 fighter jets after a fuel tank was emptied over a lake. Just one month earlier, Onaga accused US forces in Japan of being "out of control" and "crazy" following a string of incidents involving military helicopters. One of those incidents involved a helicopter part falling on a schoolyard where 54 students were playing, leaving one boy injured.
Meanwhile, US personnel have also been a source of anger in Japan, including after a US marine killed an elderly civilian in a drunk-driving accident in November. Military staff have also been involved in rape and murder scandals, while sailors in Yokosuka are currently being investigated over allegations of selling, buying, and using hard drugs.