Aircraft dropping parts, drunk driving: US military faces Okinawa backlash after string of accidents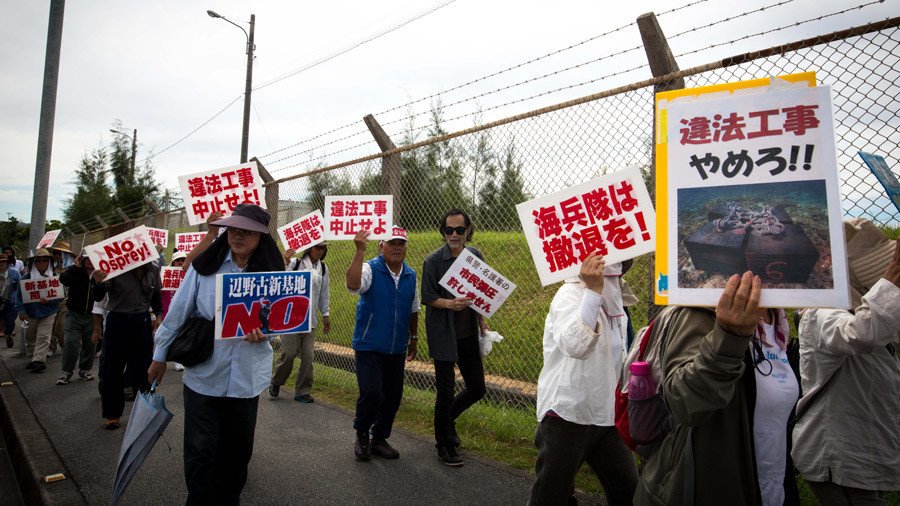 A series of accidents involving US troops on the Japanese island of Okinawa has enraged locals and prompted the country's officials to issue a note of caution to Washington.
The small island accommodates half of all US military personnel stationed in Japan, but their record of accidents and crimes in Okinawa has sparked fierce opposition to their continued presence.
On Wednesday morning, a window panel fell off an American CH-53 Sea Stallion helicopter and landed on an elementary school sports field adjacent to the US Marine Corps' Futenma Air Station. The faulty window reportedly injured a 10-year-old boy.
In a statement seen by Reuters, Japan's Chief Cabinet Secretary Yoshihide Suga said this latest incident "creates anxiety not only among those involved with the school but the people of Okinawa and should never happen."
In a separate incident one week ago, an object that fell from a US aircraft was discovered on the roof of a nursery school, also near the Futenma base. Although no injuries were reported as a result of that incident, around 100 protesters from various civic groups staged a rally in front of the US military's headquarters in Okinawa.
"Don't fly US military helicopters!" the demonstrators chanted, Japanese public broadcaster NHK reported. Many locals have expressed amazement and disbelief that schoolchildren had been endangered by falling American objects twice in one week.
Unfortunately for Okinawa residents, incidents involving the US military have become almost routine, and some have proven deadly.
In November, a drunk US Marine drove his truck into a civilian vehicle at an intersection in Naha, the capital of Okinawa Prefecture, killing an elderly man. Following that fatal accident, all US military personnel in Japan were temporarily banned from drinking alcohol, both on and off-base.
Last year, movement restrictions and a ban on drinking alcohol off-base were put in place after a drunk US sailor injured two Okinawa residents in a car crash.
The drunk-driving incident followed two high-profile cases of US personnel committing rape and murder. Both of the victims were young Japanese women.
One US serviceman was sentenced to two-and-a-half years of hard labor for raping a Japanese woman, while a US civilian contractor was sentenced to life in prison in December for the rape and murder of another Okinawa woman.
These cases provoked public outrage, with at least 50,000 people assembling to denounce the US military presence on the island.
The temporary alcohol ban in response to the crimes was described at the time by US military officials as a "period of unity and mourning." The ban was lifted after less than a month.
Japan accommodates around 54,000 US military personnel, 42,000 dependents and 8,000 civilian employees of the Department of Defense. They are dispersed among 85 facilities on Honshu, Kyushu, and Okinawa.
Roughly 70 percent of the land that Japan has reserved for US military bases is located in Okinawa, but the island comprises less than one percent of the nation's landmass. Around 25,000 US troops are estimated to be based there.
Governor of Okinawa Takeshi Onaga has demanded that the central government make "drastic" and "fundamental" changes in the Japan-US Status of Forces Agreement (SOFA).
"People in Okinawa have been shocked and are enduring significant anxiety," Onaga told Foreign Minister Taro Kono during a meeting, Japanese media reported.
Attempts by Japanese authorities and activists to reduce US military activity on Okinawa have proven unsuccessful.
In July, Okinawa officials filed a lawsuit against Tokyo demanding a halt to construction work for the relocation of the Marine Corps' Futenma base, claiming that the development would damage seabed rock, which would harm local fishing grounds. However, construction of the new base continues.
In August, Japan's Defense Ministry briefly called for all US military MV-22 Osprey aircraft to be grounded following a crash in Australia that killed three marines.
However, Tokyo quickly reversed its decision, stating that the government had been reassured that the US military is "taking reasonable measures" to ensure the safety of its air operations in Japan.
You can share this story on social media: