'Wrong step could bring catastrophe': Japanese mayor wants US F-16s grounded after fuel tank drop
Published time: 22 Feb, 2018 08:42
Edited time: 15 Mar, 2018 14:07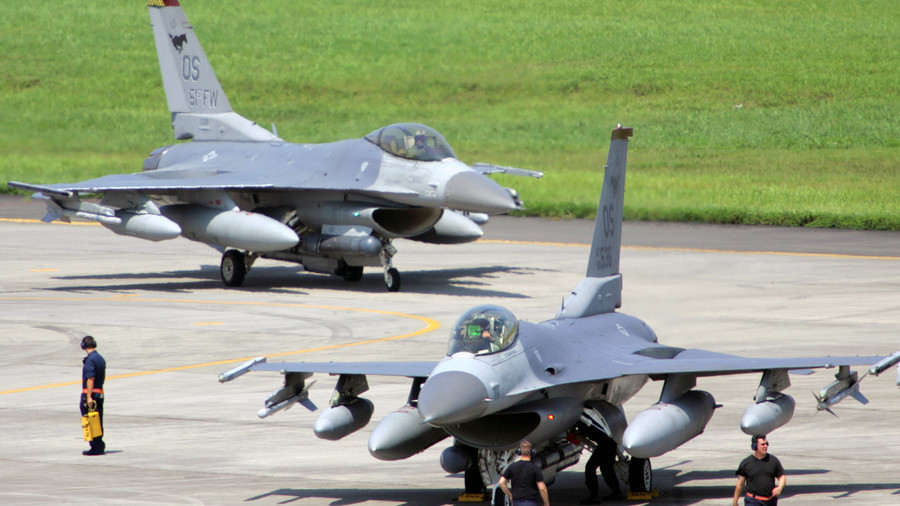 The mayor of a Japanese town close to the Misawa Airbase, stationing US warplanes, has called for the grounding of American F-16 fighter jets. The demand comes after one fighter dumped its fuel tanks over a lake.
On Tuesday, a US F-16 fighter jet caught fire midflight, forcing the pilot to drop two external auxiliary fuel tanks into Lake Ogawara in Aomori Prefecture, northeastern Japan. The lake is near the Misawa base and is reportedly a popular place among local fishermen, who claim that the tanks fell between 200 and 400 meters away from clam boats.
The incident, far from first on the long list of US military failures in Japan, has caused more anger and criticism from local officials.
The mayor of Tohoku town, just 14km from the base, demanded the F-16 fighters be grounded during a meeting with the commander of the US base, Col. R. Scott Jobe, according to local media.
"We have lots of fishermen. One wrong step could result in a catastrophe," Mayor Koji Ebina said on Wednesday as cited by Kyodo.
The local fishery association had to suspend fishing in the lake until the fuel from the incident is removed and the environment is declared safe. On Wednesday, the local authorities called on the central government to pay compensation for the fishermen's losses. The government officials reportedly agreed to "deal with the matter" if the damages are confirmed, local media reported citing Chief Cabinet Secretary Yoshihide Suga.
US hardware and troops have been repeatedly involved in various in mishaps in Japan, which hosts a massive American contingent. In mid-February, sailors from the US Navy's 7th Fleet came under investigation over allegations of selling, buying and using hard drugs while stationed in Japan. In January, three US helicopters made emergency landings in Okinawa prefecture, infuriating Governor Takeshi Onaga, who said that the US forces were "out of control."