Tributes paid to Winnie Mandela, controversial 'mother' of South Africa
Published time: 2 Apr, 2018 18:55
Edited time: 9 Apr, 2018 15:37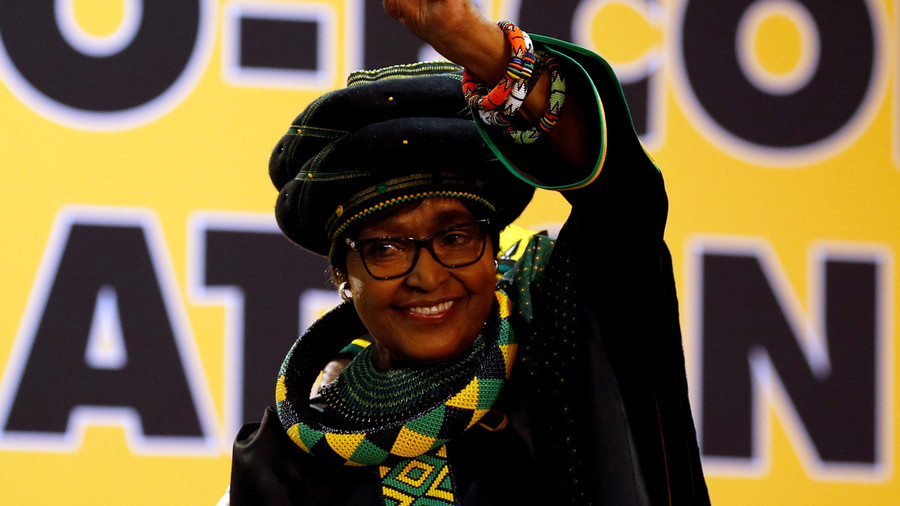 Winnie Madikizela-Mandela has died at the age of 81. Hailed as a "trailblazer," her fans and followers took to Twitter to pay tribute to South Africa's most-revered female anti-apartheid activist.
Madikizela-Mandela, who remained married to husband Nelson Mandela during his decades-long imprisonment, died peacefully surrounded by family in the early hours of Monday morning. A long illness had seen her go in and out of hospital since the start of the year, according to family spokesman Victor Dlamini.
"She fought valiantly against the apartheid state and sacrificed her life for the freedom of the country," Dlamini said in a statement. "She kept the memory of her imprisoned husband Nelson Mandela alive during his years on Robben Island and helped give the struggle for justice in South Africa one its most recognizable faces."
READ MORE: Golden digits: Nelson Mandela's 'hands' bought for $10mn in bitcoin
Madikizela-Mandela, dubbed "Mother of a Nation" by her supporters, campaigned tirelessly for her husband's release both at home and abroad during his 27-year imprisonment. However, that period was a time of great turmoil, with increased violence giving way to the start of a long political entanglement with the apartheid regime.
She was jailed several times for her part in the fight against white-minority rule. The most serious of which, in 1991 when Madikizela-Mandela was convicted of kidnapping and assaulting a 14-year-old boy because he was suspected of being an informer. The boy's body was later found in a field. He had suffered stab wounds to the throat. Her initial six-year jail term was reduced to a fine on appeal.
Parents to two children, the Mandelas separated in 1992 and divorced four years later after nearly four decades into their marriage. Their working relationship was severed in 1995. Madikizela Mandela's reputation was further tarnished after she was fired from Mandela's cabinet over allegations of corruption.
Controversies and lengthy legal battles aside Madikizela Mandela showed her continued resilience in a 2013 interview where she exclaimed that she would do it all again if she had to. "I am not sorry. I will never be sorry," she said. "I would do everything I did again if I had to. Everything."