State of emergency to be declared over poisonous landfill after thousands protest in Moscow region
Published time: 29 Mar, 2018 23:10
Edited time: 30 Mar, 2018 08:45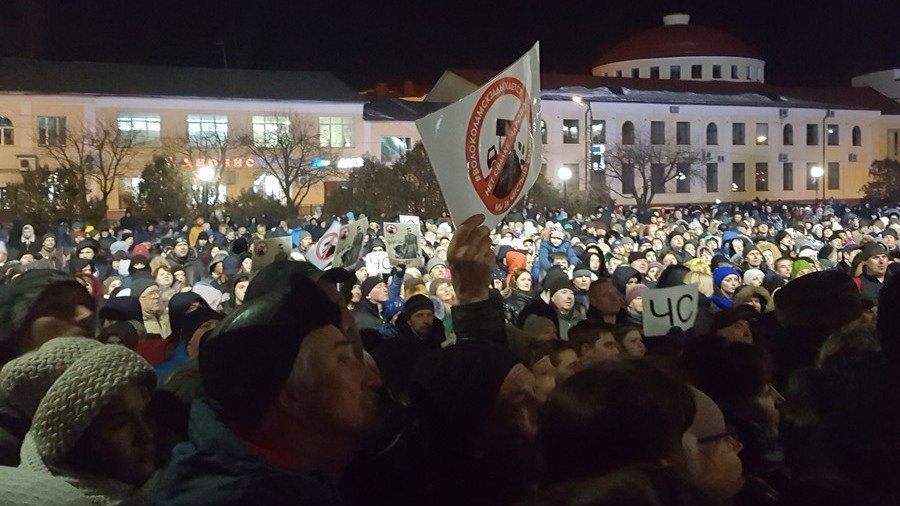 A state of emergency will be declared in the town of Volokolamsk in the Moscow Region, a local official told thousands of protestors who gathered to demand the closure of a leaking waste deposit near their homes.
A huge crowd gathered in front of the city hall on Thursday, where authorities were deciding what to do with a landfill, which made over 50 children sick last week from gas emissions. People demanded authorities to declare a state of emergency in the area and close the local Yadrovo solid waste dumping grounds, which they said made it almost impossible to breathe in the area.
The angry protestors chanted "Come outside!" as they expected acting Volokolamsk District head Andrey Vikharev to personally inform them of the results of the meeting. Local activist Artyom Lyubimov estimated the turnout at the event to be at 6,000 in an interview with Vedomosti paper. Footage from the scene confirmed there were several thousand people outside the administration.
Vikharev eventually came out to the people, saying that residents of the city will be provided with individual means of protection, while local schools will have ultraviolet lamps introduced in order to minimize the effect that the emissions could have on the childrens' health.
The acting district head also confirmed an earlier promise to send the local children to health resorts, saying that "mothers with breastfed babies should be the first to leave, followed by older kids and people with disabilities."
Volokolamsk mayor Pyotr Lazarev, who also came out to the people, said that the Yadrovo landfill will "definitely" be closed. "I have the same opinion as all of you on this," the mayor said, but he did not elaborate further.
New emissions from the Yadrovo landfill were recorded overnight, with authorities saying that they exceeded the maximum permissible concentration of harmful substances by 10 times. But the activists accused the officials of understating the gravity of the situation, with Lyubimov saying the concentration of gas was almost 90 times more than admissible.
Residents of Volokolamsk have been protesting against the landfill for several weeks now. On March 21, 57 school-aged children were treated by doctors and at least five were hospitalized due to poisoning symptoms. All of the children suffered from nausea and dizziness, and three of them also had skin rashes. The locals blamed their condition on the landfill.
READ MORE: Protesters attack district official after landfill gas allegedly poisons children
Then-district head Yevgeny Gavrilov attempted to calm the people down, which resulted in the official being assaulted by the crowd as he was pushed several times and had the hood of his coat torn off. Gavrilov was relieved of his duties several days later.