French politician who hailed death of hero cop arrested over Trebes tweets
Published time: 26 Mar, 2018 11:30
Edited time: 27 Mar, 2018 09:16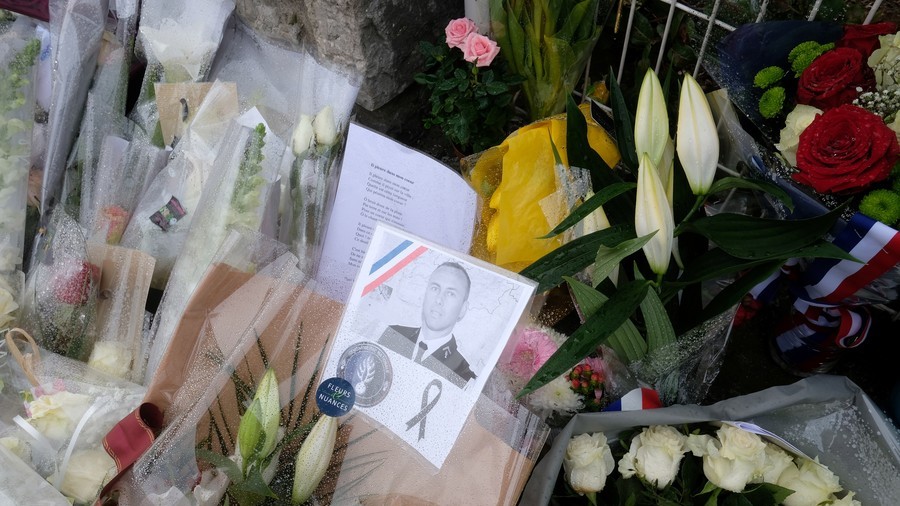 A French politician could face up to seven years in prison and a hefty fine after reportedly being arrested over tweets celebrating the death of a policeman during the terrorist siege in a French supermarket.
Stephane Poussier, who stood unsuccessfully for the left-wing La France Insoumise (France Unbowed) party in last year's general election, was arrested Sunday at his home in Dives-sur-Mer in northwest France, according to French media. In a series of tweets, the politician is said to have celebrated the death of Lieutenant-Colonel Arnaud Beltrame, the gendarme killed after offering himself in exchange for a hostage during Friday's supermarket siege in Trebes, southwest France.
READ MORE: 3 homemade bombs found at site of French supermarket attack – report
"Whenever a policeman is shot... I think of my friend Remi Fraisse," he wrote, according to La Parisien. Poussier was referring to 21-year-old environmentalist Remi Fraisse who was killed in 2014 during clashes with police at the site of a dam in Sivens, near Toulouse. "And this time it was a colonel, great! It also means one less vote for [President Emmanuel] Macron," he added.
Poussier's Twitter account has now been deleted but a post expressing similar sentiments remains on his Facebook page. He was arrested under a law which prohibits speaking favorably of a terrorist act or crime. If convicted, Poussier faces a maximum penalty of seven years in prison and a €100,000 fine.
READ MORE: Twitter blames Paris for failing to stop Trebes gunman, once regarded as national security threat
Beltrame has been hailed as a hero in France for his actions during the Trebes siege. One of the first to the scene, the policeman exchanged himself for a woman being held as a human shield by Radouane Lakdim, a jihadist claiming to be acting on behalf of the Islamic State (IS, formerly ISIS). Beltrame later died of a knife wound to the neck while Lakdim was killed in the ensuing police raid.
"The shameful and abject words of Stephane Poussier have nothing to do with La France Insoumise. We condemn them firmly. We immediately withdraw this person from the party," France Unbowed said in a statement Saturday. The party's leader Jean-Luc Melenchon also condemned Poussier, labeling the tweets "repulsive."
Like this story? Share it with a friend!