Twitter blames Paris for failing to stop Trebes gunman, once regarded as national security threat
Published time: 24 Mar, 2018 22:01
Edited time: 25 Mar, 2018 10:34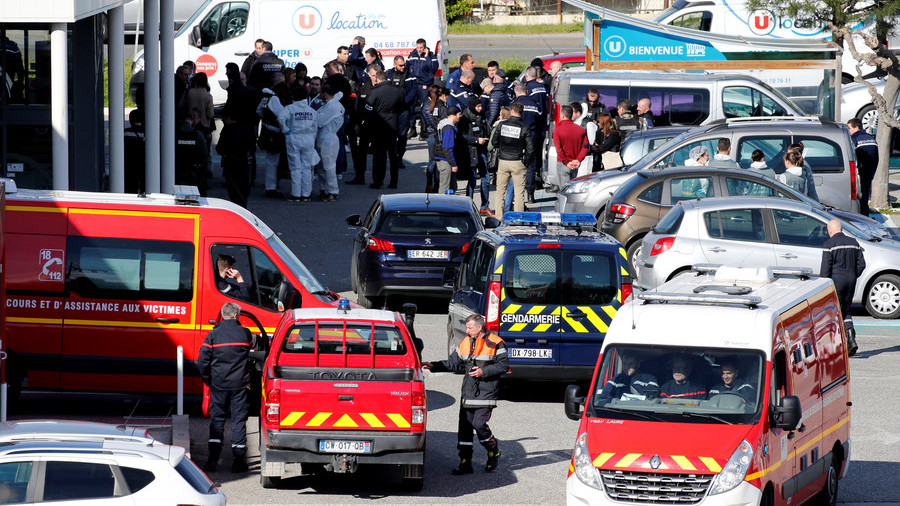 France's Twittersphere is mourning the death of the officer who swapped himself for hostages during the supermarket siege, speculating that the tragedy might have been avoided if authorities had monitored suspected extremists.
Lieutenant-Colonel Arnaud Beltrame volunteered to take the place of hostages to save the lives of people inside a supermarket in the town of Trebes. He was then shot and fatally injured by the gunman during the siege.
READ MORE: French hero cop injured after hostage swap in standoff with 'Islamist terrorist' dies
On Saturday morning, Interior Minister Gerard Collomb wrote on Twitter that the heroic policeman had succumbed to his wounds. The post gathered hundreds of comments, praising the bravery and sacrifice of Beltrame. The veteran officer was decorated with the National Order of the Legion of Honour, the highest order of merit for both military and civil deeds in France.
Yet, many on social media suggested that Beltrame might have been alive if the French government had better monitored individuals on its terror watch list. "He died because you refuse to neutralize those Islamists on Fiche S list," one man wrote on Twitter.
The enigmatic Fiche S is an indicator in France to flag an individual considered a threat to national security who should be kept under constant watch. The list once included Amedy Coulibaly, an Islamist behind Île-de-France attacks back in 2015.
The Carcassonne and Trebes gunman, Radouane Lakdim, was put on the Fiche S list in 2014. He was suspected of "radicalization and links with the Salafist movement" of ultra-conservative Islamists. Closely monitored in 2016 and 2017, according to Collomb, the man was later found to be no threat to national security.
French authorities confirmed that Moroccan-born Lakdim was a French citizen, without specifying when exactly he became naturalized. Yet, according to some media reports, Lakdim got his French passport in 2015, right after he was placed on the notorious watchlist. The claim was later contested by some outlets, who argued that in fact the man was naturalized in 2004, when his father got citizenship.
"Beltrame was killed by a Moroccan offender who received French nationality in 2015 from blind authorities. Will this masquerade stop one day?" one woman exclaimed on Twitter. "Fiche S in 2014 + French national in 2015 = 4 dead in 2018," another person fumed.
"Our leaders are accountable for the bloodshed yesterday," another angry commenter said.
The ire of the Twitterati seemed to be directed both against the shooter and the French government, which seems to have just ignored the threat the attacker posed. "A convicted foreigner on Fiche S list mustn't have been granted French citizenship and must have been deported from the country immediately," Valérie Boyer, a member of the National Assembly, wrote on Twitter.
"Indeed, we must get serious explanations why the authorities granted the nationality to this individual," another person added.
The majority of those behind recent terrorist attacks in France were known to intelligence services according to ex-MI5 intelligence officer Annie Machon. But for some reason they are not being monitored carefully enough and were not followed around, the former MI5 agent believes. The perpetrators "are allowed to get more radicalized and carry out these appalling deeds," she told RT.
Machon, who resigned in 1996 to blow the whistle on the incompetence and crimes of spies, insists that the intelligence agencies have "an over-reliance" on electronic surveillance. "They ignore to a certain extent the real importance of pre-emptive human intelligence, when you send agents to these communities to find out what people are thinking, what they are planning, what they are about to do. That is what is lacking at the moment," she said.
EDITORIAL NOTE: The previous edition of the story referred to 'Fiche S' as a terrorist list, which is not an accurate description.
Think your friends would be interested? Share this story!