Volkswagen ordered to rehire employee suspected of trying to join ISIS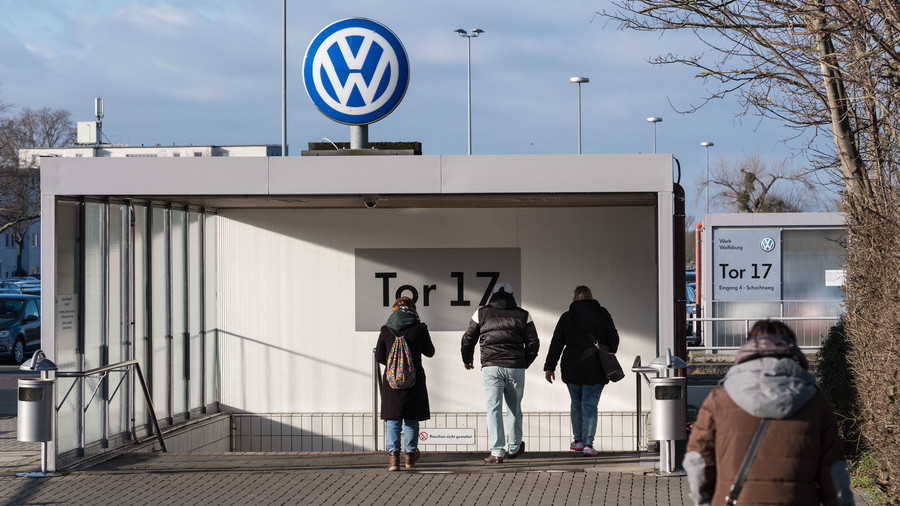 A German court has ruled that Volkswagen should reinstate an employee that was fired on suspicion of terrorism-related activities. The company failed to prove that he poses a genuine threat.
"The mere suspicion that [a person] belongs to a radical 'Jihad movement' as well as a preventive confiscation of an international passport resulting from it do not provide a sufficient reason for the termination of employment," a regional labor court in the state of Lower Saxony ruled on Monday.
The person in question is a German citizen of Algerian descent, identified only as Samir B. He worked as an assembly worker at one of the Volkswagen plants in the city of Wolfsburg, located around 90 km (55.9 miles) east of Hannover.
In December 2014, he was detained at Hannover airport as he was trying to fly to Istanbul. Police found more than €9,000 ($ 11,155) in cash and a drone in his bag. He was suspected of making an attempt to travel to Syria and Iraq to join the Islamic State (IS, formerly ISIS). The Wolfsburg city authorities then confiscated his international passport.
Samir B. attempted to appeal that decision but a German court ruled in 2016 that the travel ban was justified. The court also said the man was a member of a local radical Islamist group and had contacts with "numerous people who had joined… Islamic State."
Following the court's decision, Volkswagen dismissed the assembly worker, arguing that he posed a threat to the company's "peace and security." Samir also appealed this decision, however.
According to the German daily Bild, Samir B. had close contact with two other radicals, who subsequently left Germany for Syria, where they joined IS but were later killed. He was also in communication with an IS recruiter and two other extremists who have since been imprisoned in Germany after returning from the Middle East.
Volkswagen's lawyers argued that the man issued threats against his colleagues, reportedly telling them they "will all die." They also told the court that they believed he could potentially stage a terrorist attack at the plant.
All these facts appeared to carry insufficient weight for the Lower Saxony court, however, which deemed his dismissal invalid. The court said that Volkswagen failed to provide any valid evidence of misconduct or any proof that the man could put the security of the plant in jeopardy. They have a month to rehire him.
Following the court decision, Volkswagen said it, "continues to believe that the dismissal was justified." The company added that it would consider appealing the ruling in the federal labor court after examining the decision, as reported by the Stern daily.
In the meantime, Samir's lawyer, Hans-Eberhard Schultz, denounced his client's dismissal as a manifestation of "institutional racism." Volkswagen decided to fire the man "because he is a radical Salafist," the lawyer told NDR, adding that such attitude poses a "big problem."
Salafists follow an ultra-conservative, fundamentalist interpretation of Islam, and Salafist organizations such as Hizb ut-Tahrir seek to live under Sharia law, perceiving Western-style democracy as incompatible with obeying God. Their beliefs are often regarded as the spiritual basis for groups like Al-Qaeda and IS.
German authorities have repeatedly expressed concerns over the steadily growing number of Islamist radicals living in Germany. In January 2018, a report by the German domestic intelligence service, the BfV, said that the number of Islamists in Berlin has more than doubled since 2011.
In late 2017, the head of the BfV, Hans-Georg Maassen, warned that there is now a record number of Islamists in Germany, putting their number at roughly 11,000.