'Psychiatric test? World needs more Dutertes!' Manila hits back at UN rights chief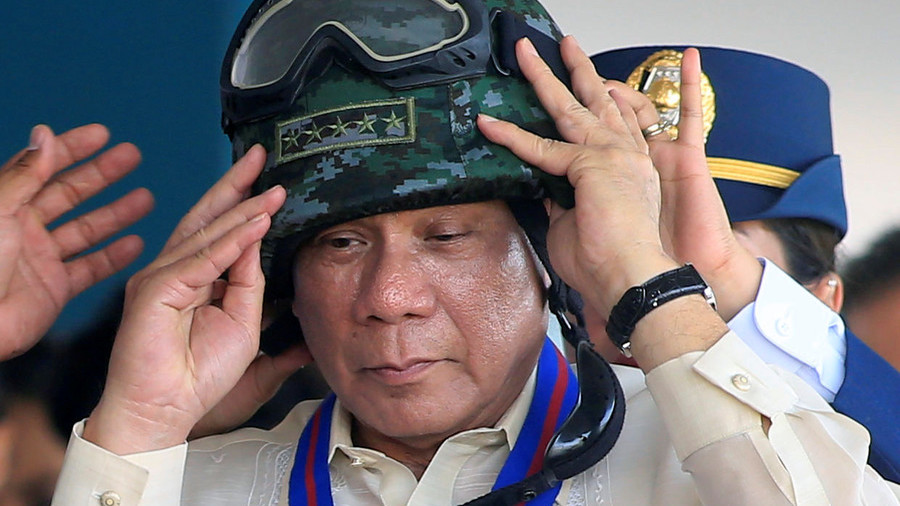 Manila has accused the UN human rights chief of being played by certain parties to "unseat" President Rodrigo Duterte, after Zeid Ra'ad Al Hussein called on the Philippines' leader to submit himself to a "psychiatric evaluation."
On Friday, UN High Commissioner for Human Rights Zeid Ra'ad al-Hussein called on the UN Human Rights Council to take a stand against Duterte's personal vendetta against UN rights officials, who have criticized Manila's war on drugs. "The UN Human Rights Council must take a position. These attacks cannot go unanswered," Zeid said Friday. "[Duterte] needs to submit himself to some sort of psychiatric examination. This kind of comment is unacceptable, unacceptable."
READ MORE: Duterte needs 'psychiatric test' – UN human rights chief
Manila hit back at "irresponsible and disrespectful" commentary by the UN official. The Foreign Affairs ministry specifically slammed Zeid's comments which "insult leaders of member-states without first giving them due process," warning that such practice could set a dangerous precedent.
"The High Commissioner may not be aware of it but he is being used in a well-orchestrated effort to destabilize a legitimate government that is being undertaken by parties with self-serving agendas and who stand to benefit the most by unseating President Duterte," Foreign Affairs Secretary, Alan Peter S. Cayetano said in a statement.
"There is no reason whatsoever for such an unmeasured outburst directed against President Rodrigo Roa Duterte and it should not be repeated."
Duterte has long been the target of global criticism over his war on drugs, which has resulted in numerous extrajudicial killings. While official government data show at least 4,000 deaths in police anti-drug operations since July 2016, human rights groups such as the Philippine Alliance of Human Rights Advocates (PAHRA) estimate that up to 12,000 people could have fallen victim to Duterte's policies. After months of threatening to take action, earlier this month the International Criminal Court (ICC) opened a preliminary investigation into Duterte's war on drugs, probing potential crimes against humanity.
Amid the ongoing probe, Zeid in his statement on Friday took the liberty of slamming Duterte's treatment of human rights activists. Earlier this month, Duterte instructed the armed police units not to cooperate with UN special rapporteur on extra-judicial killings, Agnes Callamard, amid the ongoing ICC probe.
"When it comes to human rights, or whoever rapporteur it is, my order to you: Do not answer. Do not bother," Duterte said on March 2. "You're investigating us, fact finding? Well sorry, do not f**k with me," he added, according to AFP.
Duterte's beef with the French UN official has been raging for months. In November, the 72-year-old threatened to slap Callamard if she implicates him in the extrajudicial killings. "If you investigate me, I'll slap you," Duterte said at the time, according to Rappler online news website. "Why? Because you are insulting me. Why? Because you yourself do not believe in the research of your own organization. You are f**king me and I do not want it."
Reacting to Duterte's vulgarity, Zeid on Friday said that it was "absolutely disgraceful that the president of a country could speak in this way, using the foulest of language against a rapporteur that is highly respected."
Zeid also slammed the inclusion of Victoria Tauli-Corpuz, UN special rapporteur, on a government list of some 600 people it wants to be deemed "terrorists." She accused Duterte of targeting the UN official due to her criticism of alleged killings of indigenous people in the Mindanao region, where Duterte imposed martial law last year, to battle an Islamist insurgency.
"This is, of course, unacceptable for a special rapporteur acting on behalf of the international community whose expertise is sought by the Human Rights Council to be treated in this way," Zeid said.
Tauli-Corpuz, appointed in 2014 as UN special rapporteur on the rights of indigenous peoples, was listed in the petition as a senior member of the Maoist rebel group. Also listed were four former Catholic priests and former Filipino congressman Satur Ocampo. They are accused of "using acts of terror" to sow fear and panic and to overthrow the government, according to the petition, filed at a Manila court.
Manila hit back at Zeid's comments on Saturday, noting that Tauli-Corpuz was included on the list not because of her position as Special Rapporteur but because of her alleged links with the Ilocos-Cordillera Regional Committee (ICRC) of the CPP-NPA. "If indeed Ms. Tauli-Corpuz and the others named in the petition are innocent as they claim they are, they should see this as an opportunity to clear their names and prove in court that they have never been members of or associated with the group," Sec. Cayetano said.
Concluding the statement, Cayetano noted that the "world actually needs more Dutertes―leaders with empathy; leaders who listen to their people; and leaders who are ready to sacrifice their lives to protect their people."
Like this story? Share it with a friend!