Bird's eye view: Penguins snap a selfie as polar explorer takes a hike (VIDEO)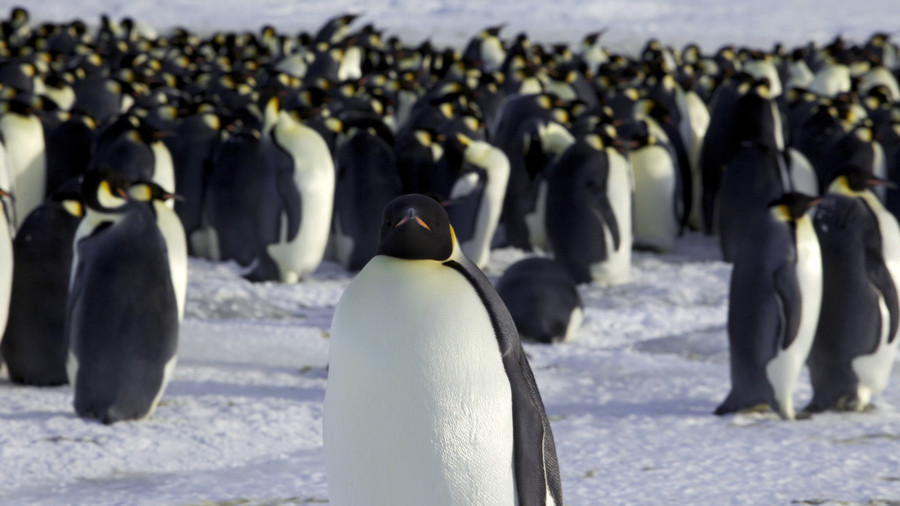 Two Emperor penguins grabbed a sneaky selfie when they unexpectedly stumbled upon an polar explorer's unmanned camera. The pair of flightless birds have now become viral stars.
The footage was captured by Antarctic researcher Eddie Gault. The Australian left his camera on the ice while hiking around the Auster Rookery near his country's Mawson research facility at the edge of the Antarctic plateau. When he returned, Gault found the camera upturned and soon discovered the locals had been making use of his equipment.
READ MORE: 'Monster bird': Remains of man-sized penguin discovered in New Zealand
A video of the close encounter shows a pair of crafty Emperor penguins sneak up to the camera and flip the lens skyward – all the better for snapping a selfie. The birds then inspect the device before appearing to consult one another about its origins. The Australian Antarctic Division published the video to its Twitter feed on Thursday.
Twitter users were tickled by the video, with some comparing the pair to a hip-hop duo. Others likened their apparent bewilderment to a grandparent getting a smartphone for the first time.
The Auster Rookery is one of 40 breeding grounds for thousands of penguins on the icy continent. Australia's Antarctic Division is Australia's first continental station and the longest continuously operating station south of the Antarctic Circle.
READ MORE: Elderly Penguin dies next to beloved anime cardboard cutout in Japanese zoo (IMAGES)
Like this story? Share it with a friend!