E. Ghouta militants attack civilian convoy of 300 families, at least 3 cars burnt – Russian MoD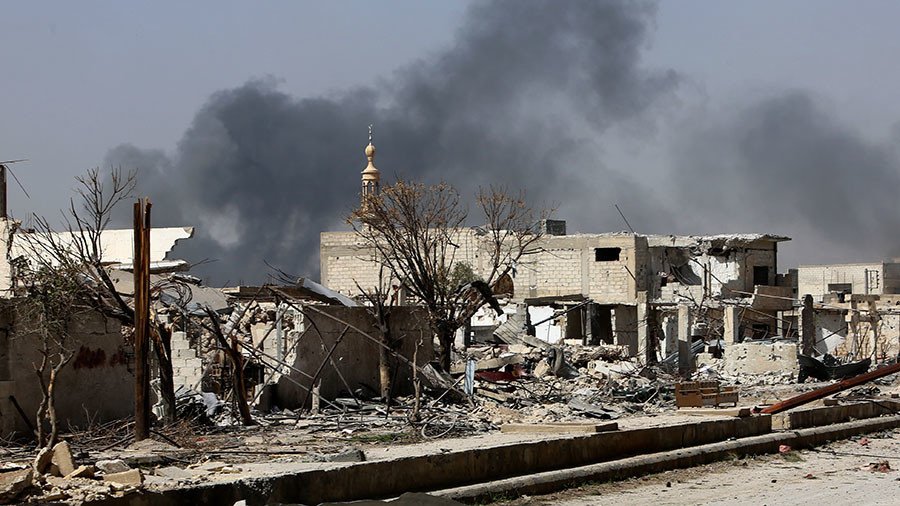 Militants entrenched in the Damascus suburb of Eastern Ghouta have attacked a convoy of civilians trying to exit Ghouta, and shelled the area where their relatives and journalists had been waiting, Russian military said.
The armed groups fired on a civilian convoy of some 300 families, who were attempting to leave Eastern Ghouta via a humanitarian corridor, spokesman for the Russian Center for Reconciliation in Syria, Major General Vladimir Zolotukhin, told journalists on Thursday. The convoy came under fire just a kilometer away from the exit, where relatives of the Eastern Ghouta residents were waiting with journalists. It was not immediately clear whether there were casualties in the attack, but at least three cars were reportedly destroyed as a result of the shelling.
The militants then opened mortar fire on the exit area. No one was injured in the second attack, as civilians and journalists in the area were all immediately evacuated.
East Ghouta militants have been blocking civilians from leaving the suburb, opening fire on the humanitarian corridor that was established by the Syrian governmental forces and the Russian Center for Reconciliation on February 27. The Russian Defense Ministry has accused the militants of using civilians as a human shield, saying they were sabotaging UN aid efforts.
On Sunday, the militants imposed a curfew and publicly punished civilians for violations in an apparent attempt to prevent them from fleeing Eastern Ghouta, the ministry said. The news, however, did not provoke any reaction in the West, where mainstream media reports and officials in Washington instead stuck to the anti-Russian narrative.
The White House has been accusing Russia of killing civilians in the area and ignoring the conditions of a 30-day humanitarian pause in Syria, which was introduced by the United Nations Security Council (UNSC). Moscow has described these charges as "false," and accused the US of hypocrisy.
The Russian military has been demanding that groups occupying Eastern Ghouta allow civilians to flee. On Monday, the militants and their families were offered free passage out of the city, as well as security guarantees, in an attempt to de-escalate the situation.
Think your friends would be interested? Share this story!
You can share this story on social media: