Militants impose curfew in E. Ghouta, publicly punish civilians for violations – Russian MoD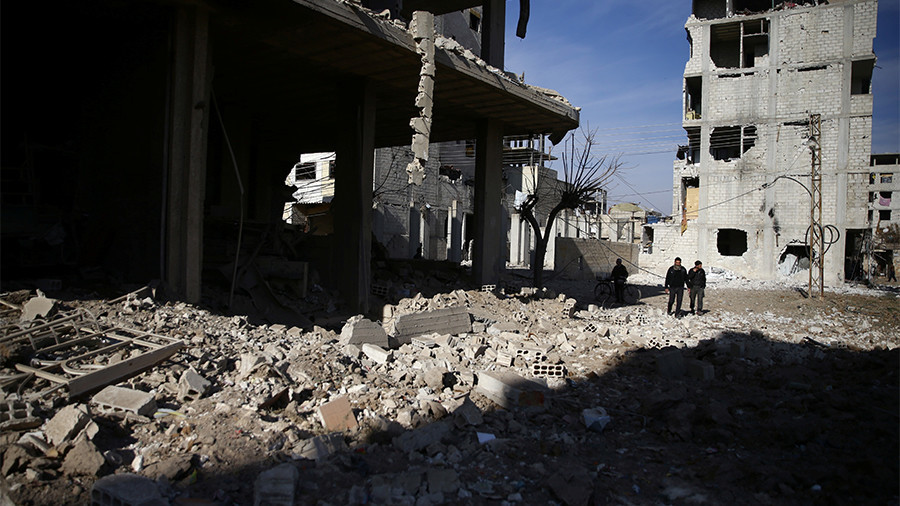 Civilians in Syria's Eastern Ghouta are being severely punished by militants in public if they break a curfew, which was introduced to prevent them from escaping the embattled area, the Russian Defense Ministry has said.
Militants controlling the Damascus suburb have shelled a medical aid point and continuously open fire at a checkpoint in the area, Major General Vladimir Zolotukhin, a spokesman for the Russian Center for Reconciliation in Syria, told reporters on Sunday.
"At 12:50 [10:50 GMT] the militants from western suburbs of the Er-Rikhan settlement shelled a medical aid point. Six mortar shells exploded at a distance of 200-400 meters in the west," Zolotukhin said. He added that no one was injured in the attacks, unlike yesterday's assault at the humanitarian corridor, which left three civilians wounded.
Apart from constantly attacking the corridor, militants have also introduced a curfew to coincide with the daily five-hour humanitarian pauses to prevent civilians from fleeing. They have also prohibited people from holding any public gatherings, according to the official.
"Civilians violating the rules established by the militants are severely punished in public," the general said, referring to information obtained earlier by the reconciliation center.
The Russian military has previously reported that the civilian population was being used as "human shield" by the terrorists. On Sunday, Zolotukhin said that they "hide behind the backs of the elderly, women and children" while boosting their positions inside civilian infrastructure.
On Saturday, the Russian Center for Reconciliation in Syria warned of possible plot to sabotage the UN aid delivery to Eastern Ghouta, while people are being deprived of food and supplies. The UN convoy was scheduled to carry life-saving supplies to the embattled area on Sunday, but the delivery was postponed. "The convoy to East Ghouta is not able to proceed today," a UN official said, as cited by Reuters.
The area has seen a wave of clashes between Syrian government forces and various militant groups, including Islamist factions. In February, the UN Security Council adopted a resolution proposing a 30-day humanitarian ceasefire in Syria, which does not apply to members of the Islamic State (IS, formerly ISIS), Al-Nusra Front or any other terrorist organizations.
Just two children have managed to leave Syria's Eastern Ghouta since the introduction of the daily pause on February 27, which lasts from 9am until 2pm local time.
"The 30-day ceasefire regime by [the UN] Resolution 2401 on Syrian territory is constantly violated by illegal armed groups in the provinces of Aleppo, Latakia, Damascus and the Eastern Ghouta," the Russian Defence Ministry said.
You can share this story on social media: