Iraq orders seizure of Saddam-era officials' assets to legalize earlier takeovers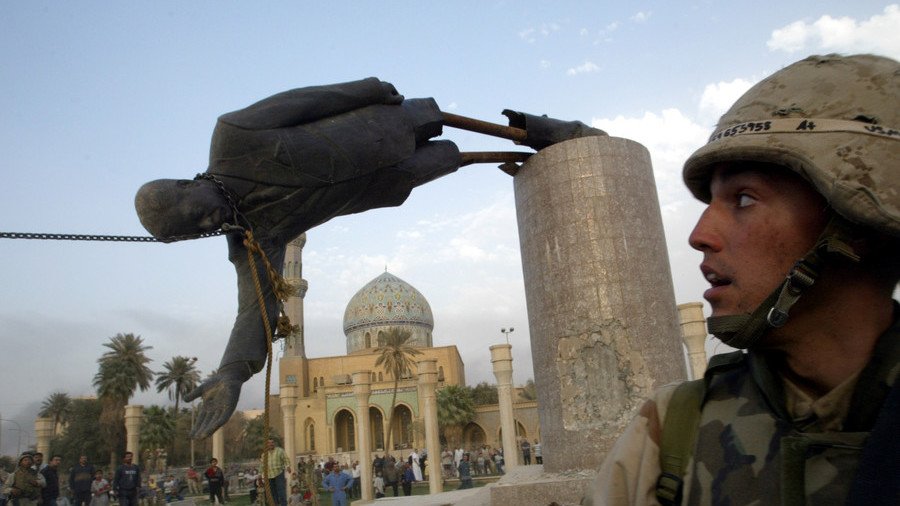 The Iraqi government has issued a decree ordering the seizure of property and assets that belonged to Saddam Hussein and the officials who served under his rule.
Saddam's name tops the list, which also includes "his children, grandchildren, relatives," according to AFP. Notably, the expropriation list contains the names of many former officials, who were either executed during the period after the US 2003 invasion of Iraq or had already died.
It also lists Ali Hassan al-Majid, Saddam's cousin, known as "Chemical Ali," who was executed in 2010 for ordering a chemical attack on the city of Halabja in the Iraqi Kurdistan in 1988, which killed thousands of people. Another person on the list is Tareq Aziz, a foreign minister and a deputy prime minister in Saddam's government, who died in prison in 2015.
Following the US invasion that ousted Saddam Hussein in 2003, the property and assets belonging to the former Iraqi leader, his government officials and the then-ruling Baath Party members were already seized by Iraq's new leaders and various local militias. The new order might be aimed at legalizing the confiscation that already took place years ago.
The move could also be an election "stunt" aimed at winning votes ahead of the Iraqi general elections scheduled for May 2018, Ziad Aziz, the son of the late Tareq Aziz, who now lives in Jordan, told AFP. He also denied that his family retained any property or assets in Iraq, adding that his father's house in Baghdad was seized by a now-prominent Shiite politician, Ammar al-Hakim.
In the May elections, current Iraqi Prime Minister Haider al-Abadi will compete against his predecessor, Nouri al-Maliki, as the two politicians, who were once members of the same Shiite Islamic Dawa Party, now represent different coalitions. Al-Maliki's tenure in office was marked by sectarian tensions, as his critics accused him of attempts to concentrate all the power within his own Shiite party while depriving both Kurds and Sunnis of authority. Some believe that his return to power could further increase tensions.
The US invasion to Iraq in 2003, which was launched under the false pretext that Saddam Hussein's government possessed weapons of mass destruction (WMDs), ousted Hussein from power and plunged Iraq into a decade of chaos and instability. The Middle Eastern country faced growing sectarian tensions and a constant terrorist threat during that period.
At some point, the tensions led to a Sunni uprising and contributed to the rise of Islamic State (IS, former ISIS) on the Iraqi territory. Last year, al-Abadi officially announced that Islamic State had been completely defeated in his country. Yet, Iraq is still far from full recovery.
The government of Iraq needs $88 billion in reconstruction funds for areas devastated by war, Iraqi officials claimed at the international donors' conference in Kuwait in mid-February. However, the US said it had no plans to contribute any money to the cause, despite the fact that its invasion of 2003 was what started the long series of horrific wars that have ravaged the Middle Eastern country.
You can share this story on social media: