Locals want US troops out of Iraq after 8 reportedly killed in coalition air strike (VIDEO)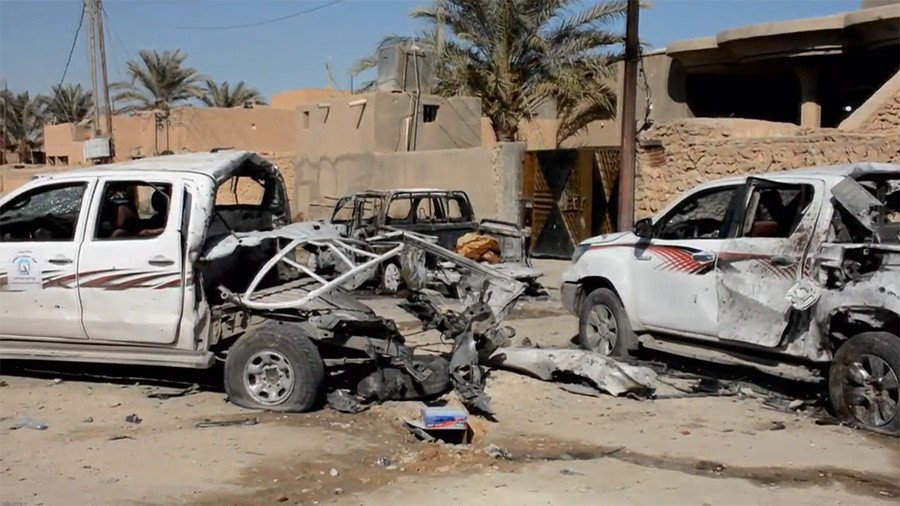 Locals recounted grizzly details of a US-led coalition attack that reportedly killed at least 8 Iraqis Saturday, calling on American forces to leave the country. The Coalition said the incident is under investigation.
"We demand the departure of the American forces for having trampled upon the blood of children and civilians," Al-Sheikh Qater Al-Samawad, a Member of Al-Obeid tribe in Al-Anbar told RT following the alleged strike.
At least eight Iraqis were reportedly killed and 20 wounded in the botched raid conducted by US-led coalition forces operating in Al-Anbar province, according to reports. Local police said civilians and police were wrongfully targeted by a Coalition air strike after Iraqi forces misidentified police vehicles as part of a terrorist convoy.
Iraq's Joint Operations Command (JOC), which coordinates the country's campaign against Islamic State (IS, formerly ISIS/ISIL), was in the process of extracting a suspected IS leader from the area when the air strike occurred.
A witness to the attack described what appears to be a "double tap" – in which those who come to the aid of "terrorist" targets are also attacked. "We came with these cars to find some people who had been killed or wounded. The officer carried the wounded woman and laid her down in the car, after that, the same car was hit by a missile," the witness told Ruptly.
"Fifteen seconds after this missile, they opened fire on people and their houses from a DShK machine gun. Shortly after this, a missile hit the al-Hashd [Popular Mobilisation Forces (PMF)] car, and police were killed."
A statement from JOC alleges that the air strike was brought on by "an exchange of ground fire." A Coalition spokesperson told RT that "during [the] extraction of the Daesh [IS] leader, a Daesh member reportedly initiated an exchange of ground fire and Iraqi leaders called for Coalition air support. Several people were killed and wounded during the exchange, and the incident is under investigation by Iraqi and Coalition officials."
The Coalition said it "operates by permission and in direct coordination with the government of Iraq and its security forces," according to its statement. "We will continue to work with our partners to defeat remaining pockets of Daesh terrorists and prevent the criminal organization's resurgence," it added.
You can share this story on social media: