False 'hospital bombing' claims in Ghouta came after Syrian troops repelled pro-US forces – Russia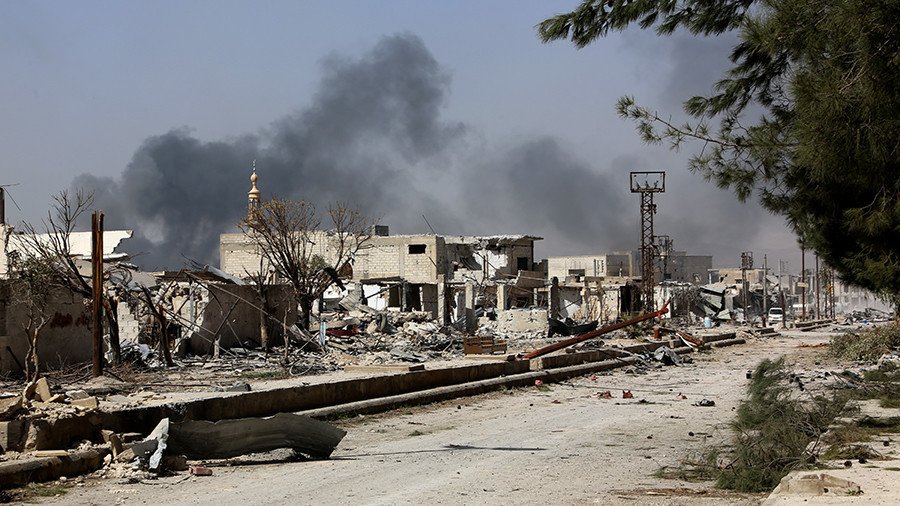 The Russian military has said allegations of "hospital bombings" in Eastern Ghouta are false, in a statement issued in response to accusations from the White House that Russia is "killing innocent civilians" in Syria.
Washington's claims came after the Syrian Army repelled an attack of the US-backed groups, the Russian Defense Ministry said.
It is the US and not Russia that is violating the UN resolution on the ceasefire in Syria, the ministry added. It accused Washington of doing nothing to constrain the militants it supports in Eastern Ghouta while they regularly shell Damascus, killing civilians.
"It was the Washington-backed armed groups that have been attacking the governmental forces' garrison in [Eastern Ghouta] on a daily basis since the start of 2018 in attempts to redraw the de-escalation zone borders," the ministry said.
It added that there have been no "damning statements" from the US or its allies during all the months when the militants were staging massive attacks on the government forces' positions.
The ministry again denounced reports about the alleged chemical attacks in Eastern Ghouta as "rumors" fabricated by "propaganda outlets." It then pointed out that the US itself has repeatedly admitted that it has no evidence of such attacks being launched by the Syrian government.
US Defense Secretary James Mattis admitted in early February that Washington has no evidence that the chemical agent sarin has ever been used by the Syrian government. Later, the Pentagon also said that it also had no evidence of recent chemical attacks in Syria taking place other than reports provided by some "groups on the ground."
READ MORE: Pentagon admits zero evidence of E. Ghouta chem attack – but blames Russia all the same
It has been reported that the armed groups entrenched in Eastern Ghouta are opening fire on civilians, who are trying to leave the area via the humanitarian corridor. This means of escape was established by Syrian governmental forces and the Russian Center for Reconciliation in Syria. The Russian Defense Ministry has repeatedly warned that local militants are using civilians as human shields and plan to sabotage UN aid efforts.
On Sunday, the Russian military also said that the militants had imposed a curfew in Eastern Ghouta, and were publicly punishing civilians for its violation in an apparent attempt to prevent them from fleeing the area.
You can share this story on social media: