Putin: US deployed 5 cruisers, 30 destroyers near Russian borders as part of missile defense system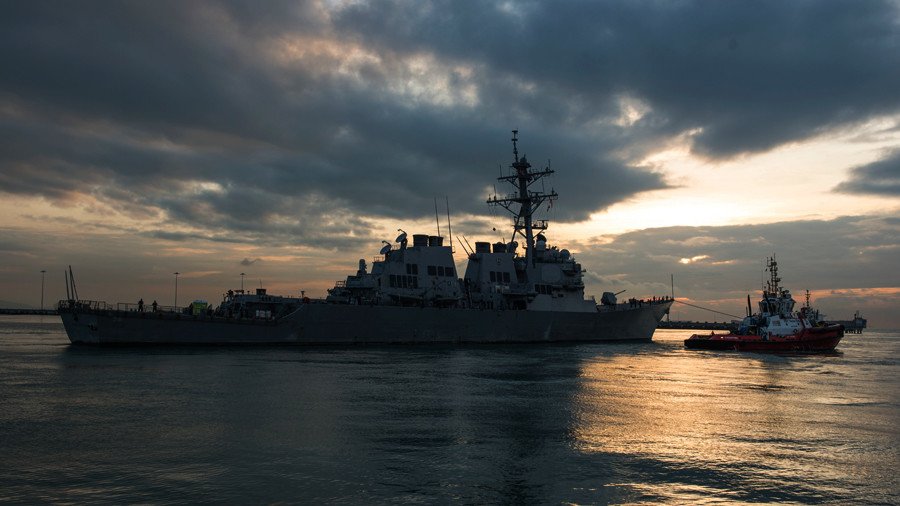 The US Navy has five cruisers and 30 destroyers near the Russian border for anti-missile defense, Russian President Vladimir Putin has said. These are in addition to systems stationed in neighboring states, the president added.
US missile defense is growing in reach and amassing near Russian territory, Putin said. The naval group complements the anti-ballistic missile systems stationed in California and Alaska, as well as the systems being delivered to Poland and Romania.
READ MORE: Russia's successes & challenges: Putin's State of the Nation address in detail
"The global US anti-ballistic missile system includes a naval group. These are five cruisers and 30 destroyers, as far as we know, deployed in areas in the immediate vicinity of the territory of Russia," Putin said in an address to Russian parliamentarians on Thursday.
The president also warned that the range of missiles will only increase, while further deployment is planned in Japan and South Korea. Tokyo has recently accepted Lockheed Martin Aegis Ashore systems to "fundamentally improve" its anti-missile capabilities against potential "surprise attacks," while Seoul has already installed the US Terminally High Altitude Area Defense (THAAD) system.
In response to the challenges caused by the US withdrawal from the Anti-Ballistic Missile Treaty, Russia started developing advanced strategic arms, Putin stated. The ABM Treaty had insured against a pre-emptive nuclear strike by either side, but the US undermined it and it was terminated in 2002.
READ MORE: Russia's new hypersonic Sarmat ICBM has begun active testing – Putin (VIDEO)
"We have started the development of new types of strategic weapons, which do not use ballistic trajectories at all when moving towards the target," the Russian leader said.
You can share this story on social media: