Italian election: Swing to the right & EU exit, or business as usual?
The menu for the Italian electorate this year is a spicy blend of political and economic issues; EU-skepticism for starters, the migrant crisis for the main course, and a dessert of uncomfortably high unemployment.
With a new electoral system agreed last October (ominously described as "complicated" by the politicians themselves), the election on Sunday is certain to be confusing. Here are the main contenders and their likely allies for a coalition that they will almost certainly need to form to get a majority.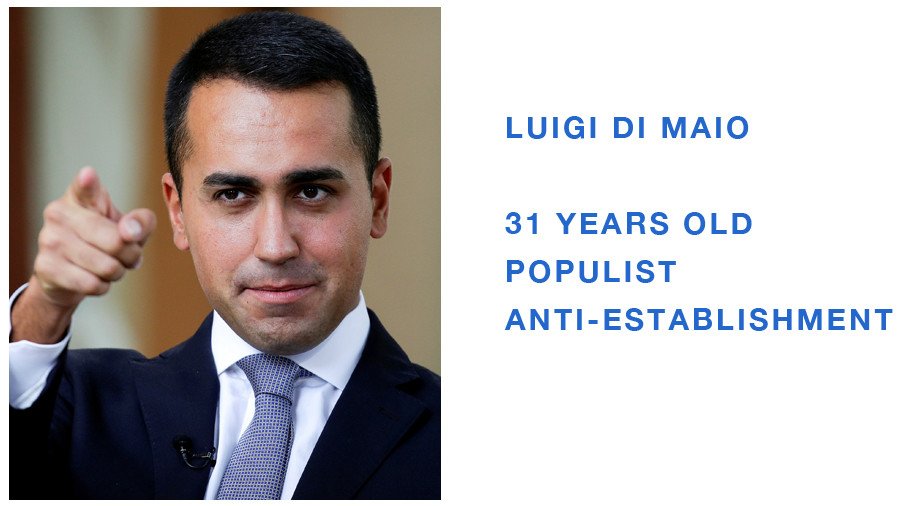 Party: Five Star Movement (M5S)
Polling: 27.6 percent
Policies: Direct democracy, no career politicians, no coalitions.
Italy has imported 40 percent of its criminals from Romania. While Romania is importing our businesses and capital from Italy. What a deal this EU!
With Beppe Grillo finally moving aside, his hand-picked protégé, Luigi Di Maio, has stepped in to fill the comedian's large shoes. Young and photogenic, Di Maio is leading a party that many think will do well – but the question would then be, can they form an alliance when they are asking for a completely new system? Would they want to? The other problem is that the party is still pretty ambiguous with regards to its stance on immigration and the EU, although the quote above and the suggestion that Italy is running a 'sea-taxi service' for migrants is pretty conclusive.
READ MORE: Italy's anti-corruption Five Star Movement facing allegations of... corruption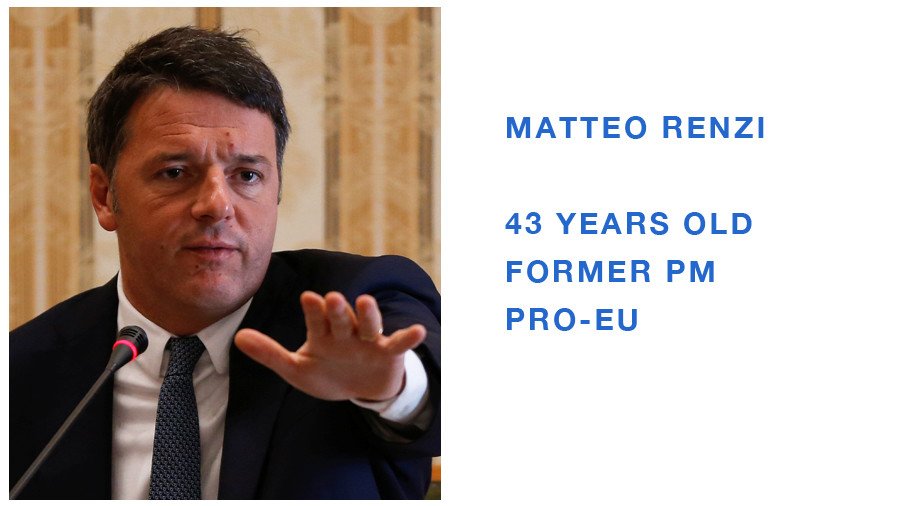 Party: Democratic Party
Polling: 22.8 percent
Policies: Promotion of the EU, social cohesion and progressive taxation.
I am not here to present a future of tomorrow. For my country, the future is today, not tomorrow.
With 111 seats in parliament, the Democratic Party (DP) is the largest single party in Italy. In many ways, as the quotation above suggests, the party is typical of most center-left parties in Europe. Matteo Renzi is a prominent, centrist voice in Europe. He believes that it's possible to marry liberal economics with left-wing social policies. Renzi may often be critical of Italian bankers in front of the people, but whether or not he's doing everything he can to stop them is up for debate. Recently, however, Renzi has had bigger problems, with a number of his own MPs defecting after disagreements over labor and pension reforms and creating the Free and Equal Party (Liberi e Uguali).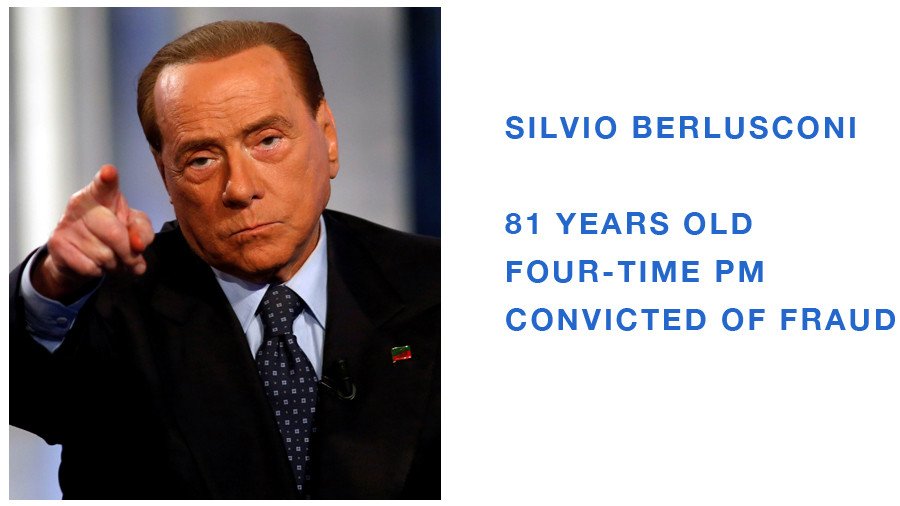 Party: Forza Italia
Polling: 16.7 percent
Policies: Pro-business, pro-EU and mass deportation.
I am the Jesus Christ of politics. I am a patient victim, I put up with everyone, I sacrifice myself for everyone.
Sex scandals, corruption charges, advancing age. Nothing, it would appear, can stop this media juggernaut from rolling through the landscape of Italian politics. With a peculiar blend of liberal economic policy and Catholicism, Forza Italia is basically center-right in its political leaning. Having been convicted of tax fraud back in 2013, Berlusconi is barred from becoming prime minister, but there is a chance that Forza Italia may end up leading a coalition of right-wing parties that could finish in the majority come the close of the election. The question as to just how far to the right Berlusconi's allies will try to push the coalition is one that the European community would watch with a great deal of interest.
READ MORE: 'Here I am!' How four-time Italian PM Berlusconi is making surprise political comeback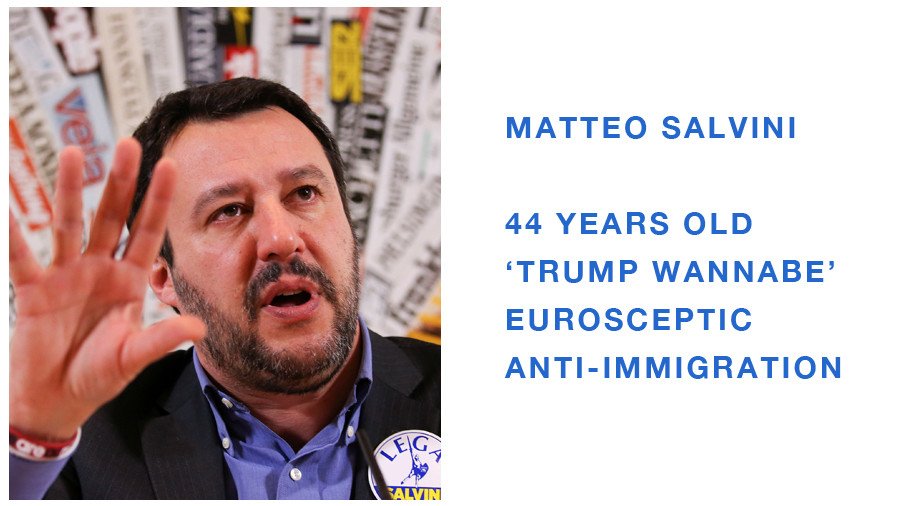 Party: Lega Nord (Northern League)
Polling: 13.4 percent
Specials: Euroskepticism, stronger measures against migrants, tax cuts
The problem of the Muslim presence is increasingly worrying. There are more and more clashes, more and more demands. And I doubt the compatibility of Italian law with Muslim law, because it's not just a religion but a law.
Having once described the euro as "a crime against humanity," it's fair to say that Matteo Salvini is not a huge fan of the Eurozone. Under his leadership the Northern League (NL) has pursued a steady policy of right-wing populist policies and formed alliances with many of Europe's most popular right-wing parties. Supporters of Salvini are keen to see Italy cut ties with the EU, bring the migrant crisis to a swift end and transform Italy into a federalist state (it's felt that some parts of Italy aren't pulling their weight and are taking advantage of the more prosperous regions in the north of the country).
READ MORE: 'Italy first'? Right-wing politician vows to kick out 100k migrants per year if elected PM
Possible kingmakers
The most likely situation is that the larger parties will only be able to get a majority by teaming up with one or more of the smaller parties.
To the left of the political spectrum we have Free and Equal (5.6 percent in the polls) and +Europa (2.6 percent). These two may be on Matteo Renzi's speed-dial come Monday morning.
On the other hand, if a right-wing coalition is formed it might be the Brothers of Italy (4.7 percent) that make the difference. They could play a pivotal role and hand the majority to either the Five Star Movement (Di Maio) or Forza Italia (Berlusconi) and Lega Nord (Salvini).
You can share this story on social media: