Daily 5-hour humanitarian pause introduced in E. Ghouta starting Feb 27 – Russian MoD
Published time: 26 Feb, 2018 14:16
Edited time: 26 Feb, 2018 20:27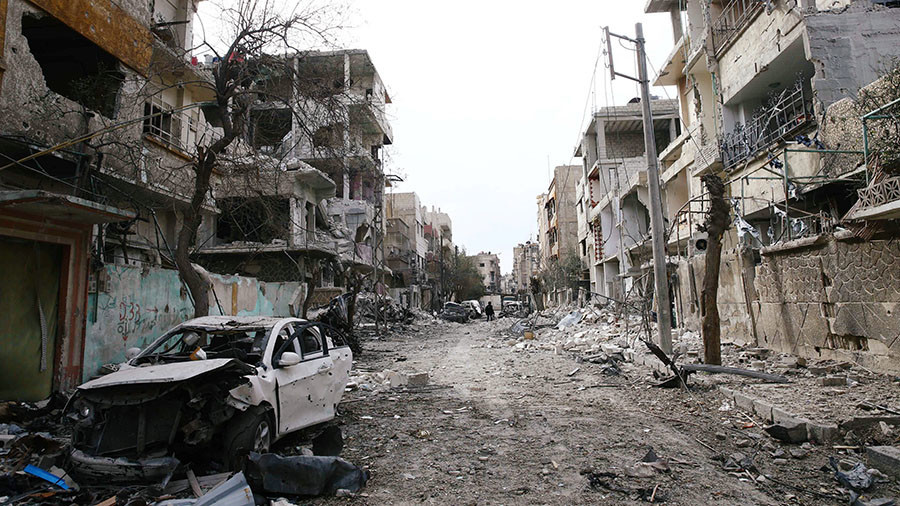 A daily humanitarian pause will be established in East Ghouta, Syria, starting from February 27, the Russian Defense Ministry has said. That will give civilians an opportunity to flee the fighting areas.
"As ordered by the Russian president, a daily humanitarian pause from 09:00 to 14:00 (local time) is being introduced starting February 27 to avoid civilian casualties in East Ghouta," the ministry said in a statement. It also said that a special humanitarian corridor would be established for the civilians to leave the area. Coordinates for the corridor have already been prepared, the ministry added.
The Russian military then suggested introducing similar measures for some other Syrian regions that remain "hotspots of tensions." They particularly said that another humanitarian corridor could be created for the refugees, who are currently living in the Rukban camp near the town of Al-Tanf, which is controlled by the US-led coalition. Such measure would allow the people to "freely return to their homes and to peaceful life," the statement notes.
The Syrian city of Raqqa, which once was the de facto capital of Islamic State (IS, former ISIS/ISIL), also still suffers from a dire humanitarian situation following its liberation by the Syrian Democratic Forces (SDF) backed by the US-led coalition, the Russian ministry said as it called for the creation of a special humanitarian commission under the auspices of the UN to assess the situation on the ground.
Raqqa is still in ruins and is full of dead bodies, the ministry said, adding that some districts of the city are filled with unexploded ordnance. Yet, the relief and reconstruction work in the city has not started as no humanitarian organizations are apparently allowed into the city, it added.
On Saturday, the UN Security Council unanimously adopted a resolution on 30-day ceasefire in Syria. The resolution does not apply to IS, Al-Nusra Front or any other terrorist organization.
Earlier, the Russian Center for Reconciliation in Syria urged the warring parties to "stop any combat actions and armed provocations" in East Ghouta. It also warned that the armed groups controlling the region are blocking civilians from leaving the suburb, basically keeping hundreds hostage, including women and children.
The local militant units, which include Jaysh al-Islam, Jabhat al-Nusra, Ahrar al-Sham, Faylaq al-Rahman, and Fajr al-Ummah Brigade, continued to shell Damascus in complete disregard of the ceasefire, the reconciliation center said. They also created a unified command to coordinate their disruptive activities.
Four civilians died in the militants' shelling just over the last week, the head of the reconciliation center, Major General Yury Yevtushenko, said on Monday. He added that more than 50 people, including 16 children, were injured in those attacks.
Russia has repeatedly said that the militants in East Ghouta deliberately undermine humanitarian and reconciliation efforts by armed provocations. The Russian Defense Ministry said on Sunday that the groups were planning provocations that involve using chemical weapons.