Justin Trudeau's Indian outfits mocked tirelessly on Twitter (PHOTOS)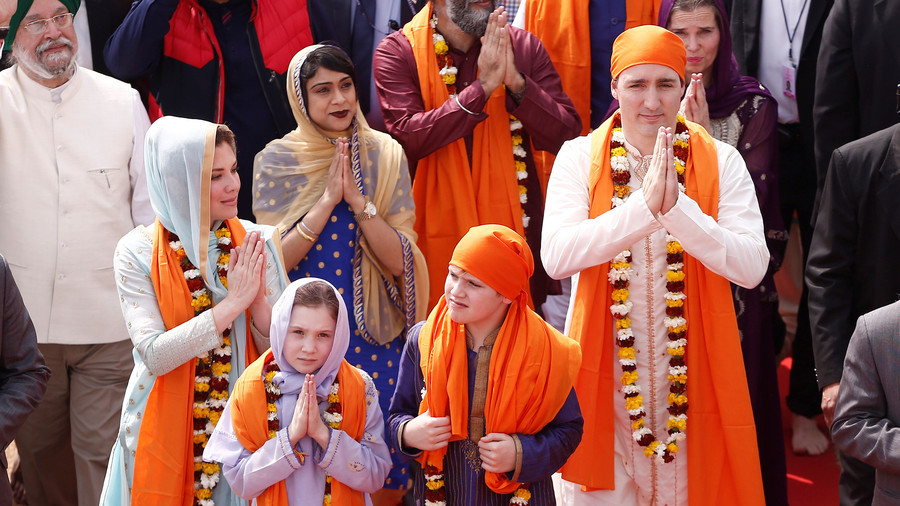 Justin Trudeau's disastrous trip to India has gone from bad to worse, not least because of his near-obsessive need to dress in over-the-top traditional garments.
The Canadian PM and his family have posed for countless photo-ops with praying-hand symbols and Bollywood-style dresses throughout the eight-day trip. However, what was deemed appropriate and respectful at first, has started to grind on even the most forgiving spectator.
Aside from the questionable outfit choices, Trudeau's trip, intended to improve ties between the two nations, has been tarnished with criticism from both sides.
READ MORE: Convicted Sikh extremist invited to Trudeau dinner during India trip
Firstly, the Canadian first family received a frosty welcome by the Indian government when they were greeted off their plane by the Indian minister of state for agriculture, Gajendra Singh Shekhawat, rather than by Prime Minister Narendra Modi. For context, Modi has personally greeted leaders from the US, the UAE, and Israel on their respective state visits.
One of the greatest gaffes of the trip was the decision to invite Jaspal Atwal, a sikh extremist convicted of attempting to murder an Indian politician, to a dinner with Trudeau at the Canadian High Commissioner's residence in New Delhi. The invitation was later withdrawn.
READ MORE: Trudeau apparently snubbed by Indian PM Modi on 1st state visit
Trudeau also reportedly used taxpayers' money to fly a Vancouver-based celebrity Indian chef, Vikram Vij, to cook for diplomats. Not included in the entourage, however, as Canadian MP Michelle Rempel pointed out, was the country's agricultural minister, despite India being one of Canada's most important export markets.
Like this story? Share it with a friend!