Convicted Sikh extremist invited to Trudeau dinner during India trip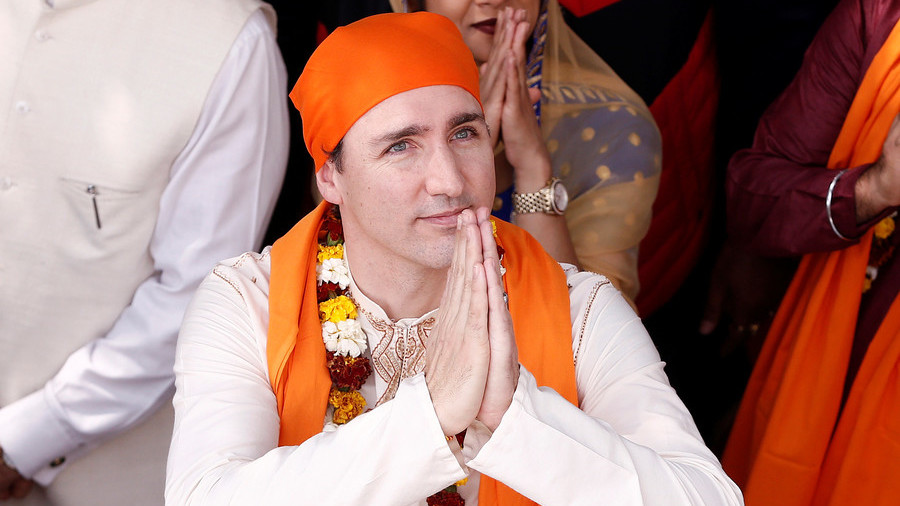 A convicted Sikh separatist had his invitation to a formal reception with Canadian Prime Minister Justin Trudeau in India withdrawn, after he had reportedly already attended an event where the Canadian leader was present.
Trudeau's office has canceled an invitation to Canadian Sikh businessman Jaspal Atwal to a reception dinner in New Delhi during the Trudeau family's stay in India. Atwal was formerly part of the International Sikh Youth Federation (ISYF), which seeks to establish Khalistan, an independent Sikh state in the Punjab region. India, Canada, the US and the UK have included the group on lists of terrorist organizations.
Atwal, along with three other men, was convicted of a botched assassination of a Punjab minister, Malkiat Singh Sidhu, on Vancouver Island in 1986. Despite being sentenced to 20 years behind bars, the four didn't serve the jail term due to an improperly obtained warrant, the Toronto Sun reported.
"This individual should never have been invited to any event on the program, and his invitation has been rescinded," CBC news quoted the prime minister's office statement, which refers to the event, hosted by Canada's top diplomat in India on Thursday. While the office is looking into the mishap, the statement highlighted that Atwal was "not part of the official delegation to the PM's visit to India, nor was he invited by the Prime Minister's Office."
Reacting to the case, Trudeau said that they "take this situation extremely seriously" and that "the member of Parliament who included this individual has, and will, assume full responsibility for his actions."
Atwal said he would not attend the dinner, since he was in Mumbai for business.
However, the error occurred after Atwal had reportedly already attended an earlier event with Trudeau in Mumbai on Tuesday. Photographs circulating in Indian and Canadian media show Atwal posing with the first lady, Sophie Trudeau, and cabinet minister Amarjeet Sohi.
The story made headlines the following day as Trudeau offered assurances that Ottawa supports a united India and condemns violence, as he and Defense Minister Harjit Sajjan met Punjab chief minister Amarinder Singh. Singh previously referred to Sajjan and three other Sikh ministers in the Trudeau government as "Khalistani sympathizers."
Like this story? Share it with a friend!