Canada deported hundreds of migrants to war-torn countries – govt data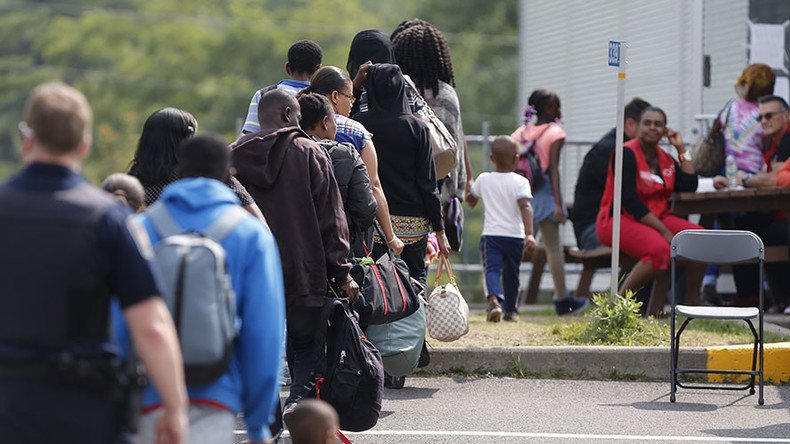 As Canada faces a record number of migrants applying for asylum, the country has responded by deporting people to countries deemed too dangerous for civilians, according to government data obtained by Reuters.
Despite the government deeming certain places unsafe and suspending or deferring deportations there, the nation still sent 249 people to 11 such countries between January 2014 and September 6, 2017.
The majority – 134 asylum-seekers – were sent to Iraq, while 62 were sent to the Democratic Republic of Congo and 43 to Afghanistan.
The year 2016 saw 51 deportations to Iraq, a sharp rise from 22 people in 2014. The number of people sent back to the country in 2017 currently stands at 35.
According to Reuters, Canada has the right to deport anyone who is not a citizen, for reasons including criminality, exhausting attempts to obtain permanent residency, and non-compliance with immigration laws.
And while the country has suspension or deferral designations for unsafe countries or regions, it may still deport people to unsafe places because of criminality, security risks, or human rights violations.
However, Canada Border Services Agency spokeswoman Patrizia Giolti told Reuters that "the decision to remove someone from Canada is not taken lightly."
She added that "everyone ordered removed from Canada is entitled to due process before the law, and all removal orders are subject to various levels of appeal."
But the Canada Council for Refugees says that existing appeal procedures are too limited, and leave those facing deportation to dangerous countries with little hope.
Meanwhile, the United Nations' High Commission on Refugees has recommended that countries refrain from deporting people to Iraq due to the human rights situation and conflict there, according to Jean-Nicholas Beuze, the organization's Canadian representative.
"The responsibility is on the state sending people back to those countries to make sure… that those people will not become internally displaced within their own country and dependent on humanitarian aid," Beuze said.
News of the deportations to Iraq and other dangerous countries comes less than one month after data released by the Canadian government showed that the number of asylum-seekers crossing the US border into Canada illegally had tripled to more than 3,100 people in July, with migrants worrying about President Donald Trump's immigration crackdown.
A spokesperson for Canada's Immigration and Refugee Board (IRB) called the number, which represented a large increase from 884 people in June, "unsustainable."
"The IRB had to make adjustments to be in a position to respond to the current situation that is clearly unsustainable," spokeswoman Anna Pape told Reuters at the time.
The vast majority of migrants went to Quebec, where the influx of primarily Haitian asylum-seekers has sparked a backlash from opposition politicians and anti-immigrant groups.
A total of 3,800 asylum-seekers were arrested crossing into Quebec in the first 15 days of August, according to the Royal Canadian Mounted Police.
Meanwhile, the Canadian government has launched a campaign to let migrants know that merely applying for asylum does not guarantee approval.
"Asking for asylum in Canada is not a guarantee for permanent residence in Canada, and it's extremely important we stress that," immigration ministry spokesman Louis Dumas told reporters last month.
Such misinformation is believed to be a major reason for the influx of new arrivals.
Meanwhile, a spokesman for Canadian Prime Minister Justin Trudeau says the government has maintained consistency on the issue of asylum-seekers.
"Canada welcomes immigrants… that said, there are laws and processes in place for people seeking asylum and our government is sending a clear message," the spokesman said last month.
However, deporting asylum-seekers to Iraq and other war-torn nations seems to be a far cry from a January tweet from Trudeau.
To those fleeing persecution, terror & war, Canadians will welcome you, regardless of your faith. Diversity is our strength #WelcomeToCanada

— Justin Trudeau (@JustinTrudeau) January 28, 2017
"To those fleeing persecution, terror & war, Canadians will welcome you, regardless of your faith. Diversity is our strength," Trudeau tweeted at the time, along with the hashtag #WelcomeToCanada.
.
You can share this story on social media: