Anthrax, missiles & dodgy maps: 5 most bizarre political show & tells
Benjamin Netanyahu became the latest statesman to drag a piece of destroyed ordinance onto a podium to help prove a political point Sunday.
READ MORE: Netanyahu uses fragment of destroyed drone to taunt Iranian FM
The Israeli prime minister shocked the crowds at the Munich Security Conference by waving a fragment of what he claimed had been a downed Iranian drone from the podium. He then set about taunting the Iranian Foreign Minister Javad Zarif, saying: "Mr. Zarif, you recognize this? You should, it's yours. You can take back with you a message to the tyrants of Tehran: do not test Israel's resolve."
שר החוץ האיראני זריף, אתה מזהה את זה? זה שלך. אל תבחנו את הנחישות של מדינת ישראל. Mr. Zarif: do you recognize this? You should. It's yours. Don't test Israel's resolve. pic.twitter.com/x8NvI9X5Jm

— Benjamin Netanyahu (@netanyahu) February 18, 2018
Here, RT.com looks at the most memorable instances of political show and tell in recent history.
Colin Powell's case for war in Iraq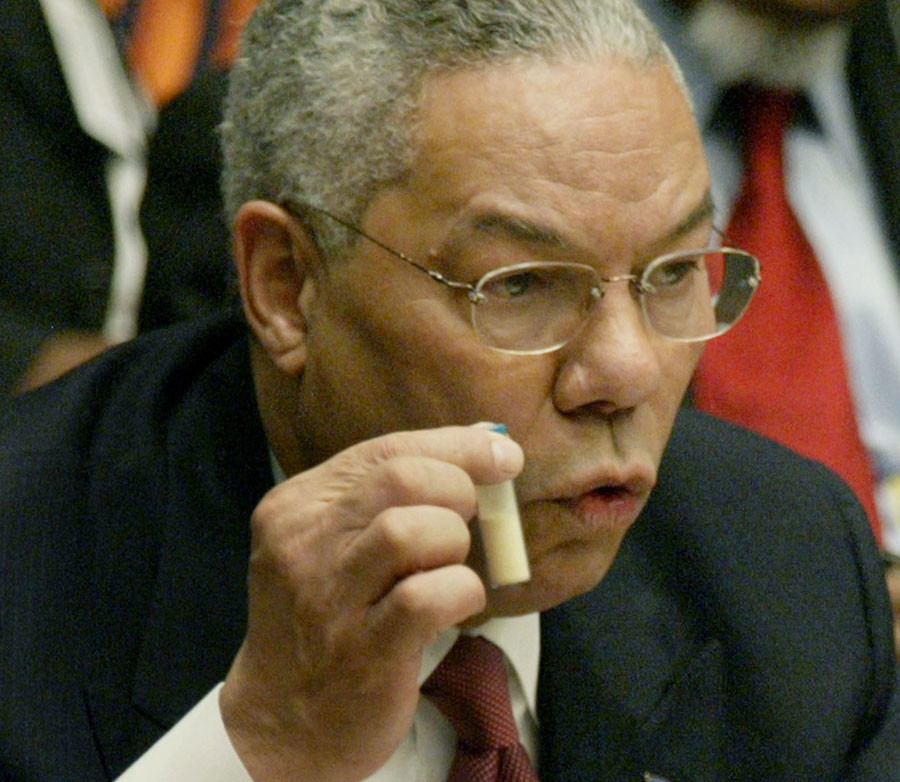 In the lead up to the Iraq War in 2003, then-US Secretary of State Colin Powell set out the case for action in his address to the United Nations Security Council. Armed with a number of maps, graphics, satellite photographs and even a model vial of anthrax, Powell laid out Iraq's supposed weapons program in remarkable detail. Of course, the program never existed and Powell now considers the speech a "blot" on his record.
"I'm the one who presented it on behalf of the United States to the world," Powell told ABC News in 2005, adding that the presentation "will always be a part of my record."
Benjamin Netanyahu's red line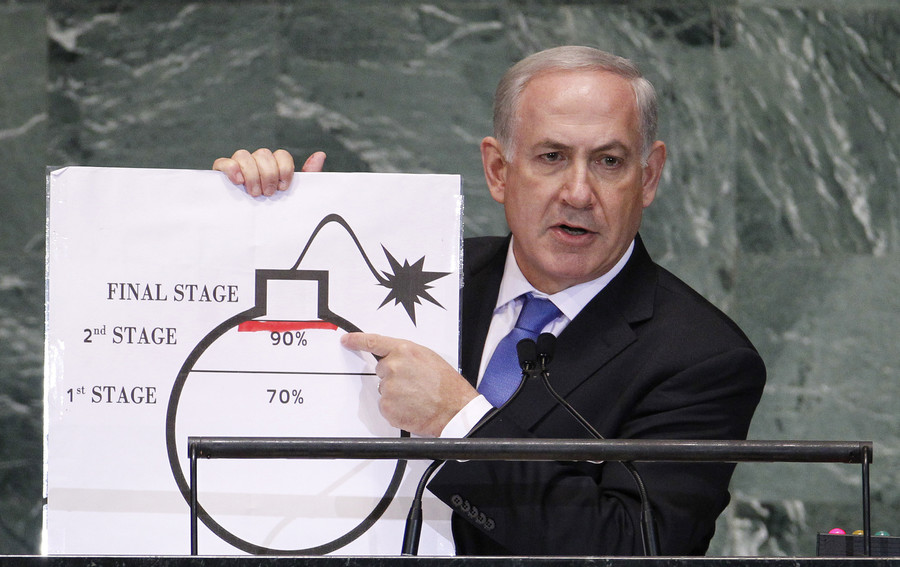 Appearing before the UN General Assembly in September 2012, Netanyahu used a rather simplistic visual aid to demonstrate how close he believed Iran was to developing a nuclear weapon.
While suggesting that Tehran would be capable of manufacturing weapons-grade material within a year, the Israeli Prime Minister held up a cartoon drawing of a bomb with a fuse before literally drawing a red line below a label that read "final stage." In his speech Netanyahu did not say that the line represented the point at which Israel would attack Iran's nuclear facilities, but the implication was clear.
"At this late hour, there is only one way to peacefully prevent Iran from getting atomic bombs. That's by placing a clear red line on Iran's nuclear program," Netanyahu said. Six years on from his address at the UN, Iran still does not have a nuclear weapon.
Donald Trump's stack of divestment paperwork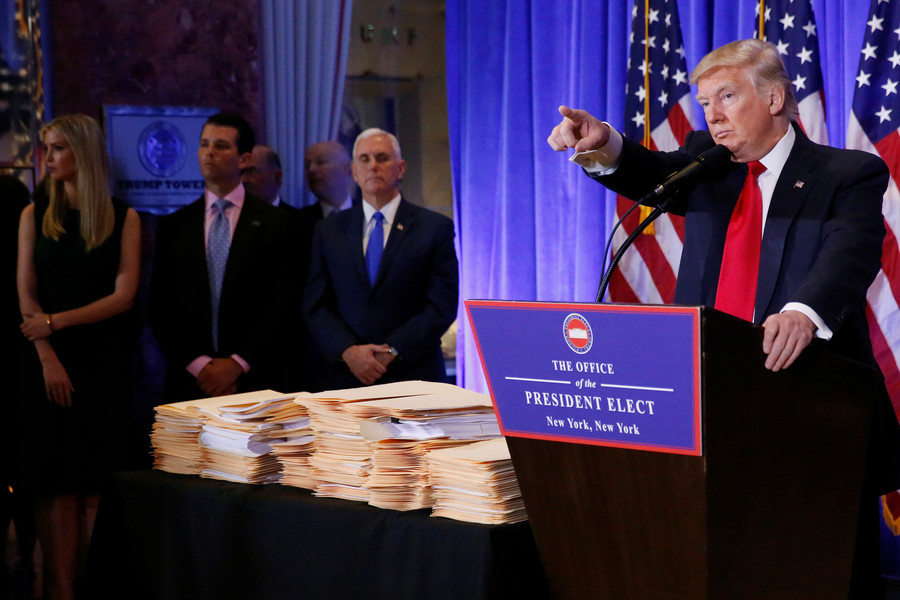 Following his election as US president, Donald Trump held a bizarre press conference in which he repeatedly pointed to stacks of papers he claimed were evidence of the preparations to divest control of his companies to his sons. The businessman said the move was to avoid any conflicts of interest while he is in office.
READ MORE: Traditional tweetstorm after Trump says 'Moscow is laughing' at squabbling Americans
Strangely, reporters at the press conference were not permitted to look at the documents, which were held in manila folders. Journalists who did manage to get close enough found that the pages seemed to be the wrong size, printed on A4 rather than legal size sheets. No sticky notes or page numbers were visible either, despite Trump saying that each folder represented the divestment paperwork for each of his many companies.
Poroshenko & the Russian passports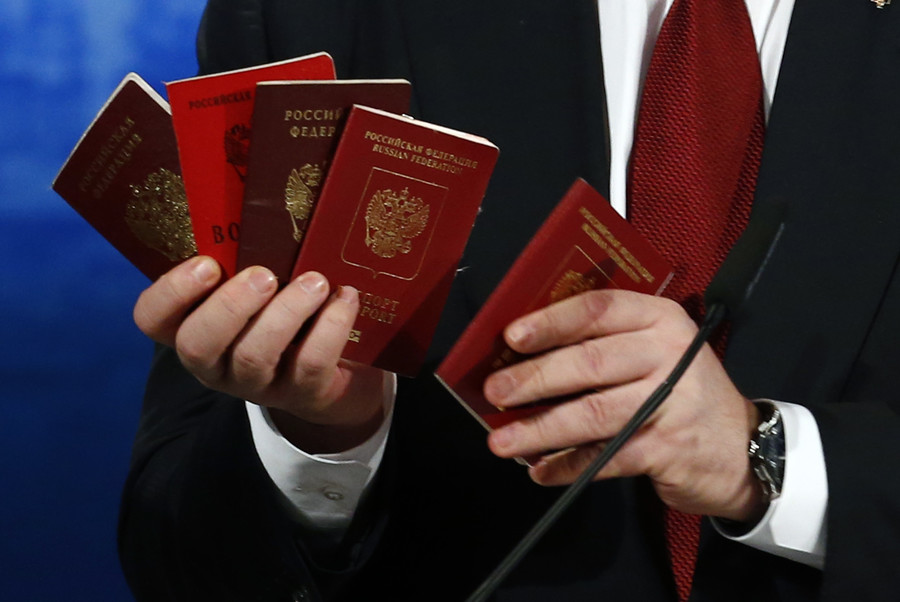 Speaking at the UN Security Council meeting in New York in September, Ukraine President Petro Poroshenko showed attendees passports belonging to what he said were members of the Russian military fighting in the Donbas.
READ MORE: Russian diplomats accuse Washington of inspiring attacks on Kiev cultural center
"The Russian words that 'they are not there' have nothing to do with reality," he said, with the passports fanned in his hands. "There is ample evidence that Russia organizes and sponsors terrorism in the Donbas. Here is the evidence."
Nikki Haley recovered missile debris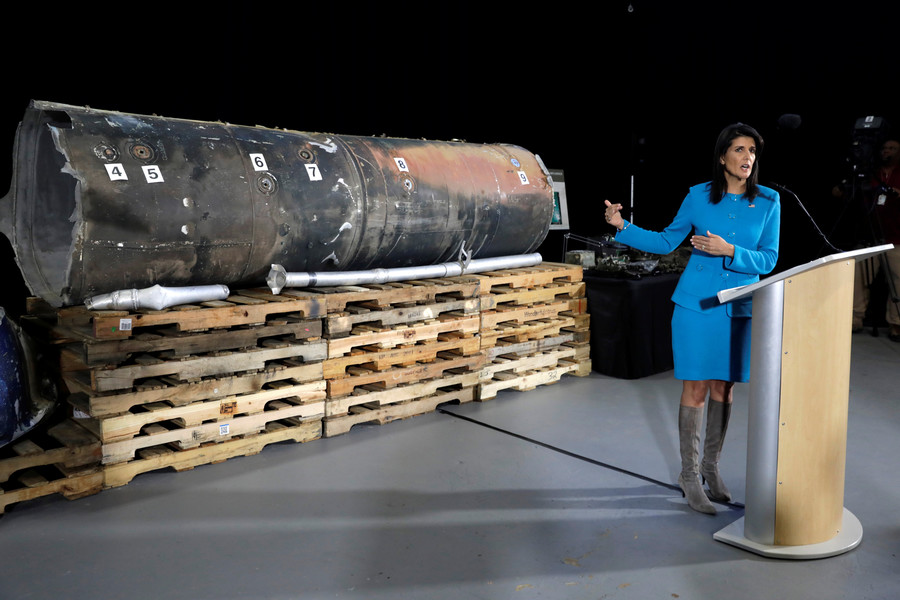 US Ambassador to the UN Nikki Haley continued the country's penchant for a visual displays in December when she stood in front of the husk of a used missile, presenting it as evidence of Iran's weapons proliferation in the Middle East.
READ MORE: The talented Ms. Haley: UN envoy sets bar for US diplomacy dangerously low
"When you look at this missile ... it is absolutely terrifying," Haley told the assembled press, claiming that the short-range ballistic missile had been made in Iran and sent to Houthi rebels in Yemen – who fired it at an airport in Saudi Arabia.
Think your friends would be interested? Share this story!