Netanyahu uses fragment of destroyed drone to taunt Iranian FM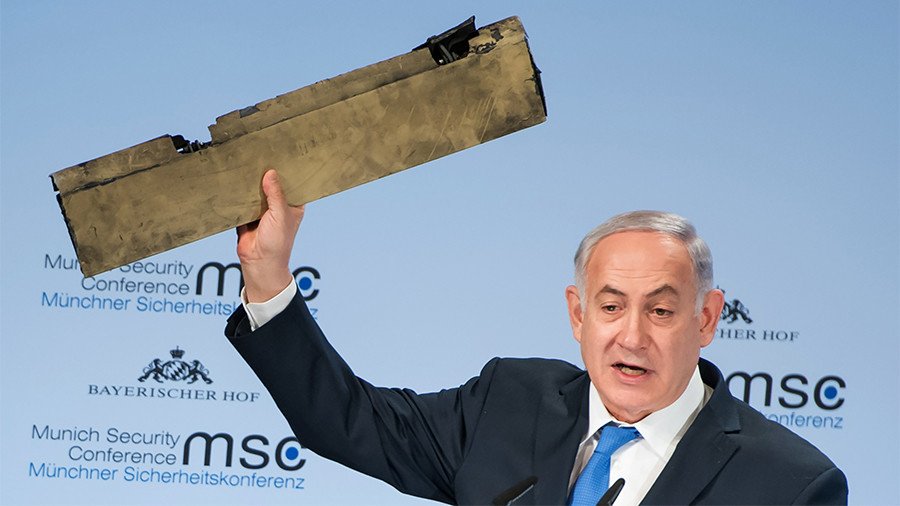 Israeli Prime Minister Benjamin Netanyahu used a piece of what he said was fragment of an Iranian drone downed by the Israeli military to taunt Iranian Foreign Minister Javad Zarif.
Netanyahu used the prop while addressing a gathering at the Munich Security Conference on Sunday.
"Mr. Zarif, you recognize this?" he asked while holding what looked like a piece of an aircraft wing. "You should, it's yours. You can take back with you a message to the tyrants of Tehran: do not test Israel's resolve."
שר החוץ האיראני זריף, אתה מזהה את זה? זה שלך. אל תבחנו את הנחישות של מדינת ישראל. Mr. Zarif: do you recognize this? You should. It's yours. Don't test Israel's resolve. pic.twitter.com/x8NvI9X5Jm

— Benjamin Netanyahu (@netanyahu) February 18, 2018
The Israeli leader used the platform of the conference in Germany to attack Iran, describing it as the world's greatest threat.
Earlier on February 10, Israel reported destroying an Iranian drone after it crossed into Israeli airspace from Syria. In retaliation, the Jewish state launched an air raid on a Syrian military facility, from which it said the drone was piloted.
The Israeli Air Force lost an F-16 to Syrian anti-aircraft fire during the raid, and responded with what Israel described as the biggest air operation against Syria in decades.
Netanyahu famously used a cartoon drawing of a bomb, complete with a burning fuse, in 2012 in an address to the UN General Assembly. The prop was meant to illustrate what he called the imminent acquisition of nuclear weapons by Iran and a red line that Israel was drawing for Tehran – which was also depicted in the picture.
Another leader made use of a prop at this year's conference in Munich – Ukrainian President Petro Poroshenko brought with him a flag of the European Union, which he claimed he received from Ukrainian soldiers involved in a military crackdown on rebels in the east. The flag was meant to demonstrate Ukraine's continued (and apparently unreciprocated) desire to become part of the EU.
You can share this story on social media: