Pope Francis says he's on 'waiting list' for sainthood as Chilean sex abuse survivor testifies in NY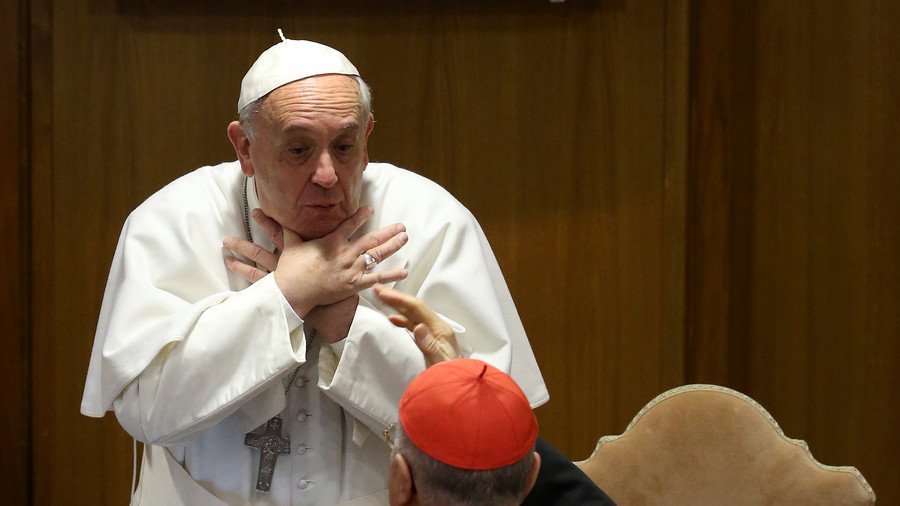 Pope Francis admitted Saturday that he can sometimes struggle with modern technology while joking that both he and his predecessor are on the "waiting list" for sainthood.
"I don't know how to use online networks and that kind of thing, not even mobile phones, I don't have one," the 81-year-old pontiff told his audience in Rome. "I don't know how to use the internet. When I have to send an email I write it by hand and a secretary sends it for me," he added.
Pope Francis also announced that Pope Paul VI, who died in 1978, and is widely credited as a reformer within the Catholic faith, will be canonized as a saint later in 2018. More than 80 popes are recognized as saints by the Catholic Church while many more have been beatified, or declared to be among the blessed and entitled to specific religious honor and veneration.
He also joked that both he and his predecessor could one day also be canonized. "And Benedict and I are on the waiting list," Pope Francis said, jokingly. "Pray for us!" However, such a joke may once again shine a spotlight on the past and present pontiffs' failures amid yet another series of child sex abuse scandals within the Catholic Church. Pope Benedict XVI resigned in February 2013 following a slew of financial scandals.
Meanwhile, in New York, the key witness in the sex abuse case leveled against a Chilean bishop gave "eye opening" testimony to a papally-mandated investigator. Juan Carlos Cruz spoke with Archbishop Charles Scicluna, one of the most experienced Vatican investigators of sexual abuse, for approximately four hours Saturday.
"I feel that I was heard... it was very intense and very detailed and very, sometimes, eye-opening for them," Cruz said, as cited by Reuters. "He was hearing my testimony, and I was telling him about the abuse, about the cover up [and] the way survivors, not just me, are treated... the personal toll it takes on someone. He was crying... it wasn't an act... I felt that he was concerned and that he was listening," Cruz said. "Hopefully it will lead to good things."
Pope Francis previously accused the alleged victims of sexual abuse in Chile of slander, describing their allegations against Bishop Juan Barros as "calumny" with "not a shred of evidence against him." He later apologized for his comments saying, "covering up abuse is an abuse in itself." The man that the Argentinian pontiff put in charge of financial reform, Cardinal George Pell, was recalled to Australia to face sex offense charges in 2017.
The Pope's widely publicized and often-lauded efforts at reform within the Church have alienated more conservative Catholics in the Vatican while his remarks regarding the multiple child sex scandals besetting the Catholic Church have disenfranchised his secular, liberal supporters.
Pope Francis has also received an unprecedented challenge to his papacy after four cardinals issued a dubia or letter of theological doubt, after the perceived softening of the Catholic Church's stance on the topics of homosexuality, divorce and remarriage in 2014 and 2015.
The pontiff has also weighed in on political affairs such as the refugee crisis in Europe, climate change, and US President Donald Trump's recognition of Jerusalem as the capital of Israel. However, there was much dismay when he failed to condemn the actions of the Burmese military and the Myanmar government's handling of the Rohingya crisis and alleged genocide during a recent tour.
If you like this story, share it with a friend!
You can share this story on social media: