Pope makes 'heartfelt appeal' to preserve 'status quo' in Jerusalem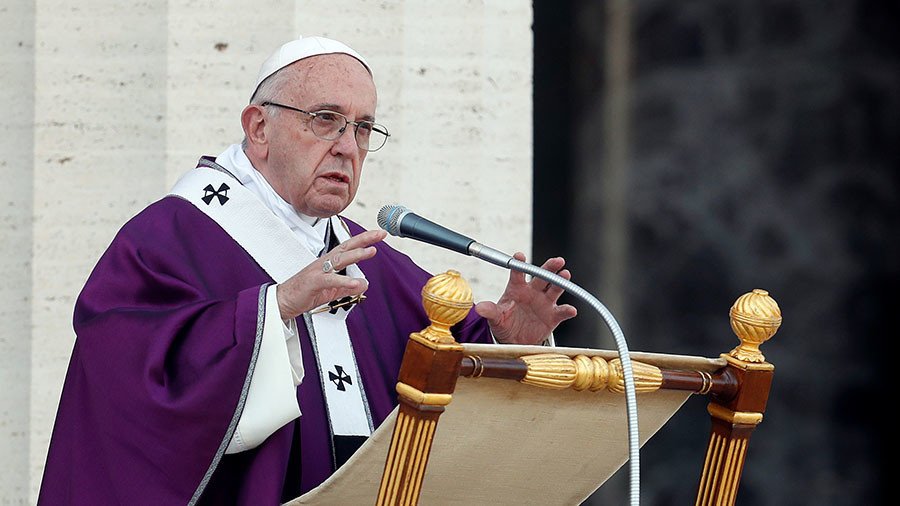 Pope Francis says he cannot remain silent about a White House plan to recognize Jerusalem as Israel's capital. The head of the Holy See called for the city's "status quo" to be respected, adding the US move could exacerbate "cruel conflicts."
Weighing in on the controversial decision, the pontiff made a "heartfelt appeal" to all nations to "respect [Jerusalem's] status quo, in conformity with the pertinent United Nations resolutions," as cited by Vatican Radio.
The leader of the Catholic Church said he "cannot keep silent" about the brewing conflict over Jerusalem's status. Describing the city as "holy for Jews, Christians and Muslims, who venerate the holy sites of their respective religions," the Pope said Jerusalem enjoys a unique status that should be preserved.
"I pray to the Lord that its identity is preserved and strengthened for the benefit of the Holy Land, the Middle East and the whole world and that wisdom and prudence prevail to prevent new elements of tension from being added to a global context already convulsed by so many cruel conflicts."
The Pope called for dialogue that would respect the rights and interests of all of Jerusalem's inhabitants in a separate statement made earlier on Wednesday.
Francis spoke by telephone on Tuesday with Palestinian leader Mahmoud Abbas, after US President Donald Trump reportedly told Abbas of his decision to recognize the holy city as Israel's capital. The call with the pontiff was made at Abbas' initiative, the Associated Press reported, citing Vatican officials.
According to media reports, demonstrations against the US plan will be held over the next three days in the West Bank, the Gaza Strip and East Jerusalem. Anticipating violence, thousands of police will be deployed to sites around Jerusalem, and the Israeli military has been placed on alert.
Trump's decision has been strongly condemned by US allies and rivals alike.
You can share this story on social media: