Indian woman arrested after posing as man & marrying 2 females for dowries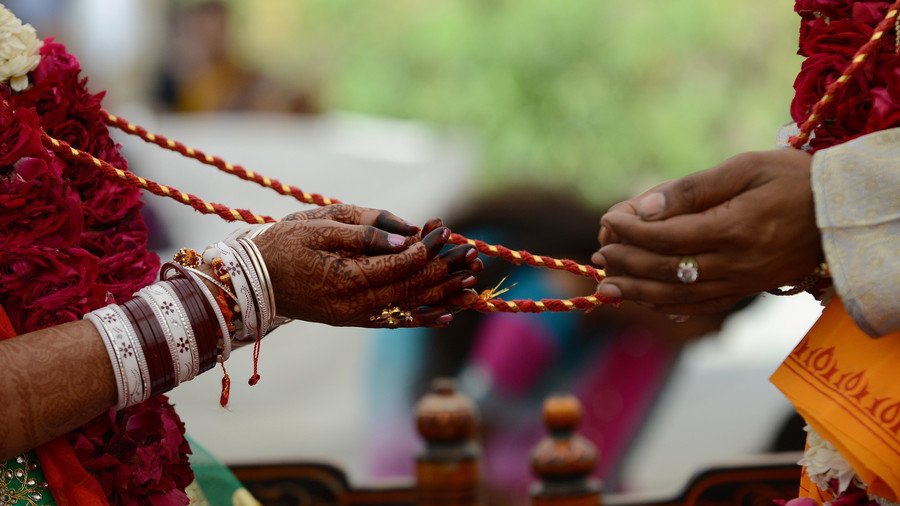 A woman in India has been arrested after posing as a man and marrying two females for their dowries, allegedly abusing one of them to get her hands on the loot.
The bizarre scam apparently began when 26-year-old Sweety Sen from the state of Uttar Pradesh created a fake Facebook profile under the name Krishna Sen in 2013. She then uploaded photos of herself wearing men's clothing and used the account to get in touch with women, according to Senior Superintendent of Police Janmejay Khanduri, as cited by Indian Express.
In 2014, Sen and members of her family traveled to the town of Kathgodam to meet a 22-year-old woman that she had got in touch with on Facebook.
"Sen had convinced her that she [Sen] was a man," Khanduri said. The two were married the same year and began living together in a rented house. However, the perceived marital bliss ended when Sen began assaulting the woman for her dowry, police allege.
Later, in 2016, Sen married a 20-year-old woman and rented an apartment with her. Sen never allowed either woman to see her body, and used sex toys to maintain the illusion of being male, according to authorities.
In October 2017, Sen's first wife filed a police complaint, charging Sen with dowry theft and domestic violence. She alleged that Sen took $850,000 rupees (US$13,243) from her family, claiming she needed the money for a factory she owned in Hardwar. "We got married in 2014. She used to behave like a man, used to drink, smoke and also abuse. She used to threaten to kill me after she married another woman. It got confirmed after medical examination that she was a woman and not a man," the first wife told ANI news agency.
READ MORE: Shotgun wedding: Jilted lover kidnaps ex at gunpoint during ceremony in India
Sen was traced by police and arrested on Wednesday. "We had arrested Sen for dowry [theft] and domestic violence. We had no clue that Sen was a woman. During questioning, Sen said she was a woman. We got her medical examination done and it was established that she was a woman," said BL Vishwakarma, a station house officer for Kathgodam police.
However, the Hindustan Times reported that Sen faces charges of impersonation, fraud, and forgery. She cannot be charged with dowry fraud because "technically she was not a husband therefore it cannot be treated as marriage," sub inspector Sanjay Joshi said.
Like this story? Share it with a friend!
You can share this story on social media: