Indian minister arms 700 new brides with wooden bats against drunk & abusive husbands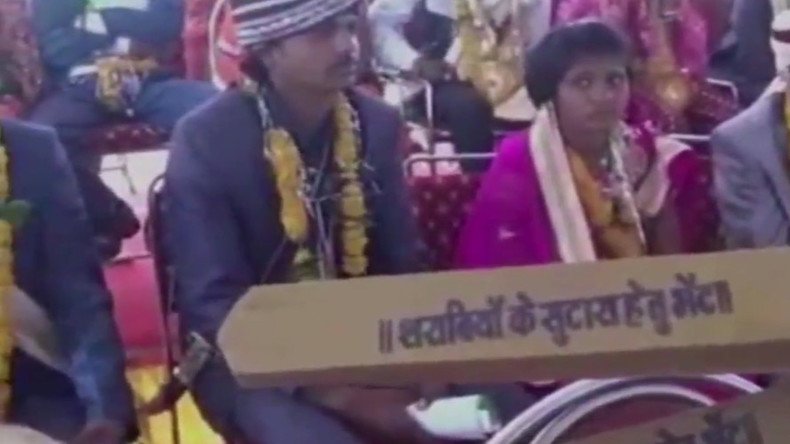 An Indian state minister has armed some 700 brides with wooden bats to be used in self-defense should their husbands ever raise a hand on them. "Police won't intervene," reads the reassuring inscription, encouraging use against alcohol-dependent spouses.
The foot-long wooden bats were presented as gifts at a mass marriage ceremony on Saturday by Gopal Bhargava, a minister in the state of Madhya Pradesh, who instructed some 700 brides to use them on husbands if they turn alcoholic or exhibit harassing behavior.
"Whenever I visit any rural or urban area in my constituency, women complain about their husband's drinking habit. They inform me that whatever little they earn is snatched away by their husband for alcohol. They are also subjected to physical violence," Bhargava told PTI today, as quoted by the Indian Express.
"The idea of gifting 'mogri' struck me when a woman asked me whether she should get her husband to stop drinking by beating him with this wooden plank," the minister said.
Traditionally used to get the dirt out of clothes in old-fashioned laundries through the beating of the garments, the paddles called the 'mogri' were embroidered with messages that read: "For beating drunkards" and "Police won't intervene."
Bhargava says the messages on the wooden bats were designed as more of a preventive measure against domestic abuse and are not meant to instigate violence.
"There is no intent to provoke women or instigate them to violence but the bat is to prevent violence," he told AFP.
To battle the problem of alcoholism and to bring about social change, Bhargava ordered nearly 10,000 bats to be distributed to newly weds.
Alcohol consumption in India has been on the rise. The per capita consumption of alcohol in the country increased 38 percent, from 1.6 liters in 2003-05 to 2.2 liters in 2010-12, according to a World Health Organization (WHO) report. On the other hand, India only has 11 percent of binge drinkers, compared to global average of 16 percent.
To protect women against all forms of abuse, in 2005 the country passed the Protection of Women from Domestic Violence Act.
According to the National Family Health Survey of India report of 2016, some 28.8 percent of women aged 15-49 experienced domestic violence in their lifetime, which is a significant drop from 37.2 percent recorded by the previous survey in 2006. Over the same period the number of Indian men who admitted to consuming alcohol dropped from roughly 32 percent to around 28.7 percent.
You can share this story on social media: