'Execute me by firing squad': Duterte defiant despite ICC probe into war on drugs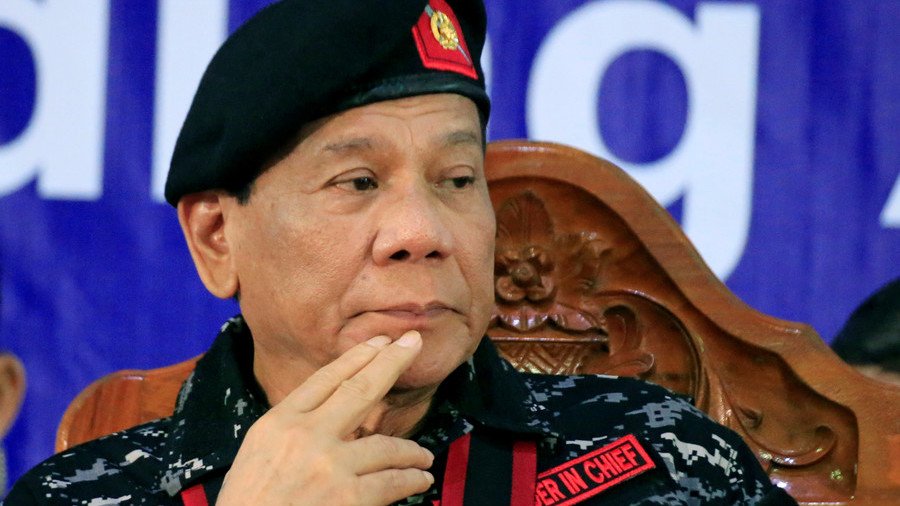 Philippine President Rodrigo Duterte has vowed to continue his bloody war on drugs despite the threat of an investigation by the International Criminal Court (ICC).
Duterte was responding an announcement by the ICC that it plans to open a preliminary probe into the deaths of thousands of alleged drug dealers and drug users in the country since the beginning of July last year.
Speaking at a press conference Monday, Duterte said his war on drugs will not stop until his last day in office. "Drugs – I like to address myself to the International Court of Justice and to the prosecutors coming here to investigate. The war, or the drive against drugs, will not stop. And it will last until the day I step out," the president said, according to the Philippine Daily Inquirer.
"If I go to prison, I go to prison. If you want to execute me, look for a country that allows prisoners to be executed by firing squad. Doon ako (I'll be there)," he added.
ICC prosecutor Fatou Bensouda announced last Thursday that a preliminary investigation has been opened into "crimes allegedly committed in this State Party."
"Specifically, it has been alleged that since 1 July 2016, thousands of persons have been killed for reasons related to their alleged involvement in illegal drug use or dealing," Bensouda said. "The court alleges the killings have taken place outside of the law during police led anti-drug operations."
Speaking on Friday, Duterte questioned why Bensouda decided to focus on his country when there are other "massacres" happening in Asia. The controversial statesman also said that he hopes to get a chance to speak one-on-one with the prosecutor.
"I hope you come. And I hope that we can be together in a room. I would ask for that rare privilege of talking to you, the two of us in the room," he said.
Duterte is rarely far from controversial remarks. Last week, he was quoted saying that his country would stagnate if it weren't for his dictatorial style. "If you say dictator, I am really a dictator. If I don't act (like a) dictator, son of a b****, nothing will happen to this country," the president said.
His remarks are seemingly at odds with his insistence last month that the Philippine army shoot him if he stays in power longer than the constitution allows.
Also last week, Duterte reportedly ordered soldiers to shoot female communist rebels in the vagina. "Tell the soldiers. 'There's a new order coming from mayor. We won't kill you. We will just shoot your – so that... If there are no – it would be useless," he said.
His comments drew widespread condemnation from human rights and feminist groups, with Human Rights Watch accusing the president of encouraging "state forces to commit sexual violence during armed conflict, which is a violation of international humanitarian law."
In May, Duterte had said that if his soldiers wanted to rape women he would take responsibility. "If you raped three (women), I will be the one to admit that it's me," Duterte said while addressing soldiers.
Think your friends would be interested? Share this story!
You can share this story on social media: