French 'The Voice' singer quits reality show over terrorism tweets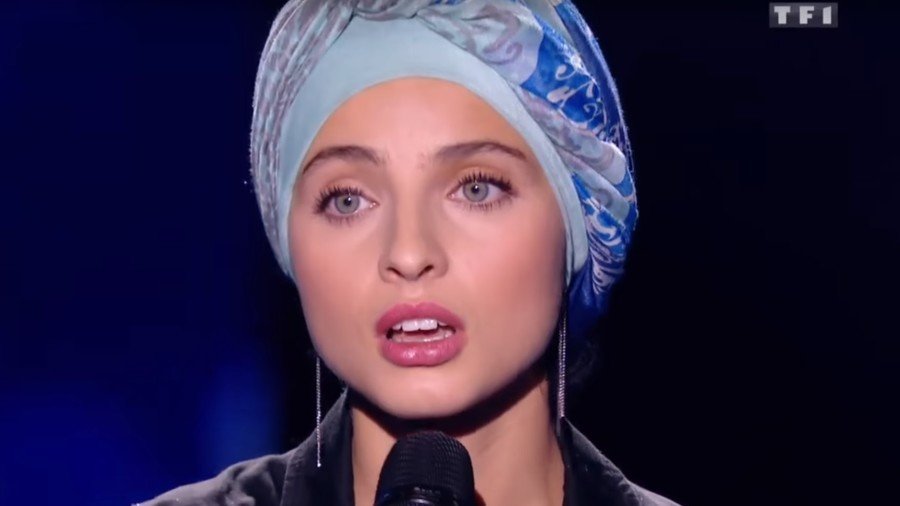 A French singer has quit the TV reality show 'The Voice' after her tweets about terrorism and Israel sparked a backlash.
Mennel Ibtissem was a popular contestant on the show. However, she came under pressure to leave the competition after tweets were uncovered in which she appeared to question the official narrative of the 2015 terrorist attacks in Paris and the 2016 Bastille Day attack in Nice.
"Here we go, it's become a routine, an attack a week, and, as usual, the 'terrorist' takes his ID with him," Ibtissem wrote after the Nice truck attack, Nice-Matin reported. "It's true that when you're plotting something nasty you never forget to take your papers with you."
In another post, Ibtissem reportedly said: "The real terrorists are our government," after two attackers slit a priest's throat in Normandy. Ibtissem's posts included support for Palestine and, during the 2014 assault on Gaza, she condemned Israel for "terrorizing innocent civilians."
Ibstissem announced her decision to leave the show in a Facebook video in which she apologized for her comments. "I never meant to hurt anyone and the mere thought that my remarks hurt others hurts me, so I have taken the decision to quit this adventure," she said.
She added she joined the show "with the intention of gathering people, not dividing them, of opening people's minds, not narrow[ing] them."
When reports emerged about her posts earlier in the week, she was called into a meeting with producers who wanted "clarifications" about her statements on Tuesday, le Parisienne reports.
Promenade des Anges: 14 July 2016, an organization supporting Nice victims, released a statement condemning her comments. "It is unacceptable to question what we have experienced. We were terrified, our own bodies were affected and/or lost our loved ones."
The National Bureau of Vigilance Against Anti-Semitism took issue with Ibstissem's comments about Israel, and demanded she be removed from the show, JPost reports. "Mennel cannot serve as a role model for uninformed fans. She is not a good role model, she is not a good choice, she is dangerous," it said. The group pointed to a song she sang in 2015 called, Smile Palestine, which references the "slaughter of mothers, fathers, little sisters and little brothers."
Ibstissem posted an apology to her Facebook page on Tuesday before she decided to leave the show. In it, she explained: "These messages were the expression of a fear that I shared only at that time with my friends on this network. I deeply regret these messages."
"On the evening of the Nice attacks, I had family on the Promenade des Anglais and I was shocked, upset, and did not understand why this attack could not be prevented by the authorities."
"Two years later, I grew up and I measure the lack of reflection on these messages. I understand that these messages shock and I apologize."
Muslim singer @MennelOfficial quits The Voice (FR) after old social media posts show her accusing the state, not jihadists, of being the real terrorists. She says deleted comments were taken out of context; fans say she is victim of Islamophobic campaign. https://t.co/oqUbWuq3kT

— Andy C. Ngo (@MrAndyNgo) February 9, 2018
She quit as a contestant because far-rights in the country were attacking her, asking to prosecute and jail her for being Pro-Palestinian and for a tweet she made in 2016, grieving the Nice terrorist attack where she also condemned the French government.

— Tallie Dar (@talliedar) February 10, 2018
Extremely disappointing to hear that @MennelOfficial has decided to step down from The Voice France because of pressure for a song she made for Palestine. Another Muslim woman forced to forgo a public platform because shes fails to fit the narrative of "look pretty, keep quiet."

— Yasmina (@animsche) February 9, 2018
Islamophobia is alive and well in France today. The numbers are terrifying, assaults and false denunciations for radicalization are on the rise. And it's affecting young artists like Mennel, which is unacceptable. #RaiseOurVoices

— Maeril (@itsmaeril) February 6, 2018
Had #Mennel been free-hair, no one would have taken the trouble to STALK her old FB posts. People say 'silly' things all the time — and most of them are influenced by what's happening during that time. La France, pays de fraternité?Je ne crois pas. https://t.co/yZU4zkMpVl

— admtnmkrz (@ATMology) February 10, 2018
Admit She has humor. Terrorist allways leaving their id card on the scene. Even on 9/11, the only recognising thing from wtc, was an id, in the Pocket of A man in an explodig aircraft, burning in A Building for one our.

— ulver johnsen (@UlverJ) February 9, 2018
Think your friends would be interested? Share this story!
You can share this story on social media: