'The Olympics is for all': American tells RT why he waved Russian flag at PyeongChang (VIDEO)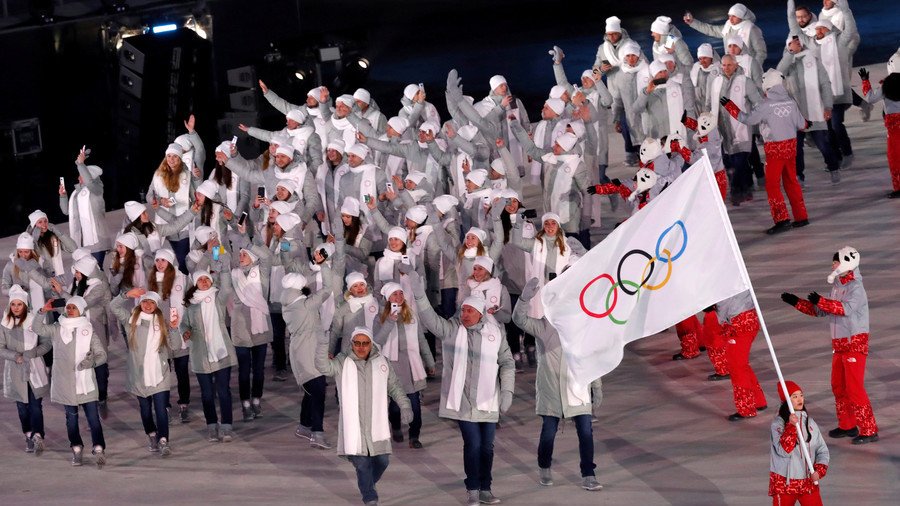 During the opening ceremony of the 2018 Winter Olympics, only the Russian team out of the 90 countries taking part was not allowed to march under its national flag. One young American told RT why he waved their flag instead.
Following a decision by the International Olympic Committee's executive board, the Russian Olympic team has been officially banned from the games in South Korea due to doping allegations. While those athletes who have proven they are clean have been allowed to compete under the name Olympic Athletes from Russia (OAR), they are not allowed to march under their own national flag.
READ MORE: PyeongChang 2018 opening: Russian ban, protests & political games
For American Filip Vachuda, this was a step too far. Brandishing a white, blue and red Russian flag, Vachuda made the gesture of solidarity during the opening ceremony on Friday as the OAR team walked by.
"I just showed up at the opening ceremony with the flag, then I got someone to take photos of me with it because I was going to post it on social media," he told RT. "And then when the Russians came during the parade I unveiled it again and I waved it a bit. I don't know if they saw it, I was kind of looking at them to see, and also the wind sort of blew in my face so the flag folded."
Vachuda was showing his support for the Russian athletes, who he felt were being unfairly treated by the IOC. "I heard what happened in the doping scandal, I heard that the Russians have to compete as neutrals, and thought it would be nice to show a bit of support for them because they basically worked four years for this moment to represent their country, and now they can't," he said. "I was kind of trying to help them feel at home and send a message that they should be included because the Olympics is for all countries."
READ MORE: WADA's controversial informant Rodchenkov changes look for camera, thinks Kremlin is after him
Touching upon the politics, he said he wants to put this aside and "support these athletes, because we know for a fact these athletes are clean, there's no doubt about it." Yet they are being punished "for what others may or may not have done." In the eyes of Vachuda, this is a collective punishment.
"It's not like I'm saying that doping doesn't exist or anything, I'm just trying to say that athletes who are clean should have the right to represent their country."
Think your friends would be interested? Share this story!
You can share this story on social media: