'Hottest old shack in central Paris': German comedy troupe causes stir by mocking Macron's wife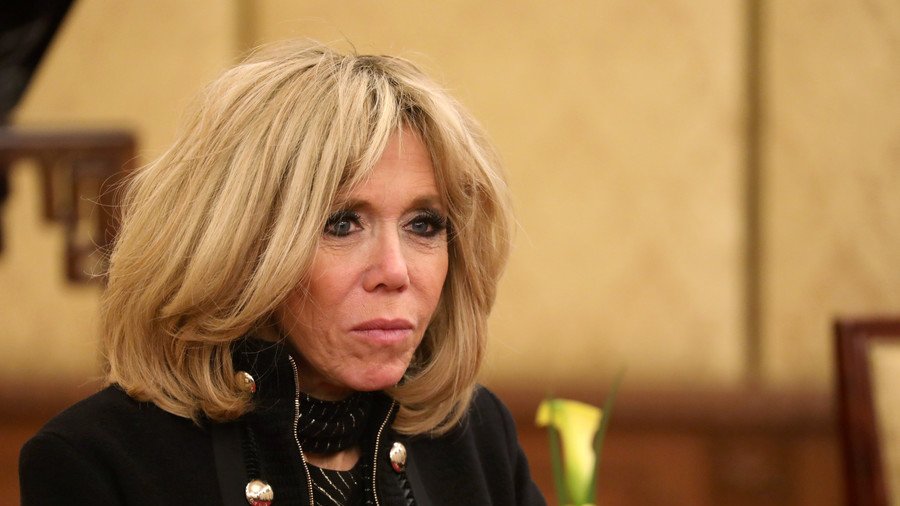 The wife of French President Emmanuel Macron was the butt of a number of jokes during a televised German carnival, with many saying the quips were sexist and went too far.
The 31st edition of the 'Carnival in Franconia' in the Bavarian city of Veitshoechheim included a performance by the Altneihauser Feierwehrkapell'n comedy troupe.
In its routine, the troupe referred to 64-year-old Brigitte Macron as "the hottest old shack" and "well dry-aged Lady," the latter apparently referring to the technique used for beef aging.
To the tune of "Pigalle" they sang "Brigitte, Brigitte, you are the hottest old shack in the middle of Paris."
According to Die Zeit some people in audience were laughing hard. But Heinrich Bedford-Strohm, the bishop of the Protestant Church in Bavaria who was a guest of the show, felt uncomfortable. Though admitting the show in general was a success, the jokes about Macron's wife were simply too much.
Other members of the audience were also not impressed, deeming the jokes downright sexist. Remarks on the troupe's website called them "old man jokes" and "primitive," "outrageous" and "unbelievably insulting."
Others said although such jokes are expected and usually enjoyed during such events, comedic jabs shouldn't attack people personally. "The purpose of the carnival is in its political diction to point out political ills and not to defame people in their personal life situation," said Dr. Gunther Hirschfelder, a professor of cultural studies at the University of Regensburg, according to DPA news agency.
Brigitte Macron, who is 24 years older than her husband, has often been the subject of jokes targeting her age and looks. One of those jabs came from former Italian Prime Minister Silvio Berlusconi – known for his love of younger ladies – in May, when he called Macron a "good-looking lad with a good-looking mom."
The most recent comments are being examined rather more closely in the age of the #MeToo movement, with Hirschfelder stating that such remarks may have been considered normal 10 years ago.
READ MORE: 'Good-looking mom': Berlusconi 'flatters' Macron with thinly-veiled jab at first lady
The public service television broadcaster Bayerischer Rundfunk (BR), which has been airing the program for more than 30 years, said its editorial team will coordinate more closely with artists next year. However, it also said that artistic freedom is a protected fundamental right.
"If this year's performance of the 'Altneihauser Feierwehrkapell'n' was too broad in the perception of some viewers, and irritations were caused by particularly pointed, satirical passages, we expressly regret this," said the editorial director and deputy head of BR studio Franken, Norbert Küber.
The president of the Franconian Carnival Association, Bernhard Schlereth, also chimed in. "It is always a difficult balancing act between censorship and artistic freedom," he said.
The comedy troupe behind the Brigitte Macron jokes has not remarked on the controversy, nor did it respond to DPA's request for comment. The 'Carnival in Franconia' program is BR's most watched program. This year, 4.21 million people in Germany tuned in.
Think your friends would be interested? Share this story!
You can share this story on social media: